The Edge browser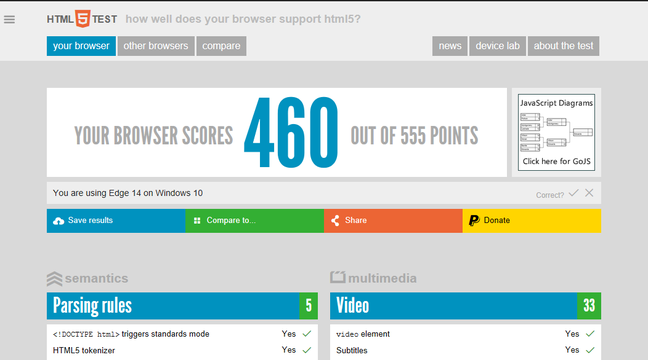 The new Edge scores well in HTML5 standards tests
A lot is new with Edge – Microsoft's replacement for Internet Explorer – in Windows 10 Anniversary. Top of the list is JavaScript-based Extensions, using a similar model to that in Google Chrome so that porting should be easy. Extensions are installed from the Windows Store, and at the time of writing there are just 13, though more will no doubt come soon. Current offerings include AdBlock, Translator, LastPass, Evernote Web Clipper, and Office Online, this last being a toolbar icon that gives direct access to Microsoft Office documents stored in OneDrive or OneDrive for Business.
Other new Edge features include a tree view for Favorites, a warning if you try to exit the browser when a download is in progress, the ability to set a default save location, the ability to pin tabs to the top bar of the Edge window for quick access, and new APIs including Web Notifications, Beacon interface (for asynchronous data upload), Canvas Path2D, WOFF 2 fonts, and more. According to one HTML5 test site, Edge 14 (the Anniversary version) now scores 460 out of 555, putting it ahead of Firefox 47 at 456 but behind Chrome which is 492.
While there is much to applaud in Edge, Microsoft did itself no favours when Windows 10 was launched with an initial version that lacked support for key features like extensions. Many users simply reverted to other browsers, despite the upgrade's aggressive resetting of defaults, and winning them back will be hard. Another issue is that some sites do not function without either ActiveX or plugin support, driving users back to Internet Explorer or elsewhere. Microsoft is playing catch-up here and will not find it easy.
Taskbar features, personalization, and more
Windows 10 Anniversary Update moves more settings from the old Win32/Win64 desktop UI to the UWP-style UI (though still not all), including those for the Taskbar, which now also has new features. One is desktop peek, familiar from Windows 7, which shows a preview of the desktop if you move your mouse to the Show Desktop button at bottom right. Another is badges, which lets developers overlay taskbar buttons with information such as the number of unread emails for a mail app.
On the personalization front, this update has a new "Dark mode" option for apps, which gives many apps a black background with appropriate foreground colour changes.
Windows Defender has been enhanced with an option for an offline malware scan, and the ability to work alongside other anti-malware products, doing periodic scans while a third-party application handles real-time protection.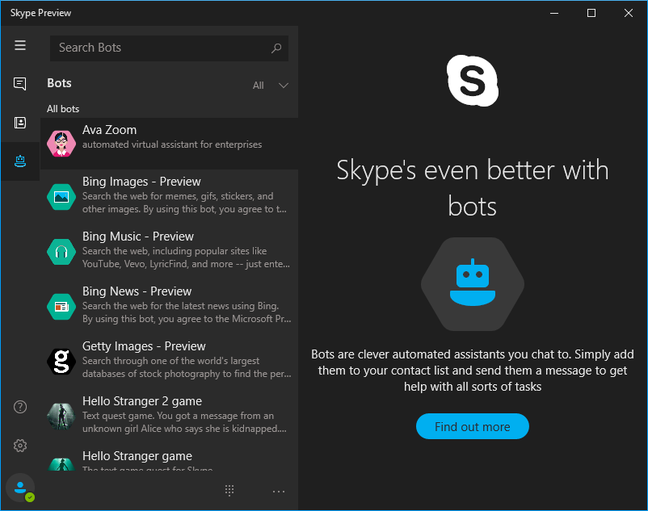 Bot alert! Bot apps feature in the new Skype app
The latest in Microsoft's confusing Skype story is a UWP app, which is still in preview. The new Skype includes a section for Bot apps as well as messaging and calling features. This is in line with Microsoft's push for Bot apps, supported it hopes by back-end services hosted in Azure.
Similar topics