Samsung Note 7: Probably the best phone in the world. Yeah – you heard right
Though no one knows what you'll pay for it
Hands On Samsung unveiled the world's best Android phone yesterday and I doubt if it will be bettered by anyone this year. But Samsung didn't name a price, nor assure us that the Note 7 will actually be available in the UK. (Its predecessor the Note 5 wasn't and isn't a UK product, we got the Edge 6+ instead, which doesn't have all the pen gubbins).
The Note helped define the "phablet" category – although phones were getting bigger anyway – and it was a hit thanks in part to the bundled stylus and note taking software. This took off with non technical users – there's a niche of emigrants for whom this is their main computer - and Samsung has spent years tweaking the jotting capabilities. Last year's Note allowed you to take it out of the pocket and scribble on the screen when the regular phone UI was off, as if it were a notepad.
Today, the Note isn't even close to being the biggest phone. At 5.7 inches (diagonal), it's the same size as the Nexus 6P (or the fat bezelled iPhone 6s Plus) and is dwarved by 6-inch models such as the Mate 8, and even more gargantuan models.
I've seen people (admittedly in Chinatown) using Huawei's MediaPad X1 (7 inches) in real life. What Samsung has done is make sure all the ducks are lined up: the Note isn't now missing anything from the smaller flagships – it has got the lot. And it doesn't feel much bigger than Edge 7.
So when the new Note ships on September 2, it will be hard to argue that there will be a better Android model anywhere. Sure, there will be better value models, perhaps with beefier individual specs. But what impresses about the Note 7 is how much useful technology Samsung has managed to pack into such a slim package. It doesn't feel gargantuan at all, and it's just a shade bigger than the Edge.
Samsung has pulled out the stops here. There's only one 64GB/4GB variant, but in three colours. (As you can see, it's a real smudge magnet).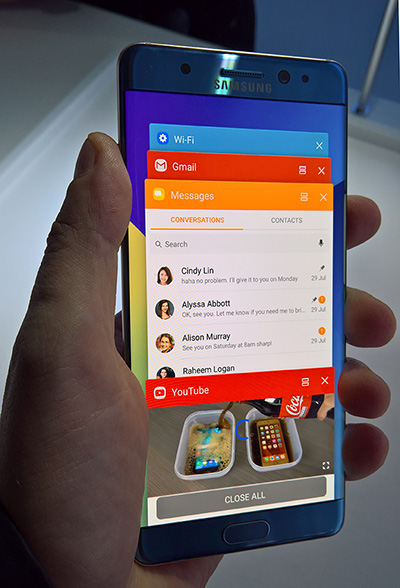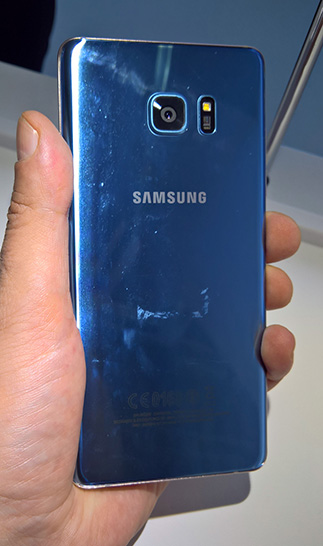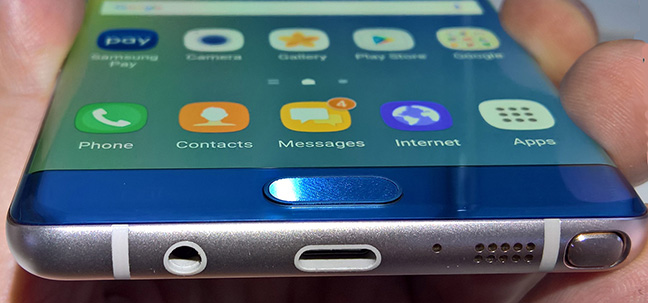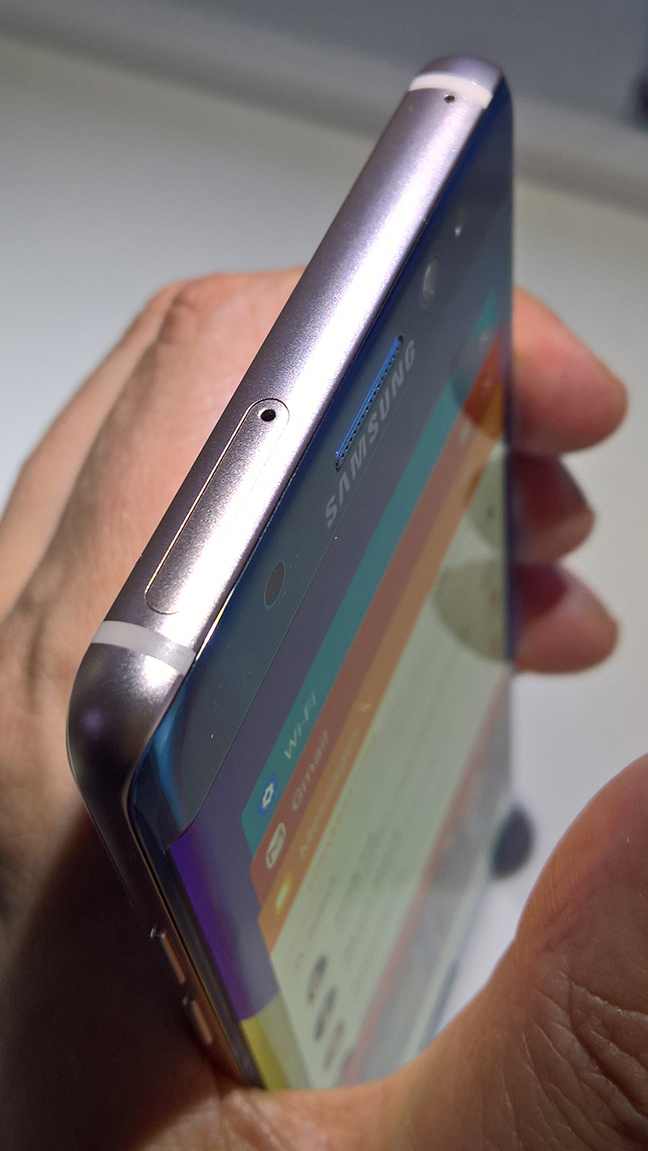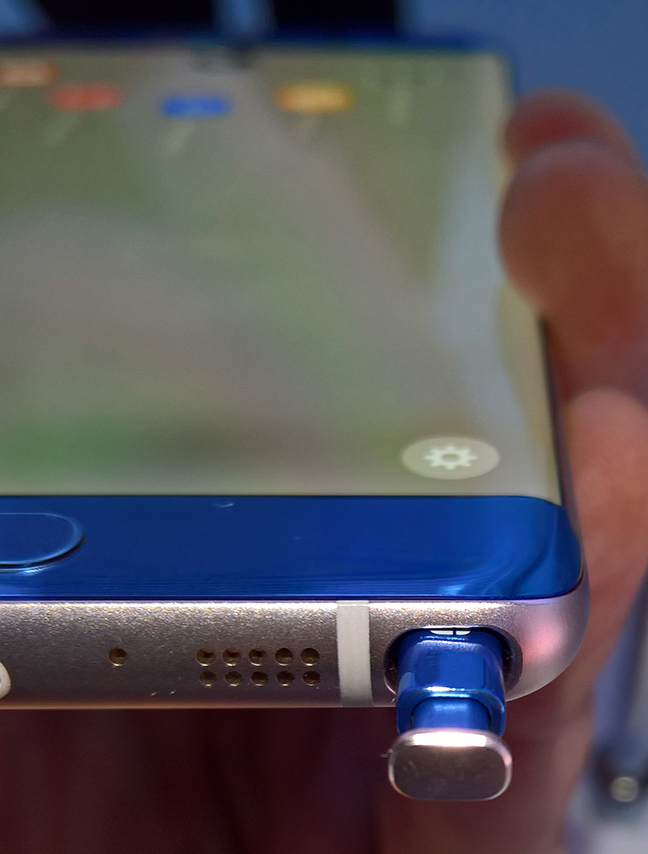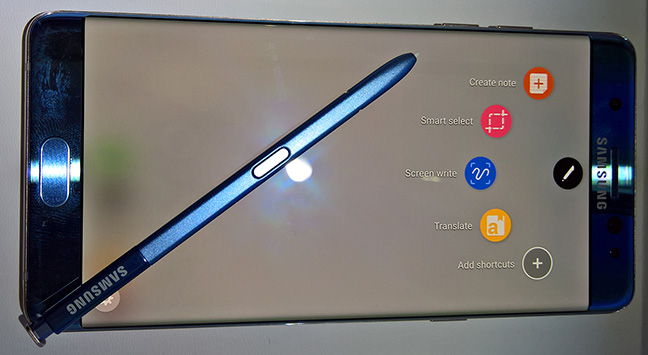 So what you get is the best bits of the Galaxy S7 Edge but with the handy note-taking pen package and an IRIS scanner. The best bits being: IP68 waterproofing, wireless charging and the excellent "Dual Pixel" camera.
The latest Gorilla Glass means it should withstand drops from a greater height. But it doesn't feel at all big or clunky, thanks to the curved edge design. Everyone expects the curved edge glass to contain some miraculous hidden technology feature, and Samsung has tried to make use of it to some extent. In all honesty, it doesn't matter. Its real advantage on the Edge is its industrial design, performing a kind of liposuction on the phone, reducing its mass. It's something I noticed with the BlackBerry Priv last year, which would have been a real slab to hold without the curved edge display.
The rear camera doesn't protrude as much as it does on the S6/S7 Galaxy models, and Samsung has trimmed the S-Pen nib down to 0.7mm, about half the width of its predecessor.
Look and feel
Even better, Samsung has continued with its renovations on its TouchWiz UI so it's now looking quite refined and less cartoon-like and garish. Well… the colours are still garish, but that's forgiveable. Chinese upstarts adopted muted hues in their Android skins because their displays were industry standard, but since Samsung makes striking display panels, and wants to show them off, you can excuse them for deploying eye-popping colours. It's easy enough to change the Theme from Samsung's online catalog.
So the fat icons in the settings page have been muted, while there's only one page of apps. Even Samsung's own folder doesn't bulge with unwanted cruft anymore.
We didn't have time at launch yesterday to put the new biometrics feature through its paces, to "train" it and see how reliable it was. It appeared first on Microsoft's two Lumia 950 models last year, using a beta version of Microsoft Hello. The problems I encountered were reliability, as it worked about half the time, and power consumption when not in use. The eyescanner could run the phone's battery right down while in your pocket. The success rate needs to be well over 90 per cent for it to be a help rather than annoyance. It should in theory give a boost to Samsung Pay, since nobody else has both an IRIS scanner and a payment system.
As usual, the owner can choose from the usual array of quality Samsung cases and accessories, including a dot-view style case, and even a physical keyboard (not such great quality). There's also a 16x telephoto/wide angle lens case which should retail for around £99.
We don't expect the Note 7 to be cheap. My only possible qualm is that it could quite easily pack a bigger battery without inconveniencing the punter, but doesn't. The battery is 3500mAh. I've found Samsung's power management to be excellent (if not quite in the Sony class) and unobtrusive with it (Huawei, take note). But I do wonder if it's battery endurance and value that made many Note owners originally choose the device, rather than glitzy flagship features. We'll find out in due course. ®
Specifications
5.7 inch curved QHD (1440 x 2560) AMOLED Display (518ppi) with Gorilla Glass 5.
S-Pen stylus.
Qualcomm Snapdragon 820 (two 2.15GHz and two 1.6GHz Kryo cores and Adreno 530 GPU) in the US, Samsung Exynos 8890 (four 2.3GHz and four 1.6GHz cores and Mali-T880 MP12 GPU) everywhere else.
64GB flash storage, 4GB of RAM, slot for microSD cards up to 256GB.
f/1.7 aperture 12MP main camera with OIS, and 5MP front camera.
Iris biometric sensor.
Waterproof and dustproof to IP68.
Qi and PowerMat wireless charging.
USB-C port.
Dimensions: 153.5mm x 73.9mm x 7.9 mm, Weight: 169g.
Price: TBC.
Availability: Pre-register from mid-month. Shipping commences September 2.