Review There's something immediately odd about BlackBerry's second Android phone, apart from the geeky Sci-Fi name. Something you can't at first put your finger on. It's the first BlackBerry ever not to have the BlackBerry name on the front.
Perhaps in the consumer market now, the BlackBerry brand is so unfashionable, this omission is a help not a hindrance. The name isn't on the back either, where we find the BlackBerry pips. Despite this and the device's unlikely heritage, the DTEK 50 deserves attention as a £275 (list price) well made workhorse which gets most things right.
The DTEK 50 is touted as the "most secure Android", but BlackBerry doesn't claim to have miraculously made Android bulletproof. It has, however, done a lot of work which sets the benchmark for an industry that has a terrible record updating phones. There's more money in selling you a new one next year, you see.
Unique ID, verified boot, a hardened kernel, full disk encryption, the promise of zero-day patching and monthly security updates are things that all manufacturers should be doing. (A full list of the DTEK's features is in this PDF. It's worth saying that Nexus devices get monthly patches, too, and Google is also hardening its Android kernel.)
In addition, every Android should have something like BlackBerry's Hub, which tames the wild spree of Notifications into something manageable.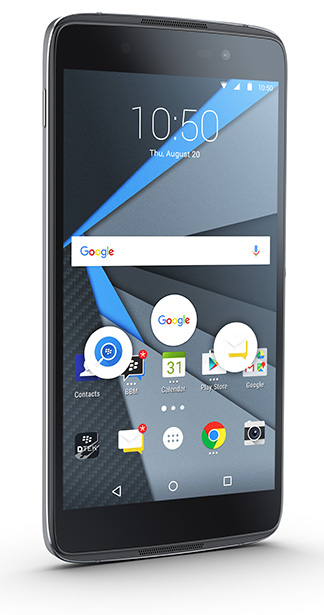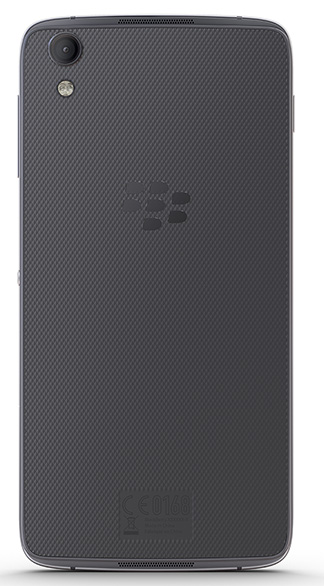 The phone takes its name from the security management app DTEK, bundled with the first BlackBerry Android, the Priv. This is now much more useful than it was then. Previously it allowed you to monitor what app permissions were being accessed, how often and where. But you could only stop delete or ignore the warnings. Now you can manage the permissions well. It's really surfacing something that's in Marshmallow but has been exposed, making it as easy to possible to manage.
That's just as well, because BlackBerry is selling it on security not on the proposition of saving a few quid. The 3GB of RAM is generous, the 16GB of storage isn't, particularly – there is a microSD slot that can take up to 2TB.
In addition, you no longer need to buy BlackBerry hardware to get the Hub. BlackBerry has made the Hub, the Launcher, device search and some PIM apps available for free on any Marshmallow Android, which reduces this phone's USP a little.
However, the unbundled productivity package for third party phones Hub+ doesn't include the DTEK app, or the terrific BlackBerry Keyboard. This software keyboard is worth a few shekels on its own. Even more so, now BlackBerry has added simultaneous multi language support, and Swype-style swipe-to-type. Although if you choose the latter, you lose the backswipe-to-delete-word and swipe-to-get-extra-characters gestures that are unique to this keyboard, and make it so nice to use. It doesn't include BlackBerry's launcher yet, either.
So basically, you're here because you want apps, and want to get them via a more secure Android. Fair enough.
For the DTEK 50, BlackBerry chose an off-the-shelf reference design from TCL, which owns the Alcatel brand. This doesn't sound promising, but although the DTEK looks bland in photos, it's much better in real life. It's very thin and light for its size, at 135g. BlackBerry has added a rubber-effect plastic on the back which distinguished the otherwise forgettable Leap, and which I quite like – the more durable the better. The build quality inspires confidence. Somewhat surprisingly, given its enterprise focus, it has excellent front facing stereo speakers, above and below the display.
The phone's HD display, with a PPI of 424, is pretty solid, with decent outdoor legibility. BlackBerry says it's given the display a specific oleophobic coating making it harder for people to discern the password PIN from the fingerprints you leave behind. BlackBerry includes its own Picture Password unlock method, designed partly for this reason, and also because it's almost impossible to shoulder surf. BlackBerry uses Asahi's Dragon Trail glass, also used in Sony Xperias, rather than Corning's Gorilla Glass here.

Top

Left side: where the power button is, but shouldn't be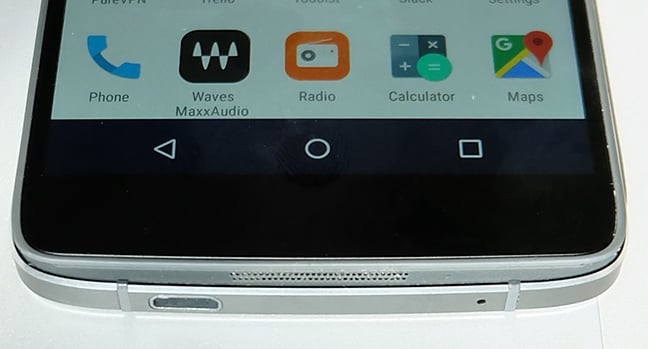 Bottom
The phone uses a Snapdragon 617 octocore SoC, and packs 3GB of RAM and a 2610mAh battery, with BlackBerry claiming 17 hours of mixed use. Fast charging is supported, increasing the charge at a little over one per cent a minute, though it's faster charging a depleted battery. I found the phone held up a day's hammering, with Bluetooth always on and several accounts set to push. It's a tribute to the 617 chipset which is based on a more modern ARM core than the 615, finding a real good balance between power and performance.
Thanks to the generous (for the midrange price) RAM allocation, it never stuttered. Calls were excellent, and the stereo speakers did music proud on such a thin device. It didn't have quite the depth of an HTC flagship, and not all notification sounds are yet in stereo, but it's a cut above average.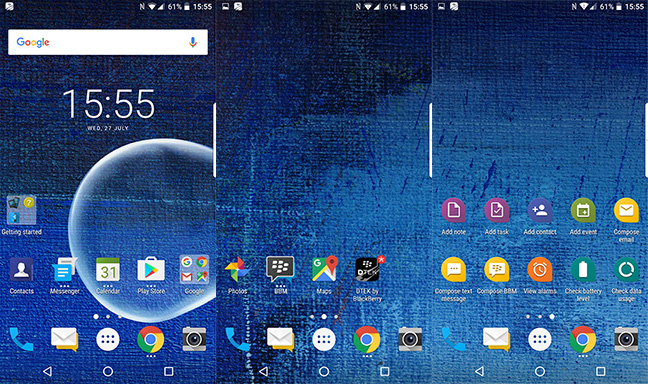 DTEK has three home screen panels by default - and an odd denim wallpaper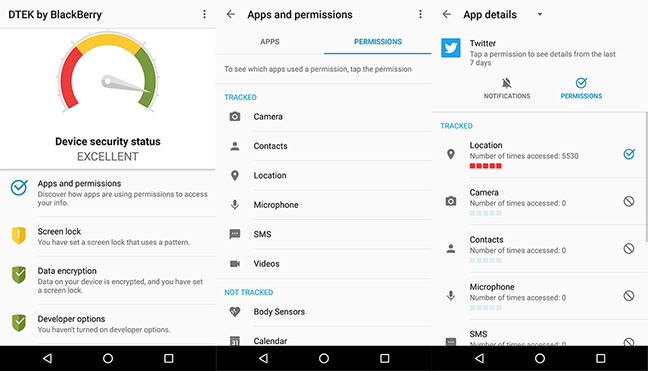 The DTEK app surfaces permissions management in Marshmallow. Note how many times Twitter requested the location in just a week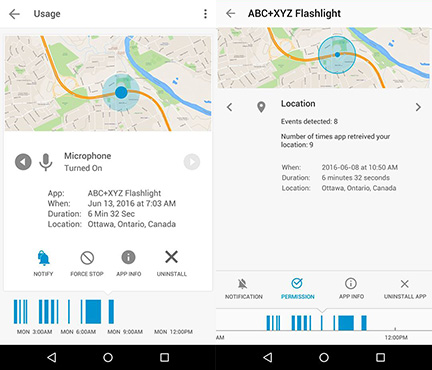 The DTEK app also shows you when and where each permission was requested
Image: BlackBerry
In another nod to BlackBerry's past, there's a multifunction key which can be set to open an app (such as the Hub), or a macro. The button can't perform Launcher tasks like open Recent Apps or pull down the Notifications shade.
I can only make two or three grumbles about the hardware, and this button is one of them.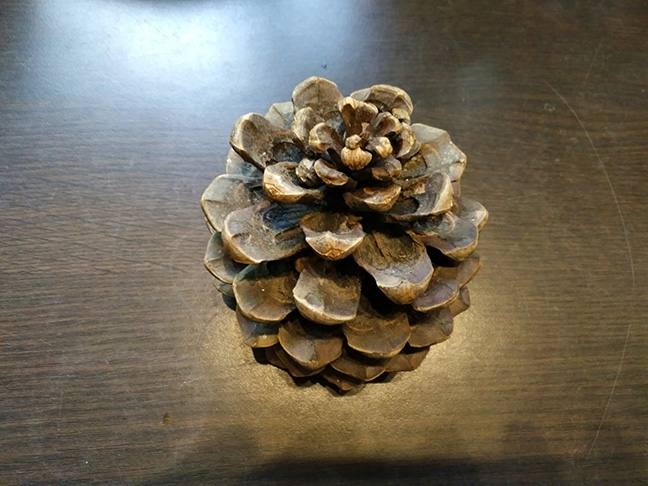 Sample shot 1 from the DTEK 50's camera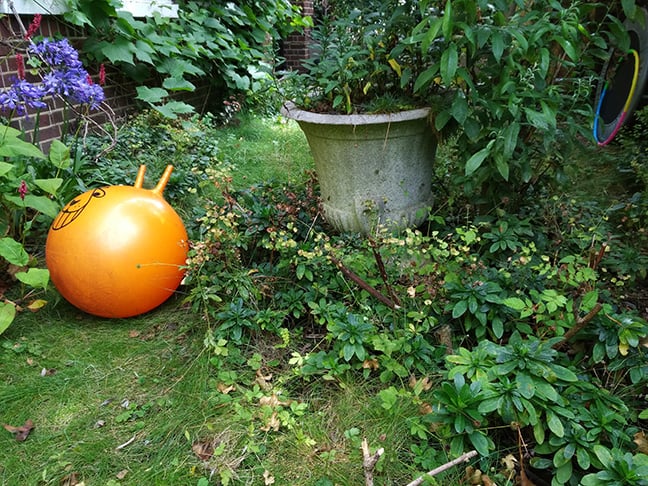 Sample shot 2
The imaging unit here touts a 13MP sensor and f/2.0 aperture lens with phase detection auto focus, turning in respectable results. The absence of OIS was noticeable as the camera app gave very lively feedback when taking a close up – it's better to stand back a bit. Secondly, the blinkenlight has only one colour, white, which will horrify BlackBerry veterans.
Back in the day you could program your BlackBerry to flash out complex colour sequences to distinguish each sender. But the biggest annoyance (YMMV) is the placement of the power button up on the left hand side. Where you'd expect the power button to be, you find the multifunction key. My brain is so accustomed to the power button being on the side or the top of a phone, even after a few days' daily use I was still fumbling. And 16GB is a bit disappointing for a £299 phone.
In conclusion, the oddly named DTEK 50 is a strong package which strikes an interesting blend of utilitarian design with convenience, with the bonus of stereo audio. They should be able to drive a bargain as BlackBerry finally has a product that should sell well. It's affordable to enterprises for whom it's designed to be a fleet product.
For tech-savvy consumers it's harder to recommend, as Huawei has raised the quality around the £220 to £250 mark such that you get a fingerprint sensor. I missed that here.
BlackBerry may be saying a Long Goodbye to making phones, but it isn't throwing us rubbish. ®
Specifications
Octocore Qualcomm Snapdragon 617 system-on-chip (four at 1.5GHz and four at 1.2GHz).
3GB RAM, 16GB flash, and a slot for microSD cards up to 2TB.
5.2 inch full-HD 1080-by-1920-pixel display, at 424 PPI.
13MP f2.0 main camera and 8MP front camera with flash.
Stereo front facing speakers.
2610mAH battery with QuickCharge 2.0
Similar topics