Gold plate can give a durable and affordable alloy a 24-carat veneer finish, adding value to cheap metal. DRAM gives Netlist's Hybrid DIMMs a cache veneer, providing what looks like DRAM to applications but is really persistent NAND underneath, cheaper than DRAM and lots of it.
HybriDIMM is the result of combining Netlist's HyperVault technology with Samsung DRAM and NAND – a Netlist project that began in November last year.
The idea is to use NAND as a DRAM substitute, masking its slowness with predictive software called PreSight, that loads data into DRAM from NAND in anticipation of it being needed.
The first generation HybriDIMM is configurable with 256-512GB NAND + 8‑16GB DRAM per DIMM/1866 MTS 3DPC for Broadwell CPUs, with Linux support. It has block storage mode and an application direct mode.
Gen 2 HybriDIMM will add to this and be configurable to 1TB NAND + 32GB DRAM per DIMM/2400 MTS 2DPC for Purley processors. It will have both Linux and Windows support.
This is broadly similar to Diablo's Memory1 technology, which currently has 128GB DDR4-format DIMMs available, with 256GB ones coming, enabling up to 4TB of "memory" in a 2-socket server. Diablo says Memory1 technology can cost as little as 10 per cent of DRAM capacity. Inspur is qualifying Memory 1 together with a tier 1 server vendor.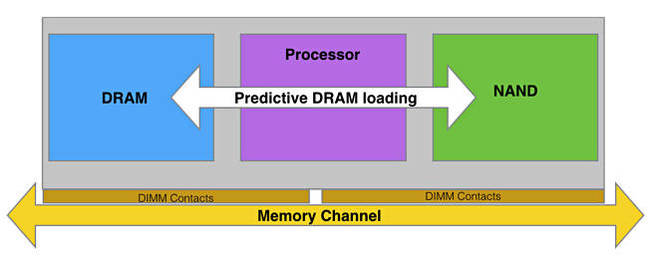 Generic NVDIMM-P
There are three broad classes of non-volatile DIMMs – that is, memory DIMMS with flash onboard – according to JEDEC task group leader Jonathan Hinkle:
NVDIMM-N is a DRAM/Flash hybrid memory module that only uses the Flash to save the DRAM contents upon a triggering event such as power failure. It only uses the Flash to make the data in DRAM persistent, and only needs enough Flash to do this.
NVDIMM-F is a category we created to represent all-flash DIMMs – think ULLtraDIMM – like those made by Diablo/SanDisk.
NVDIMM-P is not fully defined yet and may mostly have speed like DRAM, but may be somewhat slower by including capacity from NVM or NAND Flash.
Netlist says HybriDIMM is the industry's first ever Storage Class Memory technology that unifies DRAM and NAND into a resource that provides storage at near-memory speeds and memory at storage capacities, filling a price/performance gap between DRAM and flash. It is intended to help address the explosive growth of unstructured data and the increasing need to process that data in memory.
According to Netlist, HybriDIMM:
Unites DRAM and NAND flash on LRDIMMs.
Lowers memory costs by up to 80 per cent vs traditional DRAM.
With buffering technology, improves access times to near-memory speed and 1000x vs PCIe SSD.
Is 100 per cent compatible with current x86 servers.
Uses PreSight predictive algorithms to pre-fetch and stage required data.
Enables the scaling of "memory" to storage-level capacities in terabytes.
Using Diablo's calculations for a 2-socket server having 4TB of "memory" with its 256GB Memory1 DIMMS, then, roughly, Netlist 512GB HybriDIMMs should enable an 8TB 2-socket server and its gen 2 1TB HybriDIMMs open the door to a 16TB 2-socket server; think memory rockets in two sockets.
HybriDIMM will be sampling later this year.
With Intel Optane XPoint DIMMs due later this year, the DRAM-NAND price/performance gap is going to have two technologies and three suppliers jostling to fill it. Will predictive software algorithms enable hybrid DRAM-NAND DIMMS to perform as well as XPoint DIMMs? If they do, then XPoint could find its appeal somewhat dimmed. ®
Similar topics