This article is more than 1 year old
ExaFlash: Cheap, dense, energy-sipper will 'empower humankind'
So says vendor Nimbus
+Comment Nimbus Data has announced its scale-out ExaFlash all-flash array at the Flash Memory Summit, with four models ranging up to 4.5PB raw capacity in 4U. The claims are pretty big and prompt the question: "Is this for real?"
Nimbus' overall claims for ExaFlash start from scale and rackspace density and ultimately encompass "empowering humankind's innovation" for decades:
Nimbus Data's ExaFlash Platform is a historic achievement that will reshape the storage and data center industries. It offers unprecedented scale (from terabytes to exabytes), record-smashing efficiency (95 per cent lower power and 50x greater density than existing all-flash arrays), and a breakthrough price point (a fraction of the cost of existing all-flash arrays).

This is a game-changer in every sense that will leave competitors gasping and customers beaming. ExaFlash brings the all-flash data center dream to reality and will help empower humankind's innovation for decades to come.
The system has a scale-out design utilizing dual active:active controller nodes. Isakovich says conventional AFA scale-out combines a non-HA controller and flash in one node, with the network between the scale-out nodes a latency choke-point. Another disadvantage he sees is that restriping/mirroring data across nodes is inefficient and costly.

ExaFlash A-Series
With ExaFlash, Isakovich says data flow is decoupled from metadata and no network or data movement exists between the fully redundant arrays, which redundancy eliminates costly data mirroring. Multiple protocols can operate simultaneously, eliminating islands of storage resource per protocol.

ExaFlash B-Series
MLC flash is used in all four models. Nimbus says it has a patented Parallel Memory Architecture non-blocking design and a hardware-offload engine reduces CPU power usage by 90 per cent.
| | A-Series | B-Series | C-Series | D-Series |
| --- | --- | --- | --- | --- |
| Raw Capacity | 50TB – 100TB | 125TB – 1PB | 1.5PB – 3PB | 4.5PB |
| Form Factor | 2U | 2U | 4U | 4U |
| Power | <500 watts | <1200 watts | <2400 watts | <3000 watts |
| Raw Per-GB Pricing (with HW+SW) | $0.95 | $0.95 | $0.65 | $0.50 |
Available connectivity options include 16Gbit/s FC, 40GbitE, and 56Gbit/s InfiniBand for the A-series. The other three systems get 32Gbit/s FC, 100GbitE and 100Gbit/s InfiniBand. All four models run the ExaFlash OS.
This includes block (iSCSI, FCP, SRP, iSER) and file (NFS, SMB, CIFS) protocols, with object coming next year. There is inline, variable deduplication and compression to increase effective capacity, with 3:1 data reduction quoted in material we have seen.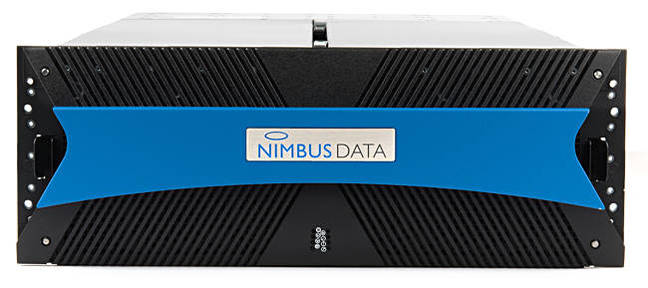 ExaFlash C-Series
There is single pane of glass admin plus API-driven admin. Storage is thin-provisioned, and there are monitoring, snapshot, cloning and replication services.
The 2U A-Series looks the same as a 2U Gemini array (PDF) with 24 front-mount SSD slots in three groups of eight. That has a maximum 48TB raw capacity. We don't know how many drive slots there are in the B-, C- and D-Series, as the bezels cover any front-mounted slot details.
ExaFlash D-Series
Nimbus' competitive comparisons
Isakovich makes enormous claims: "The competitive comparison is staggering. On one end, consider the ExaFlash A-series. 50TB of raw flash (150TB effective) for $0.33/GB, making it about 40 per cent less expensive than a Nimble or Tegile hybrid HDD/SSD array. These all-in-one hybrid arrays are toast."
Pure and HPE better start getting worried: "Consider the ExaFlash B-series, which features up to 1PB raw (3PB effective) in a 2U single system, against Pure's latest FlashArray or HPE 3PAR, which lack multi-protocol support and require 8-12x more components to accomplish just the block storage portion at that capacity."
NetApp is blown away: "Things get really interesting with the ExaFlash C-series. 3PB raw (8PB usable) in 4U, fully redundant, fully multi-protocol. SolidFire/NetApp would need 4 entire racks to do what we do in 4U, making SolidFire/NetApp literally 50x more expensive to operate, for the very cloud providers that care most about cost of operation (power, space, cooling)."
IBM DeepStorage 150 and other WD Infiniflash systems are headed for toastdom too: "Consider the ExaFlash D-series. $0.19 per effective GB with 4.5PB raw in 4U fully HA and software-loaded. Stack that up against SanDisk/WD's Infiniflash or IBM DeepStorage, which are frankly embarrassing in comparison. They need 10x more rack space and still don't provide controllers nor software, while costing 3x more."
Nimbus has also made a competitive comparison against any EMC product.
Nimbus' self-view
The CEO told us: "It's been my life's proudest work leading ExaFlash's development, something totally unimaginable when I started this company 10 years ago with a comparably microscopic amount of angel funding. Today, the storage industry is in disarray, eviscerated by cloud and tectonic shifts in how IT infrastructure is procured and managed. Collectively, all-flash array startups have wiped out nearly $2bn of investor cash. None have a path to profitability, even at their current exorbitant gross margins. Yet the world's storage demands continue to escalate, and with it, the need to increase data center efficiency, achieve scale with consistent performance and simplicity, and reduce cost."
The data storage world needs a saviour, he added: "Nimbus Data stands alone as the contrarian. Already profitable, Nimbus Data's vision is unencumbered by conventional thinking, and ExaFlash reflects that vision. The ExaFlash architecture shines where scale-out falls short, providing virtually infinite scalability. Our array design demonstrates the tremendous potential of purpose-built hardware, capturing the full efficiency and density possibilities of flash. Our software stack, born for versatility and not cobbled together by acquisitions, singularly unifies data management across all storage protocols with one interface and one platform. Finally, our uniquely 'lean and clean' business model enables us to achieve an unprecedented price point that will dramatically accelerate flash adoption and perhaps hasten the demise of other overfunded overhyped money-vaporizing all-flash array vendors."
Comment
A Nimbus Data ExaFlash slide deck opens with a couple of statements: "Infinite scale. Infinite possibilities." The deck has "Unreal efficiency" and "Unreal savings" on its final slide.
As ever, Nimbus Data is self-funded. CEO Thomas Isakovich is the only operational executive listed on the company's website.
You may wonder how such a lean business could devise, design, test, manufacture and support such advanced hardware and software products as these, in competition with startups and post-IPO businesses, which have funding in the $100m or more area. How can Nimbus have equivalent hardware and software reliability and tested quality to competitors like these?
There is no mention of NVMe drives in the data we have seen, nor any quantitative performance numbers – bandwidth or IOPS – or endurance data. We don't know how performance changes as the scale-out nodes increase in number. We have not seen any data sheets. We don't know the SSD interfaces; SATA, SAS or PCIe. There's a lot we don't know.
We have reported on several Nimbus Data problems in the past – here and here, for example.
We don't know how the company has developed from 2014, beyond knowing that it has moved its headquarters from South San Francisco to Aliso Viejo. Over all it has been relatively quiet since 2014.
To get back to ExaFlash, Nimbus says it has both direct and channel sales models. ExaFlash arrays can be pre-ordered now with GA in the fourth quarter. We might suggest you would be wise to run thorough POCs. Independent product evaluation by authoritative analysts would be good too. ®