Nimble shows that its all-flashers start small – and grow bigger
Makes hybrid arrays faster and more capacious
---
Nimble Storage has a new generation of hybrid Adaptive Flash arrays – the CS Thousand Series – plus a new all-flash array entry-point, the AF1000.
The all-flash AF series was announced earlier this year, and Nimble has now added a cheaper AF1000 entry-level system.
If you buy this, you can scale up and also out through the range to larger and faster systems – over 1.2 million IOPS and 8PB, according to Nimble.
Nimble says arrays of any type can be clustered and managed as a single entity in a Unified Flash Fabric.
You can see an Adaptive Flash array data sheet, here [PDF]. Essentially, the AF1000 has a lower capacity and performance level than the original AF3000 entry product.
Shiny new hybrid line
Nimble says the new Adaptive Flash or CS Thousand Series [datasheet PDF] delivers up to twice the performance of the previous generation with a 40 per cent lower cost of capacity.
In detail:
Lower $/IOPS by 30-65 per cent.
Lower $/GB (useable) by 33-43 per cent.
Increase density in terms of useable GB/U by almost 100 per cent.
With deduplication support in an upcoming release, by up to 140 per cent.
Increase scalability by 164 per cent from a maximum useable of 440GB to over 1.1PB.
The 4U enclosure has 21 HDD slots and three dual-carrier SSD slots, meaning up to six SSDS can be used, with the starting point being three. The system supports 10TB disk drives.
Here's a Nimble blog chart showing the increased IOPS: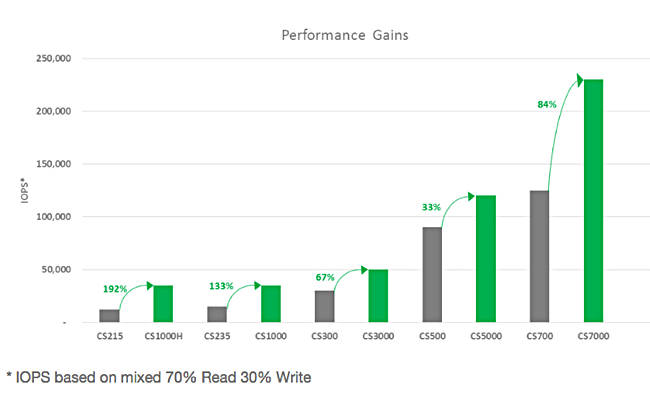 CS refresh IOPS boost
The CS series run the NimbleOS, as do the all-flash products, and feature the following:
Scale out to four-way cluster.
99.9997 per cent availability.
Triple+ Parity RAID – tolerates three simultaneous drive failures.
Encryption and data shredding.
Compression.
CS1000, CS3000, and CS5000 support scale up to any model within the CS family.
CS1000H supports scale up to the CS3000H.
The CS range was last refreshed in August 2014. (Check out the details of its June 2014 CS range here.)
Nimble suggests Adaptive Flash array products can be used as backup, archive and DR targets for its all-flash arrays. Deduplication is planned for the Adaptive Flash arrays in a future release at no cost for existing customers with an active support contract.
The AF1000 MSRP starts under $40,000 including three years of support. ®