Samsung points high-speed Z-SSD smack-bang at XPoint
Flash Memory Summit dazzlement by Korean flashmeister
---
The big flash dog has barked: Samsung did its flash dazzlement show at the Flash Memory Summit, with a 32TB SSD, a 1TB BGA, and a high-speed Z-SSD.
The 32TB SSD is built using 64-layer 3D NAND - its V-NAND brand - with TLC - 3bits/cell - orientation.
64-layer V-NAND
The 64-layer TLC V-NAND was revealed at the end of July and will provide higher capacity chips than its current 256Gbit 48-layer technology. A 512Gbit (64GB) chip could result, meaning doubled SSD capacities. Sammy said its IO speed was 800Mbit/sec.
WD/Toshiba have their 64-layer 3D NAND, called BiCS, in pilot production with a 256Gbit chip.
Samsung will likely build an 8TB larger-than-M.2 format SSD using its 64-layer V-NAND chips. The physical size will be 22mm x 110mm. Enterprise servers 1U in size using these cards could have 256TB of NAND capacity. The standard M.2 form factor should see 4TB Samsung product with the same chips.
The first 64-layer V-NAND chip products should ship in the fourth 2016 quarter, possibly in BGA format for tablet-style devices.
32TB SSD
This will be a 2.5-inch form factor SAS-connected SSD for enterprise data and will have 32 x 1TB component stacks, each made up by 16 x 512Gbit chips stacked together. In other words we have layers of layered flash chips.
Sammy's current highest capacity SSD is the 2.5-inch, 15.36TB PM1633a. There are 32 packaged stacks inside the drive, each of which contains 512 x 256Gbit 48-layer V-NAND chips. An earlier PM1633 offered 3.84TB using 32-layer, 128Gbit chips.
The 32TB SSD will replicate this basic double-layering arrangement using the 512Gbit chips. It will be called a PM1643 and ship in 2017.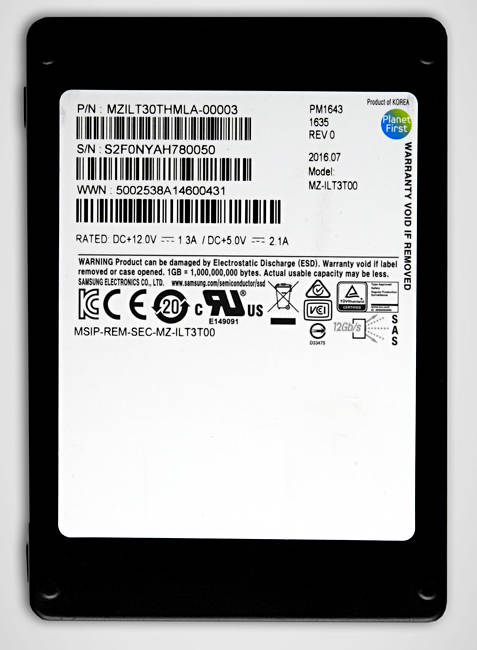 Samsung PM1643
SSD capacity bragging wars
Sammy thinks it could make a 100TB SSD by 2020; that would be two more generations potentially of its V-NAND technology, taking it to 2Tbit chips with 128 layers – but this is pure guesswork.
Seagate has demonstrated a 60TB SSD using a 3.5-inch form factor, possibly using 1,250 x 384Gbit Micron 32-layer TLC chips inside.
Toshiba is discussing a 100TB SSD using QLC (4bits/cell) flash.
1TB BGA
Super Sammy has a 1TB BGA (Ball Grid Array), which neatly doubles Toshiba's newly-announced 512GB BG1 BGA package which uses TLC NAND - the 48-layer BICS technology we understand.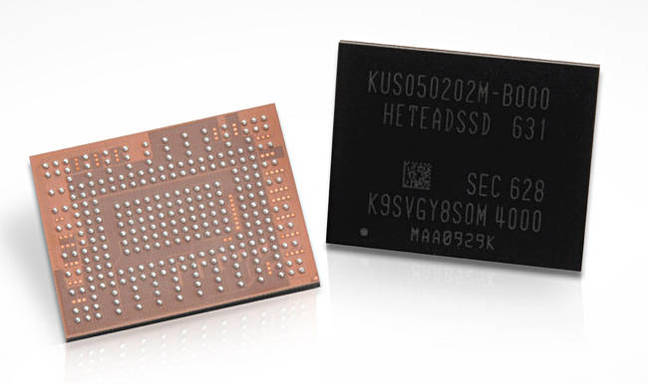 Samsung 1TB BGA
Sammy's BGA uses TLC flash, LPDDR4 mobile DRAM and a Samsung controller. Sequential read/write performance is 1.5GB/sec and 900MB/sec respectively. It weighs about 1g and should be available next year using FO-PLP (Fan-out Panel Level Packaging). Its size is believed to be 11.5mm by 13mm form factor.
Z-SSD
Sammy will ship a 1TB Z-NAND SSD this year, and it uses 3D V-NAND chips with a "unique circuit design" and tweaked controller and which performs faster than other V-NAND-based SSDs. It has a four times faster latency - Sammy calls it ultra-low - and is 1.6 times faster at sequential reads than Samsung's PM963 NVMe SSD.
This is how Sammy describes the Z-SSD technology:
Samsung's Z-SSD shares the fundamental structure of V-NAND and has a unique circuit design and controller that can maximize performance, with four times faster latency and 1.6 times better sequential reading than the Samsung PM963 NVMe SSD.
Sharing the fundamental structure of V-NAND could indicate it is NAND and it is layered, but we could be enjoying a Korean version of Lost In Translation here.
The PM963 has an up to 1.6GB/sec sequential read bandwidth, ergo the Z-SSD will have an up to 2.56GB/sec one.
Trying to work out the latency is tricky as Samsung hasn't revealed the PM963's latency. A Micron 9100 NVME SSD's write latency is 30μs. That could indicate the Z-SSD is in the 7.5μs area, with Intel's Optane XPoint having a 7μs speed; pretty darn close.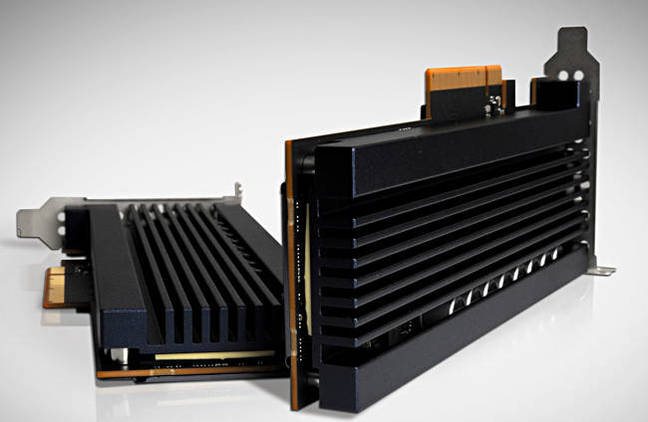 Samsung's Z-SSD. That seems a lot of real estate for a 1TB capacity, plus the heat sink is pretty big too.
Sammy positions it in the performance gap between SSDs and DRAM, clearly hinting it's an XPoint competitor. The company intends for it to be used in systems that deal with extremely intensive real-time analysis as well as extending high performance to all types of workloads.
The "unique circuit design" might indicate it's an SLC chip (1 bit/cell) which would intrinsically have faster read and write speeds than either an MLC (2bits/cell) or TLC (3 bits/cell) product. But XPoint-class speed from SLC flash seems highly unlikely – unreal in fact.
There could be 2TB and 4TB Z-SSDs in 2017. ®