This article is more than 1 year old
Reds are infiltrating VMs, says new x86 virt Supernatural Square
Chinese vendors and Red Hat are the big movers in Gartner's virtualisation Magic Quadrant
Gartner's annual Magic Quadrant for x86 Server Virtualization Infrastructure has escaped into the wild, with a suggestion the Reds are taking over.
One Red, Red Hat, has moved from the "niche players" category of the quadrant into the visionaries square, on the strength of "a strong tie between KVM adoption and OpenStack, as well as an increase in OpenStack adoption and integration."
"Streamlined" licensing and new suite-based offerings aimed at cloud management make Red Hat a strong alternative to Microsoft and VMware, especially for Red Hat Enterprise Linux users.
The other "red" making a move is Chinese company Sangfor, which debuts in this year's magic quadrant.
Sangfor's puts KVM to work in a suite of products that Gartner says "continues to expand and now includes virtual storage and hyperconverged integrated systems through its hardware relationships, including with Lenovo and Inspur. It has also developed relationships with thin-client hardware suppliers in China."
The company added (limited) English language support last November and upgraded to version 5.0 of its suite in May 2016.
Gartner says Sangfor's reference customers don't have long histories with its kit, which may mean keeping some pinches of salt will come in handy once planned international expansion brings it to wherever you go about your business.
The Register's virtualisation desk understands that other Chinese virtualisation vendors will almost certainly appear in next year's Magic Quadrant, and that they're already outpacing other niche players by revenue.
"VMware has maintained its functionality lead," the quadrant's authors say, but is still priced high enough that users feel some pain. With cloud offering an easy way to ease those aches, the company needs to get better at products that run cloudy workloads, but it's currently not doing well in those markets. Critically, it lacks traction with developers so will find it hard to grab its slice of new cloud-native applications. Gartner says this "remains a key challenge" for the company.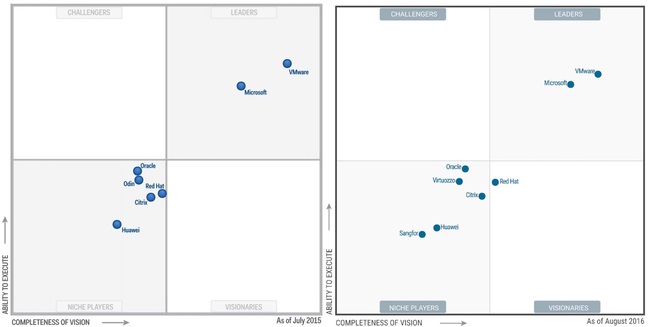 Gartner's 2015 and 2016 Magic Quadrant for x86 Server Virtualization Infrastructure. Click here to embiggen
"Microsoft has a stronger story for new applications," the quadrant says, although much of that story is yet to be told because Windows Server 2016 missed the cutoff for consideration in this year's supernatural square.
That means nobody is buying Windows Server for virtualisation right now, but developers are paying attention to what Microsoft can offer. "Its focus on developers is important in an infrastructure virtualization market that is heavily saturated," Gartner says.
Oracle has made up ground on features like live migration and storage recovery, but still puts users off with licences that make it hard to run clustered services. The analyst firm therefore says "general interest in Oracle VM Server for x86 has remained low with Gartner customers (based on inquiries and client meetings)."
Virtuozzo, the company formerly known as Odin and known as Parallels before that, gets a tick for offering "the best solution for service providers building high-density and isolated solutions around common persistent workloads, such as web services and databases."
Gartner reckons the company has "a head start on competitors" as container enthusiasm explodes. "However, as every major cloud provider begins to offer container support, and as every major hypervisor vendor adds container support to its portfolio, Virtuozzo will be challenged to maintain a lead."
Huawei remains constrained outside China by national security concerns that make buyers think long and hard before buying. While its products are evolving nicely and Huawei has done well to leverage OpenStack, Gartner thinks most buyers will be behind the Great Firewall.
Citrix stepped away from the mainstream server virtualisation market years ago, so is no longer a contender for mainstream workloads. Gartner says that means "XenServer also lags in certain technical criteria (maximum sizes of virtual memory per guest, virtual disk)."
Customers don't care: the quadrant says "reference customers suggest that the Citrix installed base now appears generally comfortable with the direction of XenServer."
But customers do like Citrix's strategy to optimise XenServer as a platform for its XenApp and XenDesktop products, and throw it in cheap, makes it "an attractive cost avoidance strategy when comparing XenServer to paid alternatives such as vSphere.
Gartner's had a little bit of bad luck with this quadrant for the last two years. Last year's cut off date meant that vSphere 6.0 missed out. This year it could not consider Xen Server 7.0 and has gone to press before Windows Server 2016 debuts. With a little luck, Azure Stack will emerge in time for consideration in next year's document, because there's a surely a shakeup coming as Microsoft's hybrid cloud and container strategies make waves.
The Register understands VMware will have more to say on matters hybrid and cloud-native, too, at VMworld in a couple of weeks. ®