In June, the US Air Force had to call on an apiarist for help after more than 20,000 bees swarmed at the exhaust of an F-22 Raptor.
The incident has just come to light, courtesy of a USAF media release that says the bees were found in the "exhaust nozzle of an F-22 Raptor engine following flight operations at Joint Base Langley-Eustis, Virginia, on June 11, 2016".
Rather than kill the bees – America is badly affected by hive collapse – the base decided to call on a beekeeper to take them away.
Andy Westrich, US Navy retiree, was the apiarist known to the on-base entomologist (the Air Force keeps insect experts on its bases, apparently). Westrich used vacuum hoses to trap the bees, and he calculated the swarm size from the weight of the captured bees – eight pounds, or in modern numbers, 3.6 kilos.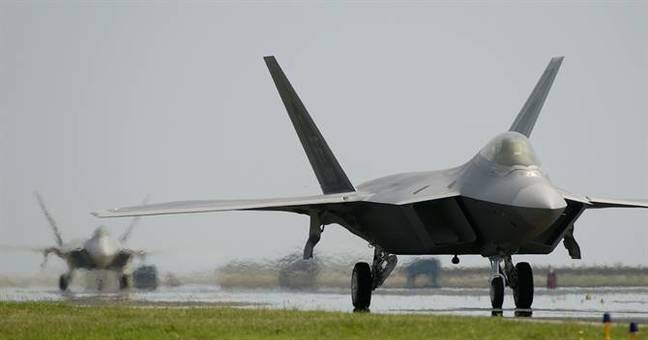 F-22 Raptor, sans bees. Image: US Air Force
From the USAF release: "Westrich suspected that the swarm of bees were on their way to a new location to build a hive for their queen. Queen bees typically fly with eggs to lay at the new hive and do not eat for up to 10 days before leaving to start a new colony. As a result, the queen is often malnourished for the journey. Westrich believes she landed on the F-22 to rest. Honey bees do not leave the queen, so they swarmed around the F-22 and eventually landed there." ®