This article is more than 1 year old
Say Alloy to my Intel friend: Chipzilla touts 'open' VR techno-specs
Okay. You wanna play rough, Samsung? Okay
IDF16 Intel has vowed to open up its new all-in-one Project Alloy virtual reality headset, unveiled today at its Developer Forum in San Francisco.
Alloy is described as "an open hardware platform," and will rival Samsung's Gear VR and similar virtual reality goggles.
Alloy is powered by an Intel chipset and RealSense cameras, and, most importantly, it is wireless. You're supposed to pop it on and freely walk around your home or office or wherever and explore a 3D pretend world without tripped over or being limited by a cord connected to a computer. It also doesn't need any motion sensors placed around you to sense your movements.
This is opposed to head-mounted displays that are tethered by a cable to a PC and need sensors on poles around you to detect you walking and moving your hands.
Instead, the Alloy uses cameras mounted on its front to map out the real physical space around you: if you get too close to someone else or a wall or object in the real world while wandering around in your make-believe world, the software renders the obstacle in your display to let you know you're about to fall out of a window or step on the cat.
This was demonstrated on stage at IDF this morning when an Intel staffer wearing the goggles almost walked into Chipzilla CEO Brian Krzanich standing a few feet from him: Big Brian's face loomed large in virtual space ship world.
Those same cameras detect your hands in front of you, showing them in the virtual display and allowing you to manipulate things in the pretend world. You can even use things in your hands as tools in the virtual universe. On stage, an Intel staffer pulled out a small wad of folded dollar bills, held them up and used them to cut into a malleable object in the virtual world.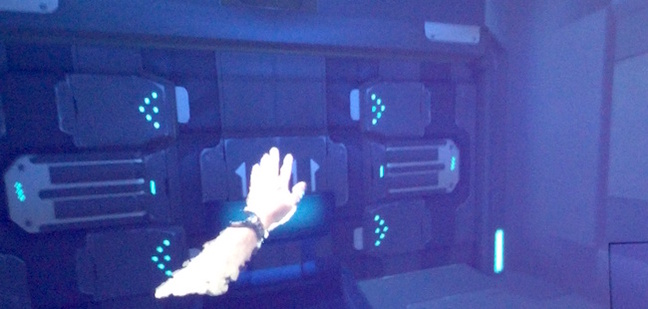 Gotta hand it to Intel ... How your arms appear in a virtual world while wearing Alloy specs
There's a battery in the strap that goes around the back of your head, and the device's weight is balanced so it sits on your head rather than rolling forward or back off your bonce. There are no technical specifications available yet.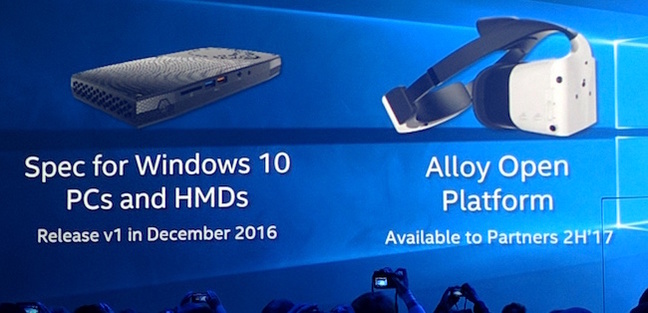 Vows ... Chipzilla's promised to come up with a standard for Windows 10-compatible head-mounted displays and an open Alloy design
Intel said it will "open the Alloy hardware and provide open APIs for the ecosystem, allowing developers and partners to create their own branded products from the Alloy design, in 2017." This means it should be possible for people to build their own Alloy goggles and hook them up, wirelessly, to their computers.
"Anybody can take the Alloy hardware, combine it with Windows Holographic, and build a world-class virtual reality system with any manufacturer they choose," said Krzanich.
So, open provided you use Windows, it seems.
Let's hope Alloy fares better than Intel's Project Tango smartphone, which was touted for $399 in January, and offered to developers so they could experiment with mobile apps and its RealSense motion detection camera. That handset was quietly axed in July amid Intel's exit from the smartphone processor world. ®