This article is more than 1 year old
Rubrik's extra funding as Firefly extended data management flies out of the coop
Billionaires a-flutter in Silcon Valley bubble as Rubrik trousers their cash
Bucking any notion of down rounds and funding droughts, Rubrik has completed a massive $61 million C-round – taking total funding to over $112m – and released its Firefly Cloud Data Management platform.
The data management company was founded in January 2014 and took in a $10m A-round, plus a $41m B-round in 2015. With the latest $61m the cash in-flow is meteoric; rough math says it's trousered $115,000 per day in funding since it was founded.
What's got the B-round VCs – led by Khosla Ventures with heavy participation from existing investors Lightspeed Venture Partners, Greylock Partners and angel investors – so all-fired up?
Rubrik has a backup-to-the-cloud appliance and added encryption in April.
It says it is experiencing "explosive business growth fueled by record customer adoption, including numerous Fortune 500 companies."
The evidence for this is:
Enterprise customers across all verticals, including numerous Fortune 500 companies, are adopting Rubrik in record numbers to leverage cloud economics. No numbers though.
Global network of over 150 major resellers and distributors.
International offices and leadership teams in EMEA and APJ to meet global market demand.
Technology partner ecosystem – Rubrik delivers joint, certified solutions with VMware, Pure Storage, Nutanix, Tintri, Cleversafe, Cloudian, and Scality among others, and cloud service providers such as Amazon AWS and Microsoft Azure.
Rubrik has received numerous industry awards.
Sinha tells us there is 100 per cent sequential quarter-on-quarter growth in bookings, many enterprise customers, a $250,000 average deal size, and a $10m+ bookings rate per quarter. Whee!
He says Rubrik's appeal is horizontal – having Fortune 500 customers in Finance, Tech, Media/Entertainment, Real Estate, and Healthcare.
But no one is going to pump in so much cash just for a fast-growing backup-to-the-cloud box, and there are lots of these kinds of products out there. The company seems to want to be the provider of data management services for data; in the data center, around an enterprise's edge, and the stuff that its systems pump out to the cloud.
It describes its software as a "cloud data management platform for data protection, search, analytics, archival and copy data management for hybrid cloud enterprises." Secondary data in other words, and hence it will be butting up against Cohesity and other secondary data storage silo convergers, as well as every backup vendor on the planet whose products send data to the cloud.
Impressing the VCs
The funding VCs must have been shown impressive numbers, growth metrics and product roadmap plans and developments to pour in so much cash. This will be used to "continue rapidly scaling sales, marketing, support, and engineering to bring the benefits of cloud data management to every organization around the globe."
Khosla Ventures founder Vinod Khosla provided a prepped quote: "As data centers are re-imagined for cloud, there's a universal need for a data management platform that can orchestrate data anywhere – across private and public clouds. Just as Sun Microsystems ushered an era of client-server computing, Rubrik pioneers a cloud data management architecture that will fundamentally transform how enterprises manage and access their application data."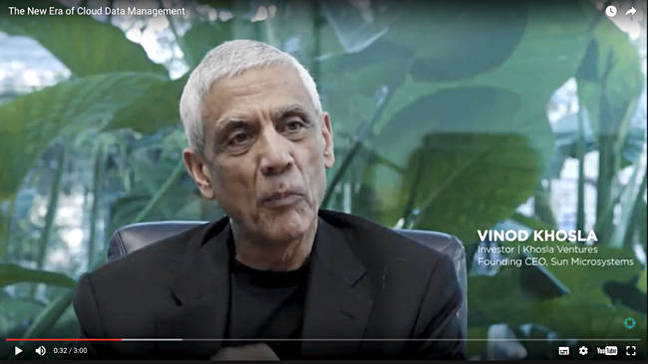 Billionaires blather; Mark Leslie, Vinod Khosla and John Thompson prognosticate on Rubrik. Click image to run the video.
Rubrik cofounder and CEO Bipul Sinha is similarly fervent: "With organizations increasingly looking to leverage public cloud, Rubrik delivers the killer application to democratize public cloud for enterprises with an easy button to protect, manage, and secure data everywhere. Our Firefly release will further accelerate cloud adoption in enterprises, and cement cloud data management as an industry standard practice."
Clever CEO Bipul, he's corralled a billionaire and two millionaires helping to fund Rubrik into taking part in a video marketing the company.
Firefly
Firefly is about helping enterprises use public cloud services for data protection, search and analytics, archiving and compliance, and copy data management capabilities across all their workloads. It is described as a single software fabric spanning private, hybrid and public clouds.
Rubrik's existing software provides application recovery, global search, policy-based automation for SLAs, data encryption and compliance.
Firefly adds to this mix, bringing in:
Physical Microsoft SQL servers – one SLA policy engine to automate SQL server data management, and deliver application consistent, incremental forever, and point-in-time recovery with intelligent log management.
Physical Linux servers – policy driven, incremental forever data management and predictive search for instant access to file versions across clouds.
Rubrik Edge for Remote and Branch Offices – a software appliance providing data protection to remote and branch offices.
We'd think existing Rubrik customers would lap this up and it now has a new set of use cases for its channel to market. There's pretty obviously scope for extending the supported Firefly server set; Exchange anyone? Other databases?
Rubrik's on a roll and the momentum's intoxicating for its execs and backers. Don't let the music stop. ®