Ad-blocking 'plateaus', claims hopeful ad industry
Really?
---
The digital ad biz is hoping that ad-blocking has reached a plateau in the UK, after its rolling survey of users failed to detect an increase. The IAB's July poll, conducted by YouGov, found that 21.2 per cent of the sample used prophylactics, down from 21.7 per cent in February.
However the IAB notes that many users don't really know what an ad-blocker is.
Over 1 in 5 who claim to use an ad blocker incorrectly cited antivirus software or ad-blockers that don't exist, the IAB finds. Consequently, genuine ad-blocking levels might be lower than reported.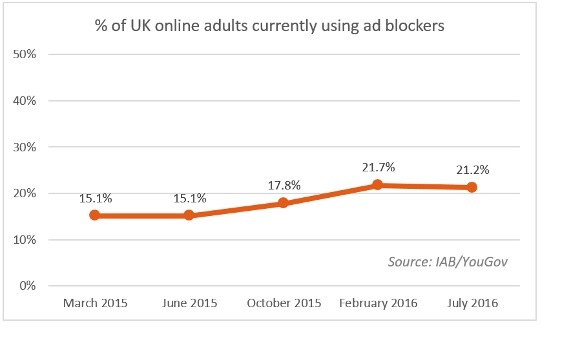 The IAB is cautious about offering an explanations. The sample may reflect a greater proportion of less tech-savvy users, while newly bought PCs may not have an ad-blocker installed. But the trade body hopes that its message that the production of decent content costs money might be getting through – and still urges the industry to move to a "to a less invasive, lighter and more user-friendly ad experience".
Fifty-five per cent of ad block users are prepared to turn them off if it was the only way to access content.
Over a fifth (22 per cent) of people who've downloaded an ad-blocker no longer use it. The biggest rise in why people have turned it off is a lack of trust (up from 6 per cent to 14 per cent among those who've stopped). Women are nearly 7x more likely than men to have turned it off for this reason (27 per cent vs 4 per cent).
Many publishers have now installed passive-aggressive (or simply aggressive) roadblocks for AdBlock-equipped users, delaying or blocking the delivery of pages when an adblocker is detected. Publishing needs more than a healthy digital ad biz – and today's is anything but healthy – if it is to return to the diversity it enjoyed in the paper era.®
Bootnote
It's turtles all the way down.