This article is more than 1 year old
Hyper-converged top-of-the-pops list is out: Guess who hasn't crushed it?
EMC not a leader - yet - and Pivot3 in the top 3
Surprise, surprise: EMC is not top of the hyper-converged charts … yet.
Forrester's Hyper-converged Infrastructure (HCI) Wave report for 2016's third quarter looks at the top dozen HCI suppliers and rates them into four categories – leaders, strong performers, contenders and challengers. A square sectioned into four quarter-circle slices is used to graphically position the 12 suppliers.
The report describes HCI like this: "The next wave of integrated systems, beyond the base level of converged hardware integration, is hyper-convergence, which installs a software-defined storage layer optimised for VM-aware operation on top of an integrated hardware and system software stack."
A hyper-converged system should have:
Integrated compute and storage resources
Software-defined storage
Automatic discovery and configuration
Minimal management outside the hypervisor console
Forestier's analysts evaluated HCI suppliers against 28 criteria, which formed three categories; current offering, strategy, and market presence. Vendors had to have an available product, reference-able customers, an ability to demo the product, and an offering that has drawn significant interest from Forrester clients.
This filtering produced a dozen suppliers from the total number out there.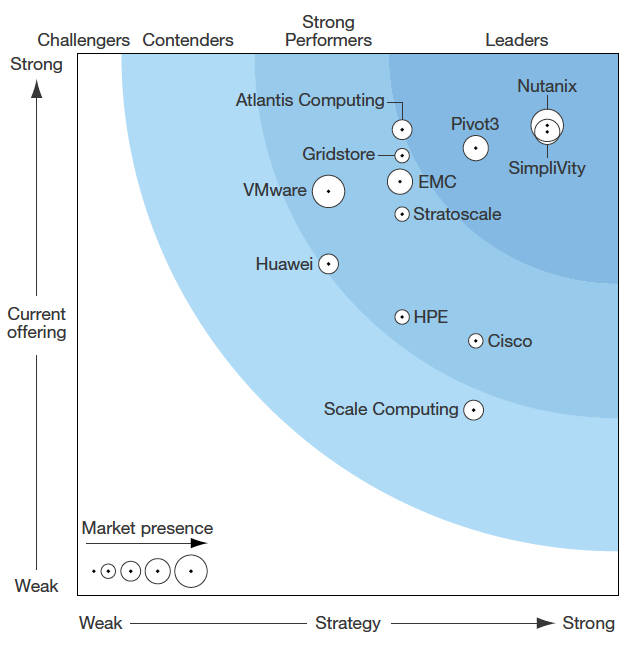 Forrester Wave for hyper-converged infrastructure suppliers for third quarter 2016
Nutanix is top in the leaders quarter circle, no surprise, with SimpliVity an exceedingly close second – oh, it is doing that well? – and Pivot3 third. Now that is a surprise.
The strong performers include Atlantis, GridStore (now HyperGrid), EMC, VMware, Stratoscale. Huawei, HPE and Cisco, with Scale Computing as the sole challenger and no supplier in the outer, contenders' quarter circle at all.
How come Pivot3 is scored so high? Its market presence is good – over 2,000 and "boasts one of the two largest hyper-converged data storage clusters we found in our research". Forrester notes: "Because it has not focused on general enterprise environments, it's been flying under the radar for some time. In the past 18 months, the company has made a concerted effort to sell outside of its historical strongholds, and in its most recent quarter, it reported that, for the first time, non-surveillance applications accounted for the majority of its sales."
It concludes "Pivot3 is a strong candidate, especially if requirements include PB-scale data storage, where its space-efficient data protection may reduce costs."
Some of points Forrester notes about the strong contenders' group of suppliers are these:
Atlantis is a relative newcomer and has a small market footprint, but its overall capabilities give it a strong position
Gridstore is unique in its Microsoft specialisation, currently supporting only Hyper-V and integration with Microsoft's environment … One unique aspect of Gridstore's solution is its quality-of-service capabilities, which allow the definition of multiple classes of VMs with guaranteed minimum and maximum input/output (I/O) performance levels.
EMC is in a good position to participate in the industry-wide shift toward software-defined infrastructure environments. (VxRack was not included in the report, only VxRail.)
Stratoscale does appear to have one of the more advanced workload and data migration capabilities in our vendor group as well as integrated high availability (HA).
VMware claimed more than 4,000 customers for VSAN, which would make it the most widely deployed hyper-converged solution in the market.
Cisco's HyperFlex is in the very early stages of its life cycle, which affects Cisco's rating in this evaluation... Forrester expects that, given the strong acceptance of Cisco's underlying UCS platform, the market ramp for HyperFlex should be rapid.
HPE's product is in its early stages, and ... its position in the HCI segment should improve quickly over time.
Huawei offers FusionCube, which supports different hypervisors … Huawei's product appears to be technically mature ...data services are weak, but its interface was among the easier to use.
Scale Computing is summed up thus: "a small company but has a large installed base in relation to its revenues."
Hyper-converged is one of the on-premises storage market hotspots; it has lots of growth potential. Expect lots of strong competition as vendors try to grab and hold market share.
Get a complimentary copy of the Wave HCI Q3 2016 report here (registration required) courtesy of SimpliVity. ®