Microsoft has begun to roll out the Anniversary Update of Windows 10 to phones.
The business-friendly update gathers up hundreds of minor but useful changes, and it's hard to single out some as more important than others. Some of the subtle design changes do make the whole thing look less amateurish, however.
The 10.0.14393.67 Update offers the user greater control over the quick settings panel and notifications, with notifications cached in the cloud and synced to various Windows devices. (At various speeds – your phone may well be flat by the time the low battery Notification arrives on your PC – more work is needed here). You can set a maximum number of notifications with which an app can annoy you, which is something Android really needs.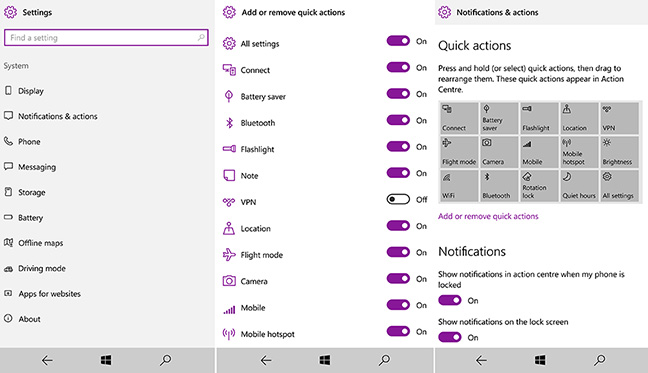 Cortana becomes more of a command line, while Skype, via the bundled Preview, contains its journey to becoming a rich SMS client. Like the Anniversary Update for PCs, it features the dreaded Bots.
You can see the contours of Microsoft's ambitions for Skype, as a kind of transport-independent communications, although it's still very much a work in progress. Microsoft has warned that Skype support for older operating systems (ie, Android 4.0.4, Windows Phone 8.1 would splutter and die early next year), but that largely affects phones three years and older.
Despite the unified code base, not all new desktop features have made it to the mobile equivalent. The Edge browser for desktop can now be pimped up with useful extensions, including Evernote, LastPass and AdBlock – but the mobile version does not yet support extensions.
The update is mentioned in an official Windows blog here.
Meanwhile, there's a handy list here. Expect a companion firmware update, to enable the much-missed "tap to wake" feature.
The quality of development on Windows 10 has gone up this year, and Microsoft should start to see a dividend from the painful move to a common code base. But there's lots of catch-up to do, too. So what's missing?
The mobile Anniversary Update loses one or two features: including the useful Kids Corner and the dubious Wi-Fi password sharing.
And the big bang for Continuum awaits. In the Anniversary Update Continuum now supports Ethernet over USB, but if you've used it, you'll be aware that it lacks multiple window support – and a spartan mobile "to do list" app (like ToDoist) can look ludicrous projected onto a giant HD monitor. It's surely more important if a phone is to replace a PC than some esoteric features like PC to PC screen casting.
With no new hardware expected from Microsoft's bowdlerised hardware division, it's up to HP Inc to prove Windows 10 is worthwhile and useful on mobile devices, with its ambitious plans around the X3 device, and a new virtualisation service to fill in the gaps. ®