This article is more than 1 year old
Intel teases geeks with 2017 AI hyper-chip: Xeon Phi Knights Mill
Well, at least we know what our future cyber overlords' brains will be called
IDF16 Intel is working on a powerful Xeon Phi processor for servers and workstations that is "optimized" for artificial-intelligence software – and it's codenamed Knights Mill.
Chipzilla's data center group boss Diane Bryant flashed up this slide during this morning's Intel Developer Forum keynote in San Francisco: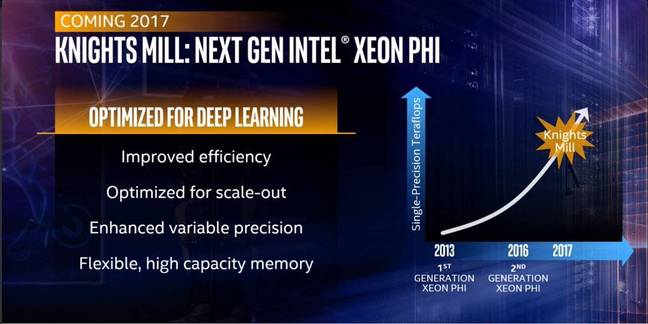 The chip is geared towards deep-learning applications, and is expected to be available in 2017, we're told. It will use RAM stacked into the top of its die, feature many, many cores, and have a focus on high-performance floating-point calculations – all of which should help it perform the operations necessary for high-throughput machine learning.
Crucially, the Mill is not an accelerator or coprocessor: it can run x86 code and can boot and run operating systems and apps without the need of a host CPU. This sets it apart from rival chips, like Nvidia's GPUs, which need a host processor to direct them.
According to Intel, Knights Mill "is optimized for scale-out analytics implementations, and will include key enhancements for deep learning training. For today's machine learning applications, the large memory size of the Intel Xeon Phi processor family helps customers like Baidu make it easier to train their models efficiently."
The Mill is the latest in the Xeon Phi family, which keeps growing and growing. Its Knights Hill sister, a third-generation 10nm Phi announced in 2014, will be used in supercomputers, such as the US Department of Energy's forthcoming 180PFLOPS Aurora beast.
Meanwhile, Knights Landing, the second-generation 14nm Phi announced in 2013, went on sale in June. It sports up to 72 Atom Airmont cores, and can access up to 16GB of stacked 3D RAM and up to 384GB of normal DDR4 memory – you can find all their specs here. It will be used in Uncle Sam's Cori supercomputer. Before them were Knights Corner and Knights Ferry.
The Xeon Phi clan is aimed at high-performance servers and systems, and carry high price tags. A Knights Landing part will set you back at least $2,500. Up until now, they've been touted to academics and government boffins running simulations and material studies and the like. Now, with AI startup Nervana in its pocket, Intel's turning the Phis to artificial intelligence, and Nvidia is in its sights. ®