This article is more than 1 year old
The calm before the storm: AMD's Zen bears down on Intel CPUs
More details confirmed ahead of 2017 desktop, server launch – and don't mention ARM
AMD is continuing to drip feed information about Zen, its long-awaited designed-from-scratch x86 processor microarchitecture.
Zen is a big deal, or rather needs to be a big deal, for AMD because its previous Bulldozer microarchitecture was, well, bulldozed by Intel's Core series. Thus, AMD needs Zen to succeed in order to win over computer makers and lure back buyers to its technology.
El Reg was among a gaggle of journalists briefed on Wednesday night in San Francisco by AMD's top brass on the state of play with Zen. Amid the rumors and gossip, let's just cut to the quick and reel off what we now definitely know about Zen – well, at least according to its designers.
Desktop
Zen-based chips will be fabricated by GlobalFoundries and feature 14nm low-power FinFETs. Desktop PC Zen processors, codenamed Summit Ridge and branded AMD FX, will ship in the first quarter of 2017, with perhaps a few appearing on sale at the very end of 2016. In other words, it won't officially become available in 2016 as AMD had once planned.
Summit Ridge is an eight-core design, with 16 hardware threads, that sits on AMD's AM4 chipset and motherboard with support for DDR4 RAM and PCIe gen-3 as you'd expect. We were shown a PC powered by a 3GHz eight-core Summit Ridge running alongside a system sporting a comparable 3GHz eight-core Intel Broadwell-E 6900-series Core i7. At the push of a large red button, both machines raced to render on screen a very large 3D model of a Zen processor package in Blender. Whichever CPU finished drawing the scene first would be the winner.
It was a dead heat.
All right, AMD said its chip finished just ahead of Intel's, but it won by what looked like a fraction of a second. Anyway, the point was: Summit Ridge is able to keep up with high-end Intel desktop offerings from earlier this year, and AMD reckons its CPUs will only get faster as we get closer to launch and beyond.
A Zen core is expected to execute 40 per cent more instructions per cycle, on average, than an AMD Excavator core, which was the previous generation. We estimate that performance boost slots Zen somewhere between Intel's Broadwell and Skylake microarchitecture in terms of single-threaded IPC. Zen must be able to match pace with Intel's top-end chips, or surpass them, to avoid falling behind when Summit Ridge eventually ships early next year. Zen has to fend off Chipzilla's 14nm Kaby Lake and 10nm Cannonlake parts that are coming down the line within the next 18 months. AMD doesn't want to talk about exact benchmarks at this moment.
Servers
For servers, Zen system-on-chip processors, codenamed Naples and likely branded AMD Opteron, will ship in the second quarter of 2017. AMD's closest server customers have been playing with samples of the silicon since the second quarter of this year. Naples chips are expected to appear in dual-socket systems with 32 cores, and 64 hardware threads, per socket. AMD is drumming up software support from Microsoft, Ubuntu-maker Canonical, Red Hat, Suse, VMware, Citrix and others, for this gear.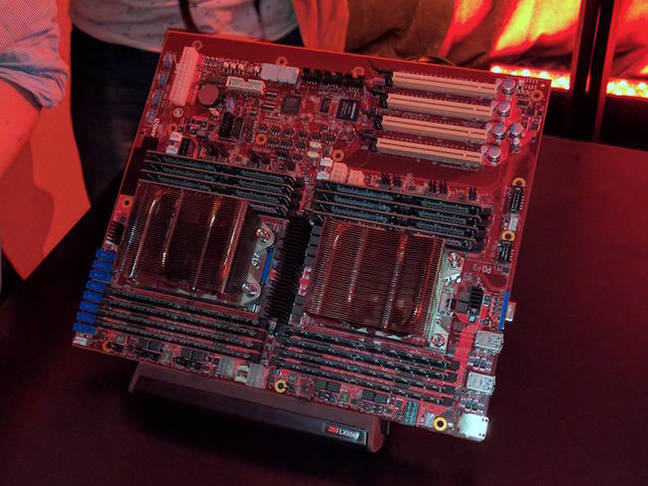 Naples motherboard ... First look at a Zen-powered server (Click to enlarge)
Everything else
We were also told that Zen CPUs for notebooks will arrive in the second half of next year. Useful information on pricing, speeds and feeds, and the combinations of cores and clock frequencies and other product configurations, are all being withheld for now, although we should get a closer look at Zen's technical details at Hot Chips 2016 in Cupertino, California, next week.
The microarchitecture is supposed to scale across all systems, from embedded products to PCs and notebooks to games consoles and servers. AMD CEO Lisa Su said Zen marked her company's "reentry into the data center."
It is clear that AMD has hit the reset button, and is ploughing through with x86 and a one-size-fits-all microarchitecture, allowing it to span as many markets as it can with its relatively limited resources.
There doesn't appear to be a lot of room for the ARM architecture in AMD's immediate plans. The biz finally started shipping its 64-bit ARMv8-based Opteron A1100, aka Seattle, server processor at the turn of the year, but, really, AMD is focused on x86 at the moment – from the desktop to the data center. From conversations with AMD staffers, the strategy is: make Zen a success, then worry about things like Seattle.
Simply put, AMD wants back into desktops and servers right now, like right now, and x86 will do that for it, not the ARM architecture, which is still feeling its way beyond mobile and embedded. "The software's all there, but the ARM ecosystem has to step up if it wants ARM servers to take off," one AMD executive said.
Inside Zen
AMD's CTO Mark Papermaster gave an overview of the microarchitecture, including some new bits and pieces. One thing to grasp, if you didn't already know or hadn't realized, is that Zen is a simultaneous multithreading (SMT) design with two proper hardware threads per core, not like the slightly weird cluster approach used in Bulldozer that tripped up performance for some users. Using SMT increases the size of the die, which brings in a few new headaches for the design engineers, but at least you get better multithreaded and floating-point performance.
"We've improved our floating point unit," Papermaster added. "We're very happy with Zen's floating-point performance: it was a targeted optimization."
Zen has 8MB of shared L3 cache, a unified 512KB L2 cache per core, and a 64KB instruction cache and 32KB data cache per core.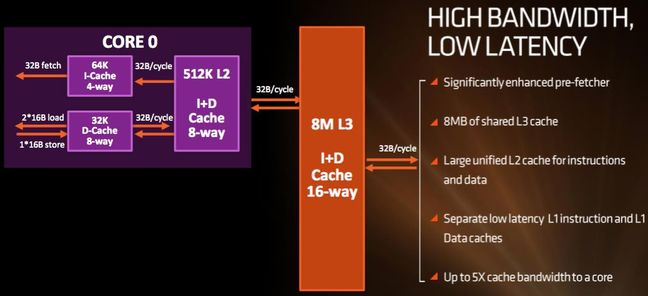 Here's how the caches fit into the overall structure. Zen also sports a wider instruction window than previous generations, allowing it to execute more code out of order at any one time, thus further optimizing the order of instructions to maximize throughput.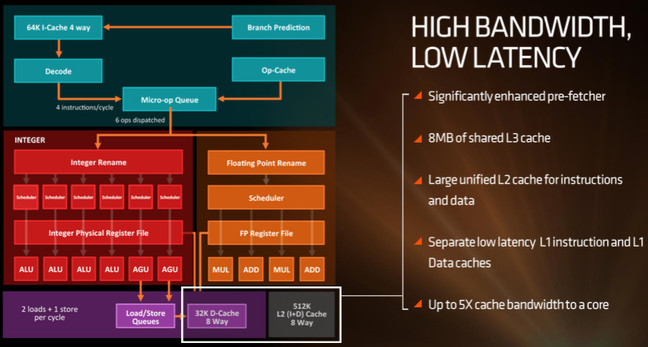 We're told Zen has a much improved branch predictor over previous generations, and there's a cache for micro-operations – which are, simply put, the individual steps taken to perform instructions. When an instruction is executed, it's broken into micro-ops that are fetched from the CPU's microcode; Zen caches these micro-op lookups to boost efficiency.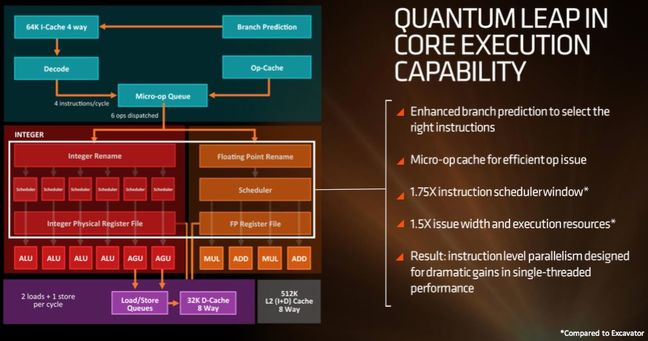 AMD has also put some effort into not just gobbling up vast amounts of power: there are mechanisms in place to switch off chunks of the chip that are not in use, thus minimizing current drawn and leaked by the processor. Loads of chips these days have gated powered like this; AMD's particularly proud of its implementation. There's no numbers yet for the packages' power consumption, although they are described as having "competitive TDP."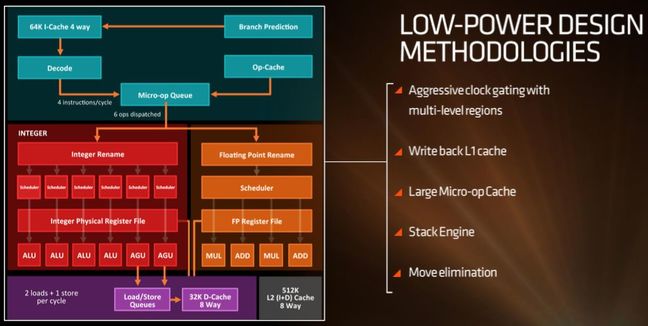 Next week we'll carry coverage of Hot Chips in which we'll shine more light on the Zen blueprints. So far, all we really know is that AMD is still committed to the microarchitecture. Until product specs, prices and independent benchmarks land, no one can get too excited.
Tech industry analyst Patrick Moorhead, of Moor Insights and Strategy, told us he was feeling upbeat about what he has seen and heard so far, however.
"What AMD showed on Zen last night was very compelling on performance," he said. "AMD said that power would be competitive, the frequency we saw would be even higher at production than what we saw, and production of what we saw could be produced at scale.
"All of this sounds incredibly positive. There's a lot of execution between now and launch, but at a minimum, I believe AMD will be in a much better position than they have been in years in processors. To put this in perspective, this is the biggest thing I've seen in ten years in CPUs at AMD." ®