This article is more than 1 year old
Google had Obama's ear during antitrust probe
Wait, whaaat? This isn't supposed to happen
Updated According to emails released under the US Freedom of Information Act, Google briefed the White House amid an antitrust investigation into itself, breaking a 40-year precedent of the President's office staying well away from competition issues.
Google lobbyist Johanna Shelton and the web giant's antitrust lawyer Matthew Bye met a White House advisor twice just weeks before the FTC published the findings of its competition probe into Google. And moments before the watchdog issued that report, David Edelman – an Obama administration official – even emailed Shelton asking for an early look at the company's response to the investigation.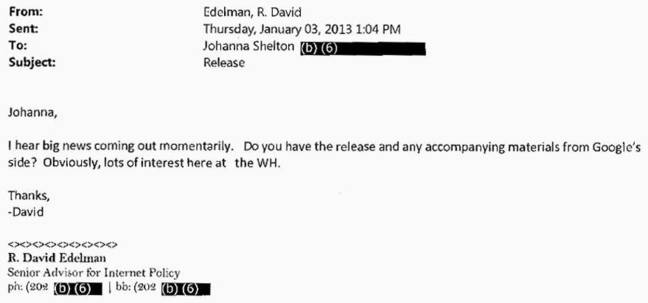 A word in your shell, like ... Edelman's email to Shelton ahead of the FTC's report going live
Shelton responded soon after the FTC's report was published with links to a public statement on the study.
It's no smoking gun – just another small but valuable piece of evidence showing how close the ties are between Obama's White House and the giant ad-slinger.
Evidence of the exchanges were unearthed by the Google Transparency Project (GTP), which has illustrated how close Google lobbyists and the government are, and how close Obama's team was with the Federal Trade Commission (FTC) and the Federal Communications Commission (FCC), the USA's competition watchdog and telecom industry regulator.
The Project notes that every president since Nixon has stayed well clear of antitrust probes. Both the FTC and FCC are statutory arms-length agencies that report to Congress, not the POTUS. However, the historical relationship began to change, as Google realized it was pushing an open door.
Alphabet executive chairman Eric Schmidt was a major donor to Obama's 2008 campaign, and honored by being in the "boiler room" as the President was re-elected in 2012. Thirty of Obama's staff joined Schmidt's company Civis Analytics, and were in turn deployed to work on government projects. Senior Google staff became key Obama advisers. Lower down the food chain, 250 staff have shuttled between Google and the administration.
And Google has gotten more from the administration than it dreamed it could. After investigating, about half of the FTC's own independent investigations staff concluded that there was evidence that Google had broken the law. But the FTC declined to press antitrust charges, reaching a gentle informal settlement. We only discovered what FTC investigators really thought after an accidental leak. For which the FCC apologized: to Google.
Google also wanted to tilt the playing field away from telcos, and got even more than it asked for. The backstory here is that Obama appointed one of his key fundraisers, Tom Wheeler, to run the FCC. Time magazine reported that "Wheeler had also 'bundled' at least $700,000 in contributions to President Obama's campaigns over the last two presidential election cycles," something Obama forgot to mention when he appointed him.
Wheeler spent months working on a net neutrality plan that kept everybody happy, but was obliged to rip it up when Obama's officials told him to impose a new plan much more to their liking. This involved reclassifying internet services under Title II of the Telecommunications Act, thus handing the government sweeping powers over internet pricing, speech and contracts using laws devised in the 1930s to deal with Bell's monopoly (Wheeler has promised to "forbear," or not use some of these powers).
Google was careful not to back Title II in public: it allowed Tumblr and Netflix to lead the lobbying. Wheeler's FCC has also followed Silicon Valley's agenda with its set top box and banning ISPs from having behavioral advertising – leaving the field clear for Google and Facebook.
(Via the GTP, we know that Google has visited the inner sanctum ten times more often than Comcast.)
More recently, the Department of Justice antitrust attorney Renata Hesse proposed a change in copyright regulation that Google might have written itself. Although Hesse is now acting attorney general for antitrust issues, as well as keeping her brief over the entertainment industry, for six years she worked at the top Silicon Valley law firm Wilson Sonsini Goodrich and Rosati, on cases where the law posed challenges to Google's business practices.
"I did a lot of work for Google on [antitrust]," she admitted in 2008. Hesse now wants to change the administration of copyright in such a way that many song owners can't refuse Google license."
(For details, see this timeline, and marvel.)
"Some of us believe we live in an era of government by Google," music manager Irving Azoff told Rolling Stone. "Their power to influence Washington is unprecedented."
Indeed, there is barely a sphere of public life that hasn't become more "Google-y" thanks to Obama's fondness for the giant ad-slinger. ®
Updated to add
A Google spokesman has been in touch regarding FTC staff suggesting there was evidence of wrongdoing. According to the internet giant, the regulator's investigators "concluded that no action was needed on the display and ranking of our search results. Speculation about consumer or competitor harm turned out to be entirely wrong. And on the other issues raised, we quickly made changes as agreed with the FTC."
It's also worth pointing out that the Google Transparency Project is partly funded by Oracle – which is sparring with Google over Java in Android – just like Google funds special interest groups to further its own agendas. What goes around, comes around, as they say.