This article is more than 1 year old
Two-speed Android update risk: Mobes face months-long wait
We need to outpace malware-flingers, securo folk warn
Motorola pushes out Android updates faster than any other manufacturer bar Google Nexus manufacturers, according to a new study.
Mobile app metrics firm Apteligent examined device data for Samsung, LG, Sony, HTC, Motorola, and ZTE to determine which manufacturer pushes out OS updates the soonest. It compared the time it took to upgrade from Android 5.x Lollipop to Android 6.0 Marshmallow for each manufacturer.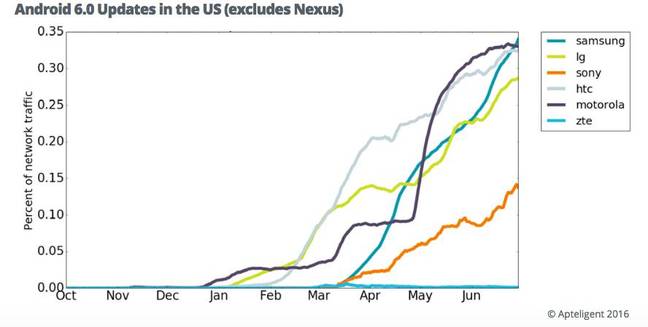 Android updates
Nexus devices were excluded from the study since they always receive the latest Android updates on the day they are released.
Android 6.0 Marshmallow was first released October 5, 2015. Updates arrived in two clusters: those that pushed out the update three months after the release and those that waited longer – a little over five months, according to Apteligent.
Motorola tried the update first on a smaller set of devices, such as the Moto X Pure Edition / Moto X Style, for about two months and then rolled it out more widely.

LG took the same approach starting with the LG G4 for about a month, while HTC basically just pushed the release out to all compatible devices from the beginning. Both Samsung and Sony waited over five months before releasing the update to compatible devices. ZTE has released the Android M update to only a small handful of devices starting with the Axon line of devices February 2016.
One of the most common complaints about consumer Android devices is how long it takes to get the latest Android OS update. Slow updates mean that consumers are behind the curve on enjoying new features and performance improvements as well as (more importantly) posing a severe security risk.
Apteligent's study - which also covers app crash rates - can be found here [PDF]. ®