This article is more than 1 year old
Plexistor unveils storage-stack-perplexing PMoF tech
More not-quite-remote memory speeds apps
Plexistor has unveiled specs on its Persistent Memory over Fabric (PMoF), which it says gives app servers access to disaggregated persistent memory in fabric-connected PM Bricks.
Plexistor's software-defined memory combines DRAM and flash in one memory address space to deliver a higher "memory" capacity with persistent storage from the NAND/XPoint part. It is developing a software layer, its SDM platform, to present DRAM and memory-channel persistent storage - NAND DIMMs currently - as a single memory-class resource pool for use by existing - unaltered - applications to give them a 100 - 450 per cent- performance increase.
SDM provides a multi-tier NVM file system with auto-tiering between DRAM and NVDIMM-N, and NVDIMM-F and SSDs.
NVDIMM-N is a DRAM/flash hybrid memory module that saves DRAM data contents to NAND if there is a power failure, and accessed at DRAM speed. NVDIMM-F is a an all-flash DIMM such as Diablo's Memory1.
Applications can directly access the persistent storage media, bypassing the traditional storage IO stack, without creating an additional copy of the data in DRAM, as the persistent media is seen as part of the overall memory address space.
In the future XPoint DIMMs will be tier 1 media for SDM while NVMe-connected external storage arrays would be in tier 2. Plexistor's roadmap was described here and it included remote access to PM Bricks across a 100GbitE fabric.
This is PMoF and uses RDMA over a 100Gbit/s switch connecting application servers, running the SDM software, and the PM Bricks, PM for Persistent Memory.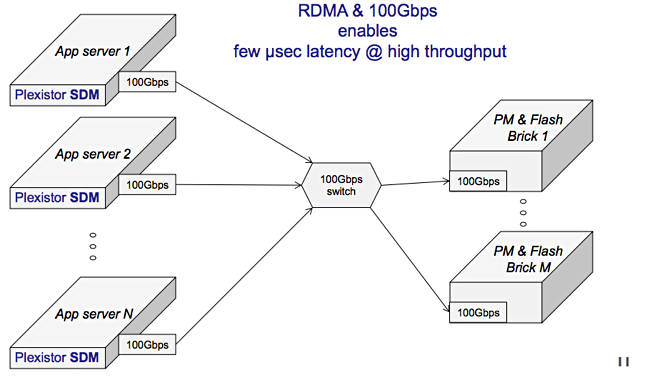 Plexistor remote access scheme for PM bricks.
Plexistor now says PMoF is ready and it has demonstrated an RDMA system at the Intel Developer Forum in San Francisco this week. It used a Mellanox Spectrum 100GbitE switch hooked up to PM Bricks via ConnectX4 NICs, delivering more than 1.6 million random 4KB IOPS at less than 6µs with throughput of 7GB/sec. This, it states, "is over an order-of-magnitude better than the recently announced rack-optimized Flash storage DSSD appliance, which offers 100µs latency."
CEO Sharon Azulai was not modest: "Those who follow the evolution of memory will find that our PMoF Brick is a stunning development for the new in-memory workloads, as well as unprecedented low latency. In businesses and industries where 'fast' means an increase in revenue, the PMoF Brick technology can change the economics of enterprise computing."
The company claims its persistent memory dis-aggregation offers far lower costs and simpler management than any other available architecture capable of delivering equivalent performance.
Comment
What do we have here? Conceive of the collection of PM bricks as a kind of scale-out flash array using flash DIMMs instead of NVMe-connected flash drives. In August last year Plexistor said there are many NVDIMM-N manufacturers: Micron, SK Hynix, AgigaTech, Smart Modular, Viking, Netlist, and several others. It has "tested DDR4 NVDIMM-N cards from most of these vendors and although it is not a plug & play technology yet, it is almost there. We have no doubt that it will get there in less than a year."
Here we are a year later and NVDIMM-Ns are more widely available, for example, from Crucial, and Micron is sampling a 16GB NVDIMM module.
Someone has to stuff these DIMMs in servers and set up the system SW environment, and then you have to get the 100GbitE cabling, switches, NICs, PM Bricks and SDM software from Plexistor.
It's early days yet and PlexiStor is still a somewhat stealthy startup. The promise is huge gains in app performance and server efficiency through getting big chunks of data closer - meaning µs-level access speeds - to CPUs using both local and remote NVDIMMs.
Combine this with NVMe SSDs and µs-level access to NVMe fabric-connected (or equivalent) arrays, the development of XPoint (Intel and Micron) and ReRAM (WD/SanDisk and Toshiba) and we this whole DRAM-SSD, local/remote, price/performance gap-filling area is a seething cauldron of technology development.
Check out a Plexistor slide deck here and a blog here. Check out a Micron Persistent Memory blog here. ®