Tesla has launched a new power pack that it claims will make its Model S sedan the third fastest road car ever produced.
The electric car company announced the release of a new 100kWh battery that it claims will accelerate its highest-end Model S car from 0-60 in just 2.5 seconds and 0-100 in 2.7 seconds.
That puts it just behind Porsche's 918 Spyder at 2.2 seconds and Ferrari's LaFerrari at 2.4 seconds. But, as Tesla pointed out in a blog post, both those cars cost over one million dollars and the new Model S P100D will set you back a mere $120,000 (why not get two?).
Getting away from pure speed, Tesla also says that its new highest-end model will now go 315 miles without the need for recharging, making it the longest-range electric vehicle by some distance.
The same new, larger battery can also be added to Tesla's Model X SUV, giving it an equally face-bending 0-60mph time of 2.9 seconds – a time that only companies like Ferrari, McLaren and Porsche can put claim to. The SUV, which can carry up to seven people, will go up to 289 miles on a single charge, the company claims.
As for getting hold of one of the new super-family-cars, that remains as difficult and expensive as ever. If you have already ordered a P90D Model S – and paid the $110,000 it costs – but not received it yet, for a mere $10,000 more, you can get the new battery. If you already have your P90D on your driveway, it will cost you $20,000 to get upgraded ($10,000 spent on recycling your old pack).
On a closed press call (Tesla is not a big fan of criticism), Elon Musk was his usual exuberant self, noting that "the fastest accelerating production car in the world is an electric car" and that should send "a great message to the public about the future of transportation."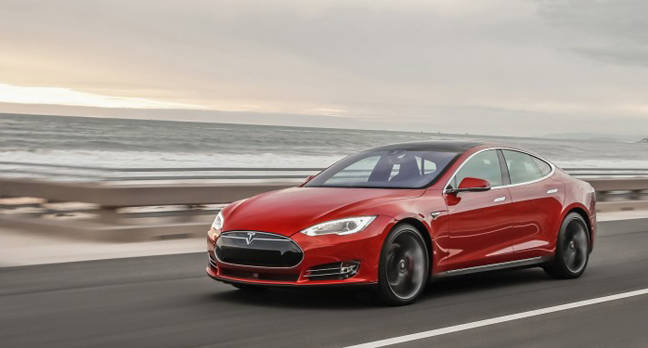 The company also avoided the habit of supercar manufacturers to rub their crotches on their extremely fast vehicles, and emphasized not only that the car was very, very expensive but that its bigger goal was a cheaper, mainstream Model 3.
"While the P100D Ludicrous is obviously an expensive vehicle, we want to emphasize that every sale helps pay for the smaller and much more affordable Tesla Model 3 that is in development. Without customers willing to buy the expensive Model S and X, we would be unable to fund the smaller, more affordable Model 3 development."
Musk also noted that although tweaks and improvements in battery technology had enabled the latest super-powerful battery, "we are quite close to theoretical limit." ®