This article is more than 1 year old
Veeam: You know what's not a disaster? Our software mega-update
DR firm's VI-part VAS, VAL, VAM, VAO, VAC and VCC embiggening
The backup and disaster recovery firm Veeam has announced an updated Availability Suit, and the Veeam Availability Platform for the Hybrid Cloud.
It's a bundle of VAS, VAL, VAM, VAO, VAC and VCC, as you will see.
VAS - Veeam Availability Suite for virtualised servers*
VAL - Veeam Agent for Linux for public clouds and physical servers
VAM - Veeam Agent for Microsoft Windows for public clouds and physical servers
VAO - Veeam Availability Orchestrator for disaster recovery orchestration
VAC - Veeam Availability Console providing a cloud-enabled management console, using:

VCC - Veeam Cloud Connect
Veeam Cloud Connect VM replication
The Veeam Availability Suite gets updated to v9.5 with about 100 additions.
The Veeam Agent for Linux is a free backup agent for in-cloud or on-premises Linux systems, currently in beta test. You can carry out on-premises restores from backups of individual cloud instances, or cloud restores of on-premises backups. Veeam backup repositories can be used as target locations and existing Veeam Backup and Replication capabilities can be used for granular recovery
Veeam Availability Orchestrator is a multi-hypervisor orchstration engine for either Veeam Backup and Replication or Veeam Availability Suite. It organises disaster recovery using Veeam backups and replicas through a defined plan, policy-driven testing, and documentation, which help ensure DR compliance needs are met as well.
Veeam Availability Console is new and uses Veeam Cloud Connect to help users manage (Veeam facilities in) remote and branch offices (ROBO) and other distributed locations. Service providers can use it to deliver Veeam-based Backup-as-a-Service (BaaS) and Disaster Recovery-as-a-Service (DRaaS) to their customers. Veeam partners and resellers can use it to launch a service provider operation.
Veeam Cloud Connect provides a way to back up, replicate and restore to/from the cloud. You choose a service provider and point your VM backups or replica jobs to its cloud.

Veeam Cloud Connect diagram
It includes:
Hosted offsite backup with backup data transfer using a secure SSL connection – no additional Veeam licensing required.
Access and recover data in hosted backup repositories directly from the backup console; track cloud repository consumption; and receive reminders for hosted storage renewals.
Back up copy jobs with built-in WAN Acceleration, forever incremental backups, and GFS (grandfather-father-son) retention policies built in.
End-to-end encryption.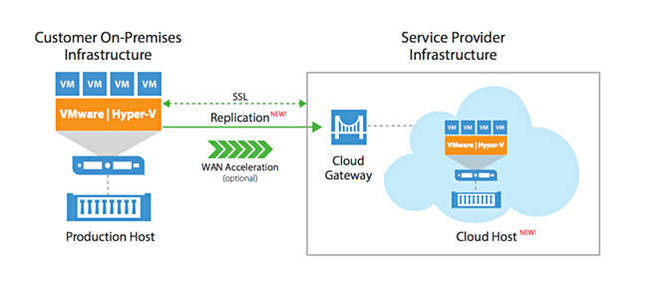 Veeam Cloud Connect VM Replication diagram
Veeam Cloud Connect VM image-based replication provides integrated and secure cloud-based DR (disaster recovery) through a DRaaS provider. Check out a Veeam Cloud Connect briefing doc here.
And there's more
With Office 365, users' data is owned and controlled by the business user, which becomes responsible for protecting it. Veeam Backup for Microsoft Office 365 enables that. Users can:
Back up Office 365 email data back to their environment,
Recover individual mailbox items with degrees of granularity,
Perform eDiscovery of email archives with search, recovery and export options.
Veeam Backup for Microsoft Office 365 will launch in the fourth quarter.
A free one-year subscription will be available for customers of Veeam Availability Suite and Veeam Backup & Replication of all editions. Customers of Enterprise Plus edition of Veeam Availability Suite and Veeam Backup & Replication will receive a free three-year subscription.
Veeam says additional primary storage integration with the IBM Storwize family and IBM SVC platform will be included in Veeam Availability Suite v10. More information on that will come in mid-May 2017.
Register to join the Veeam Agent for Linux beta test here. Veeam Availability Suite 9.5 is expected to be generally available in October. Veeam Availability Orchestrator will be available later this year. Register to download a Veeam Cloud Connect trial here. ®
* And private cloud, but that means on-premises virtualised servers set up as a private cloud, so we just say virtualised servers.