Google tells popup ads to p*** off on mobes
Annoying banners will send phone-friendly sites to hell – aka the second page of search
---
Google will be rejigging its search algorithm to downgrade websites that slap up a large advert, aka an "interstitial," before readers can actually get to see the content.
On January 10, the Chocolate Factory will start scanning websites for interstitials and, if they break the recommended guidelines, they'll be kicked down the rankings and thus get fewer visitors.
"We previously explored a signal that checked for interstitials that ask a user to install a mobile app," the Chocolate Factory's webmaster blog states.
"As we continued our development efforts, we saw the need to broaden our focus to interstitials more generally. Accordingly, to avoid duplication in our signals, we've removed the check for app-install interstitials from the mobile-friendly test and have incorporated it into this new signal in Search."
Not all interstitials are headed for the chopping block. Popup screens that request permission to use cookies (in line with EU rules) or those asking for the age of the viewer are just fine. Similarly a small ad, taking up about a quarter of the screen (according to Google's graphic) is acceptable to Mountain View.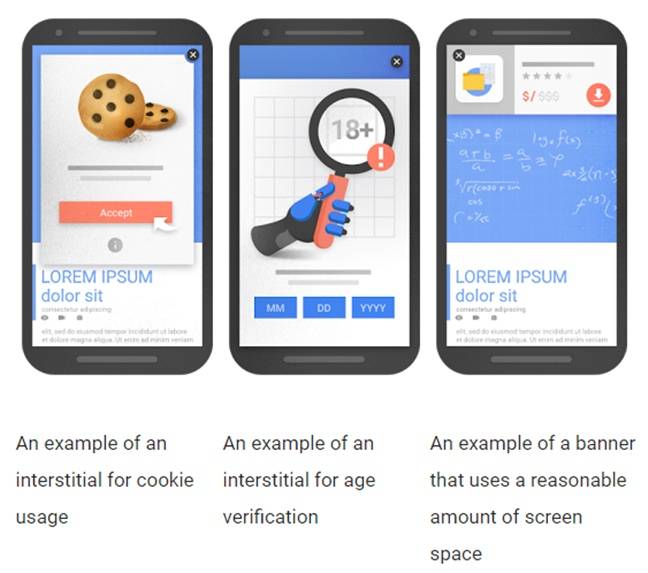 Not all popups are bad
What aren't allowed are large ads that take up most of the viewing area, smaller ones that fade out the actual content of the site and must be manually removed, and sites that throw an interstitial up once you start scrolling down the page.
Why not do this now, I hear frustrated mobile users cry. Because there are a lot of these sites and Google wants to give webmasters time to sort out such issues. It has even provided a checker page to see how the site fits in with Google's rankings.
Google is also retiring the mobile-friendly moniker on its search results. The firm says that there's no point, since only 15 per cent of the sites it indexes now refuse to provide a view suitable for smartphone users. ®