The Chinese space program has taken a massive step forward as the country unveiled its design for a rover to scoot across the surface of Mars.
The mission to the Red Planet will see the rover launched on a Long March-5 carrier rocket from the Wenchang Satellite Launch Center in China's Hainan province. It is scheduled to land in July or August of 2020.
The probe will send a lander dirtside which, if all goes well, will release a rover to cross the Martian plains.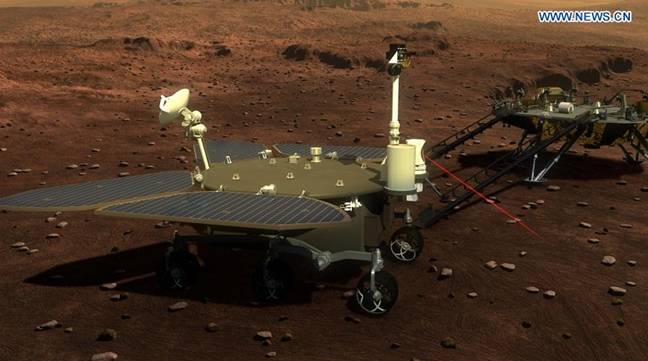 Let's get ready to roll
"The challenges we face are unprecedented," said Zhang Rongqiao, chief architect of the Mars mission at a press conference in Beijing, state media reports.
The rover's design is partially based on China's Jade Rabbit moon probe and shares the same six-wheeled design. However, it will be powered by six solar panels and carry an increased payload of scientific instruments, bringing the probe up to 200kg in weight here on earth.
Onboard will be 13 scientific instruments, including ground-penetrating radar and a remote sensing camera. The rover's mission is to explore the northern hemisphere of Mars and study the soil, environment and atmosphere and examine any ice (or possibly water) that can be found.
It's going to be a busy year for Mars, since at around the same time NASA will be sending over the second version of its Curiosity rover. It's a more sizable operation, weighing over a ton, and will carry equipment designed to find evidence of life that may have flourished in the past when Mars was warm and wet.
The Chinese Mars probe is as yet unnamed, and the government will be running a competition among members of the public for a suitable title. The local equivalent of Marsy McMarsface is unlikely to make the cut. ®