This article is more than 1 year old
An ethical Google won't break the internet, leaked EU report finds
Fancy that
Making Google a good corporate citizen and pay creators fairly won't break the internet, a leaked impact study on copyright suggests.
The 200 page impact assessment (IA), leaked to Statewatch, addresses the thorny issue of content sharing platforms such as Facebook, YouTube and Twitter.
"Some online service providers refuse to negotiate any agreement, which means that despite the availability of copyright protected content on these platforms no revenues are generated for right holders for the use of their content. Refusals of agreements have above all been reported by right holders in the music and images sectors.384 At the same time, some online service providers have argued that right holders have requested terms that they considered unreasonable for the type of service they provide," it notes.
It urges the platforms to be more positive about using filters to weed out infringing UGC.
"Right holders are confronted with large use of their content on user uploaded content services and fail (or have difficulties) to negotiate agreements with these services," it concludes. The legal takedown options available to you don't ensure your material "stays down" – it just reappears the next day.
Doing something about this has support across much, if not most, of the tech industry, as the current UGC loophole (illustrated here) favours YouTube at the expense of companies that do the right thing and negotiate a license, such as Apple and Spotify.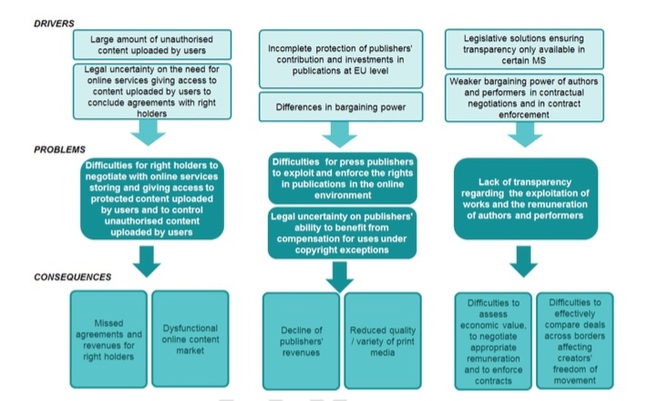 Ad-supported revenue shares offer a pittance, since they're not compelled to offer anything.
In 2015, pure advertising-supported online services storing and giving access to content uploaded by end users which have an estimated user base of more than 900 million generated revenues amounting to US$634m, which is (approximately) four per cent of global music revenues. Given the significant user base, right holders argue that such revenues are insignificant compared to what other service providers are generating for right holders.
Obliging Google to conclude a negotiation wouldn't be so awful, the paper suggests. It might be "very likely to have a positive impact on content service providers which would not have to incur any additional costs and can only benefit from a market where providers compete on equal grounds."
The draft IA also looks at territoriality, heritage and data mining, as well as changes to EU copyright law. Although the UK (and perhaps other member states too) may have sailed away from the Union by the time any changes take effect, they could still affect British producers selling into the EU, particularly in the AV sector, which employs thousands of engineers.
Movie production alone employs 70,000 in the UK, and many movies made outside the UK are finished here, thanks to Britain's tech lead. "The large majority of companies that may be affected are SMEs," the report notes.
What's on the table, then? The Impact Assessment says two command-and-control options to increase cross-border access to material have been discarded, which would have ripped up existing contracts and made new deals illegal.
As we noted last year, "if [robo-EU Commissioner] Ansip thought the accompanying populist crusade against "geoblocking" was going to be win support from the technology groups and companies who normally fight copyright, he's had the shock of his life."
ISPs and even some digital crusaders were against it.
One is extending the "Country of Origin" (COO) right (PDF), a convenience enjoyed by satellite broadcasters, to online transmissions such as internet radio or video. This means that rights are cleared once, at home. So if the BBC acquired the rights to a movie it would have to "show" it throughout the EU.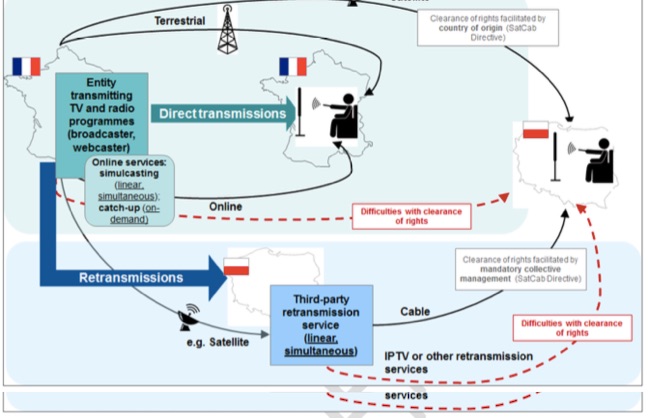 So an "Overarching COO" rule for broadcasters won't be pursued. The EU won't open the Pandora's Box and make territorial restrictions illegal. "Options which … would prohibit contractual arrangements concerning territorial exploitation of content were discarded."
To save Ansip's embarrassment, the many drawbacks of mandating an end to territorial licensing are glossed over, or not mentioned at all. The positives – lower transaction costs for producers – are accentuated. But still, the IA has to concede that ending territoriality would have "a neutral or even negative impact on the distribution of and access to cultural content" and negate IP as a property right.
The Culture Lobby (libraries and museums) pressed hard to commercialise "out of commerce" works they hold and "learned journals". Digitising these is fraught with difficulty, as the British Library found out when it wanted to put Spare Rib The photographers are very much alive. Here the IA mulls collective licensing - so there will be fights ahead.
Changes to existing rules should aim at providing legal certainty for the use of protected content in digitally-supported teaching activities, for text and data mining in the context of scientific research and for digital preservation by cultural heritage institutions.
The IA is wary of changing copyright law in publishing, noting:
99.4 per cent of European companies active in the book publishing sector (books, newspapers, journals) are SMEs, of which 90% are micro-companies (0-9 employees). SMEs generate 49% of the value added of the sector (including 10% from micro-companies).
Changing copyright law to benefit larger corporations would hurt the sector, the IA points out, as larger, more diversified groups are less exposed.
The IA rejects the idea of a mandatory copyright exception for educational material in digital form, as this would have a huge impact on secondary licensing.
It is likely to hit first digital educational resources, whose market is not profitable yet, notably because of the high fixed costs associated to the development of digital products and educational resources platforms… Evidence collected in the UK from a sample of educational publishers indicated that revenues from secondary licensing equate to 19% of their investment in content development. In the long term, the lack of sufficient investment in digital products could affect the competitiveness of the European educational publishing industry, including at international level. International sales of textbooks and academic books are important notably for the UK and French educational publishing industries (sales in English/French-language markets).
Instead it leans towards a mandatory exception "with an option for [member states] to make it subject to licenses".
Which sounds another way of saying mandatory.
The IA looks more favourably on expanding copyright exceptions to text and data mining (TDM) - something Google and research universities say is a serious issue, with one university claiming that paying for licenses to mine material such as journals and newspapers could cost them £500,000 a year. ®
Reportnote
The leaked report can be read in full on the Statewatch website.