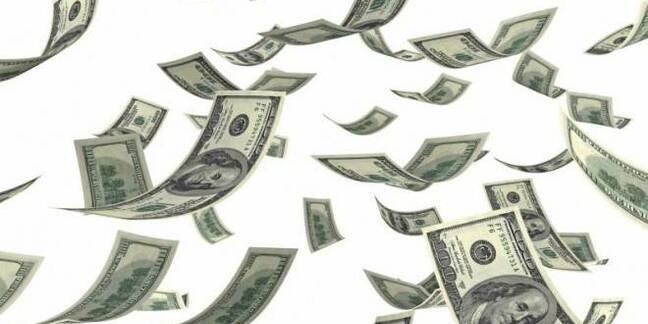 Pure Storage grew revenues 93 per per cent year-on-year in its second fiscal 2017 quarter to a record $163.2m, achieving an annual run rate of $650m; the billion looks attainable. NetApp's all-flash array run rate is about $775m while EMC's is a past a billion dollars.
The net loss was $59.6m, $4.2m less than a year ago and $3.9m less than in the previous quarter so costs are going the right way.
CFO Tim Ritter's canned quote talked about "cutting our operating losses almost 40 per cent."
CEO Scott Dietzen put out a canned quote too, as you do, saying: "We are very pleased with the growth of the business in the July quarter, driven by solid repeat purchase rates, by partnering with the channel to accelerate our go-to-market, by healthy demand from cloud customers - which accounts for more than 25 per cent of our business – and by growing sales to international customers, who made up 25 per cent of revenue."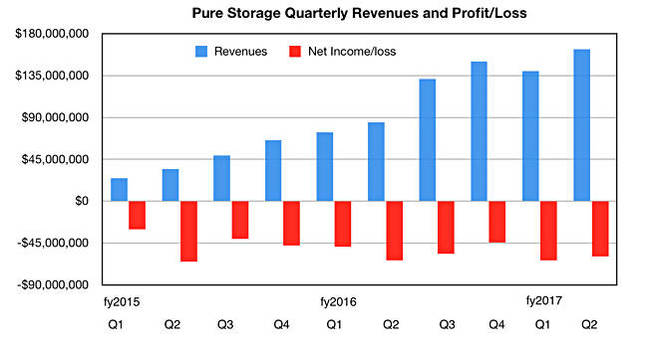 Pure added slightly more than 350 new customers in the quarter, taking the total customer count past 2,300 and including, it said, nearly 20 per cent of the Fortune 500. In his blog Dietzen said: "We now provide storage to nearly 100 firms within the Fortune 500, up from about 50 firms this time last year."
The new FlashBlade system started shipping this quarter but didn't materially (+10 per cent of total revenues) contribute to the results and won't in fiscal 2017.
Pure's previous quarter was not so good by Pure's high standards, exhibiting its first quarter-on-quarter revenue decline, albeit wirh 90 per cent year-on-year revenue growth. That's not the case this quarter.
Dietzen blogged about the road to profitability, saying: "The company remains on track to reach sustained positive cash flow in the second half of next year."
Pure's CEO and chief cheerleader is still setting his sights high: "We are uniquely well positioned to execute on our vision of building a profitable, multi-billion dollar business and the #1 global brand in storage over the next few years."
Ana;yst haus Stifel Nicolaus' MD, Aaron Rakers, has provided "a chart on our current revenue estimates for Pure through C2017 versus a diverse list of comparable high-growth company's over a comparable (post-initial product shipment) period."
It makes interesting viewing, showing Pure outpacing every other company on the chart, including Violin Memory, 3PAR, NetApp, Nimble, Compellent, Isilon and Data Domain.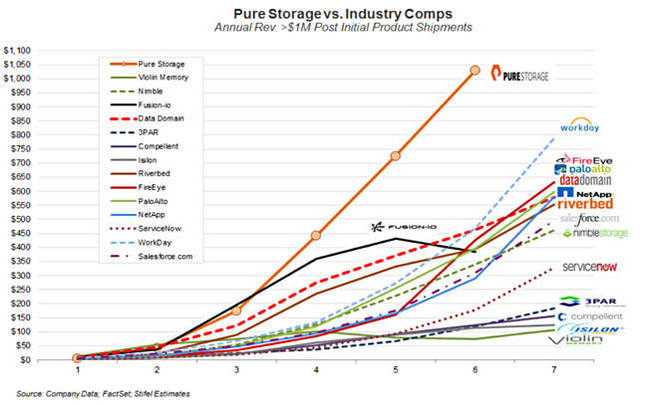 Click chart for larger version
Rakers noted this nugget: "Pure highlighted that its win rates against EMC haven't changed, although the company is seeing EMC lead with all-flash VMAX in new customer deployments; Pure is only seeing XtremIO in competitive engagements at prospective customers that already have an existing XtremIO deployment."
He added: "Pure has seen its top-25 customers continue to spend an additional $12 on product revenue over the first 18 months."
Next quarter's revenue is expected to be between $187m and $195m; it was $131.4m a year ago. This is a mere (!) 45.4 per cent growth rate at the mid-point. Slackers. ®
Sponsored: How to simplify data protection on Amazon Web Services