It was a hats-in-the-air weekend at NASA, with the agency announcing its Juno probe's first close-up Jupiter fly-by was a success.
The probe has now started the agonisingly slow process of downloading the data collected on its Sunday swoop (closest approach was 13:44 UTC, August 28; adjust as your local timezone dictates).
Juno screamed a mere 4,200 km (2,600 miles for the 19th century) above Jupiter's surface like a boy-racer in a seriously souped-up V8, travelling at 208,000 km/h (130,000 miles per hour).
As NASA notes, this was the first time the orbiter had all its instruments switched on and trained towards the gas giant, and the agency says "a handful of images" from its JunoCam will be downloaded and published over coming weeks.
NASA quotes principal investigator Scott Bolton from the Southwest Research Institute at San Antonio as saying there are "intriguing data returns" already, but "it will take days for all the science data collected during the flyby to be downlinked and even more to begin to comprehend what Juno and Jupiter are trying to tell us".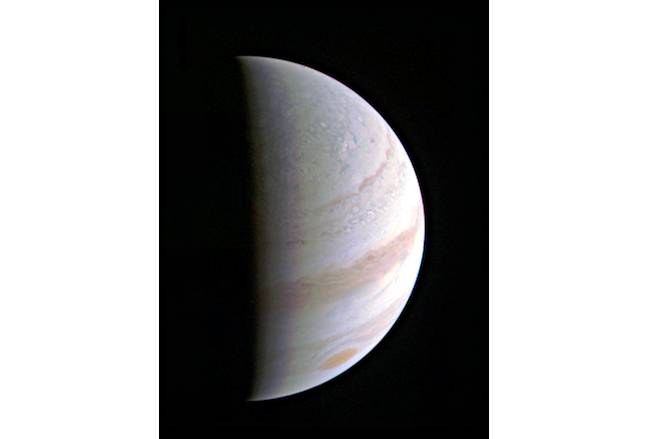 Just before the flyby ... Jupiter from 703,000 km, August 27. Image: NASA
The probe has another 35 more flybys scheduled between now and the end of the mission in February 2018.
The super-giant version of the above image can be embiggened here. ®
Similar topics