This article is more than 1 year old
Newest Royal Navy warship weighs as much as 120 London buses
Given final kiss in Glasgow as fitters climb on board
The Royal Navy's newest offshore patrol vessel, HMS Forth, is now fitting out in Glasgow – and we're told she weighs as much as 120 London buses.
Forth, the first of the RN's Batch 2 River-class patrol ships, was launched in mid-August after being loaded onto a 160-wheel remote control trolley.
She was then driven at a stately 0.5mph onto a barge and lowered into the chilly waters at Govan. From there she was moved downstream to Scotstoun for fitting out.
Forth is a modified Amazonas-class vessel, featuring a helicopter deck capable of carrying Merlin helicopters, unlike her Batch 1 sisters, though she has no hangar for extended at-sea operations. Top speed will be around 24 knots, an improvement of four knots or so on the Batch 1s.
The 1,600-tonne warship is now having her complex combat systems installed, ready for her handover to the fleet in mid-2017.
Iain Stevenson, MD of BAE Systems Naval Ships, said: "For Forth to enter the water less than two years after construction started is hugely significant and sets the tone for the future of modern warship building. She is the first complex warship to benefit from the new technologies... Forth has already benefited from a safer and more efficient build process that enabled much of the work to take place under cover, and as a result she leaves our Govan facility at a much higher rate of completion."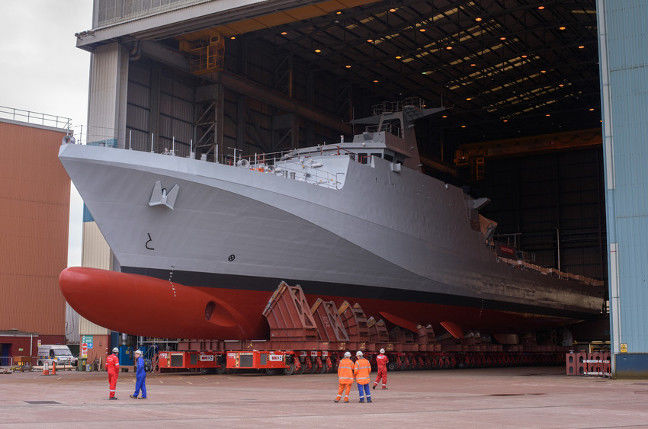 HMS Forth being driven about on her 0.5mph, 160-wheel trolley
The Batch 2 River-class are a product of the infamous Terms of Business Agreement, signed in 2009 between the Ministry of Defence and BAE Systems' naval division. In simple terms, the MoD agreed to pay BAE to keep their naval shipyards in Scotland open even though no new ships were being ordered for the navy at the time.
As well as keeping Scottish voters employed, the idea was to preserve expensive and perishable skills needed to build state of-the-art warships in the years-long gap between the Queen Elizabeth-class carriers' hull sections being finished and the Type 26 frigate being ordered – which has yet to happen.
This resulted in several hundreds of millions of pounds being paid to keep Scottish shipbuilders stood around doing very little. As a result, the MoD ordered the Batch 2 Rivers to get some sort of useful return on the eye-watering sums of money sloshing around.
The Batch 2 Rivers are based on the Amazonas-class OPVs eventually delivered to the Brazilian Navy, after their original buyers, Trinidad and Tobago, abruptly cancelled the contract halfway through. The Amazonas are themselves stretched Batch 1 Rivers, incorporating a helicopter flight deck, though the RN's Batch 2 Rivers include a number of modifications to bring them up to British standards.
Two more Batch 2 Rivers, Medway and Trent, are under construction in Glasgow. The Batch 1 ships are likely to be sold off, even though the newest of them, HMS Clyde, is barely ten years old – a spring chicken compared to the 35-yr-old minehunter HMS Ledbury. ®