Lenovo's tablet with a real pen, Acer's monster laptop, Samsung Galaxy S3 watch
and more Berlin IFA madness
---
IFA 2016 August 31st was press day one ahead of the IFA event in Berlin, which means vendors lining up to show off their latest efforts in (mainly) consumer electronics.
Acer kicked off the madness, unveiling the "world's first laptop with a curved screen," though you should think twice before letting the 8 kg Predator 21X gaming laptop anywhere near your lap.
This thing has a 21" curved 2560x1080 screen driven by dual NVIDIA GTX 1080 SLI GPUs, each with 16GB RAM, while the main board sports up to 64GB of DDR4 RAM, 7th Gen Intel Core i7, up to 4 SSDs as well as a hard drive, and five fans to keep it from melting.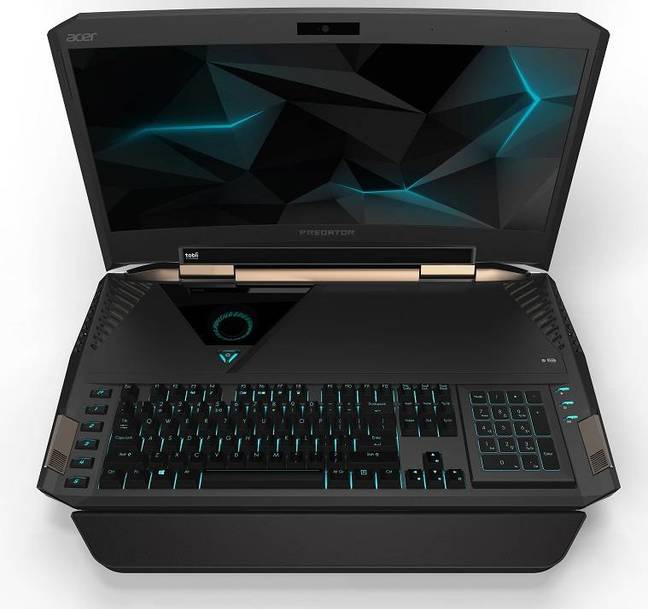 Acer's Predator 21X gaming laptop
Performance is great, apparently.
Acer also talked up the benefits of eye-tracking, built into the Predator 21X as well as several monitors. It is another input for gaming, and one example use was to increase the light on dark portions of the screen when you look in that direction.
Despite general weakness in the PC business, Acer CEO Jason Chen assured the press that thin ultrabooks are a growing market, and its engineers have taken that to heart. The Swift 7 ultrabook is just 9.98mm thick, with 13.3" screen, 7th Gen Core i5, and a claimed 9 hour battery life. It is the first laptop under 1cm according to Acer.
Lenovo: Yoga Book for Android and Windows, Moto phone with Hasselblad camera
Lenovo has announced the Yoga Book, a distinctive new take on the 2-in-1 tablet/laptop concept. This 10.1" device has a 360° hinge and measures just over 1cm thick when closed; the demo units felt small and light. What sets it apart though is that the keyboard is replaced by a smooth surface that can either light up as a virtual keyboard, or accept input from the bundled EMR (electro-magnetic resonance ) pen. In pen mode, the virtual keyboard disappears.
Another twist is that the pen includes actual ink, allowing you to write or draw on a paper notepad clipped to the device. Your input is automatically transferred to the tablet.
The processor is a quad-core 2.4 GHz Intel Atom x5-Z8550, and there is 4GB RAM and 64GB storage. The operating system is either Android 6.0, customised to support a taskbar for multi-tasking, or Windows 10. Price is €499 for the Android version or €599 for Windows 10.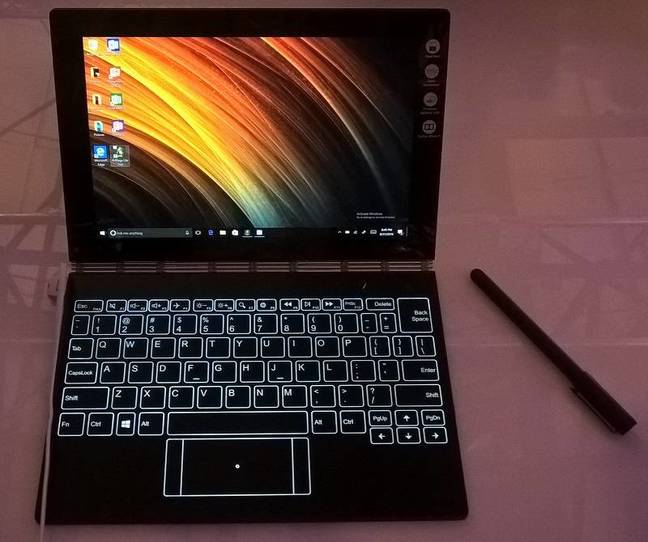 The Lenovo Yoga Book showing the virtual keyboard
I asked Lenovo VP Jeff Meredith, who presented the Yoga Book at the press launch, whether the device was developed initially for Android or for Windows. It was 3 years in the making, he said, and initial prototypes were Android.
The Yoga Book handles beautifully, but typing on the device is not much fun, at least for a keyboard addict like myself. There is some haptic feedback but it is still a flat hard surface and fatiguing to use. Still, many users will only do occasional typing and it is an innovative device.
Lenovo also announced several laptops, including the high-end Lenovo 910 with 4K display. This has Windows Hello support, for biometric login, but it is based only on a fingerprint reader, rather than the special camera of which Intel made great play at the 2015 IFA. A shame that few vendors are taking up the possibility of login by face recognition.
Another Lenovo announcement was a new Moto Z phone, the Play, which offers an impressive 50 hour battery life. It also supports the "Moto Mod" concept of hardware add-ons, with the star of the show being a 10x optical zoom lens created in partnership with camera specialists Hasselblad.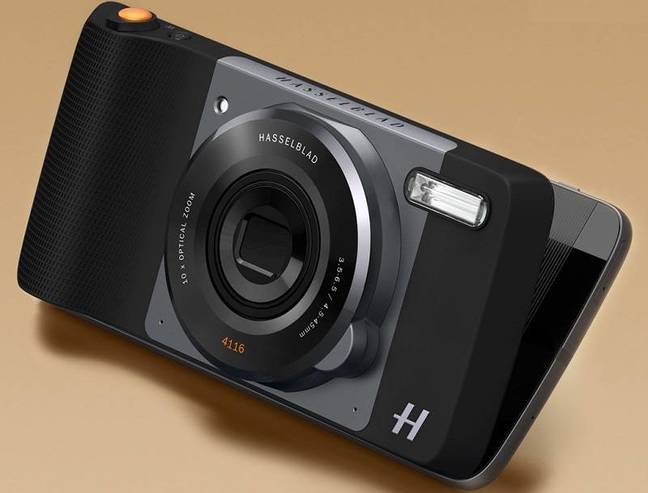 Hasselblad-branded add-on for Moto Z phones
I tried the camera zoom Mod briefly and it does of course enable much higher quality zoom images. The add-on also gives the phone much of the feel of a camera, easier to grip securely than a phone on its own. However, there is no tripod mount which limits its appeal.