This article is more than 1 year old
Watch SpaceX's rocket dramatically detonate, destroying a $200m Facebook satellite
That'll buff right out, no worries
Updated Elon Musk has confirmed that today's SpaceX rocket explosion – which destroyed a $200m satellite – was caused by a cockup during fueling.
Footage of the disastrous static firing test shows an inferno breaking out at the top of the Falcon 9 rocket, close to the fueling point for the liquid oxygen reservoir. After the initial blast, there's a secondary explosion as the lower kerosene tanks blew, and then the satellite payload fell off the burning rocket and added another explosion.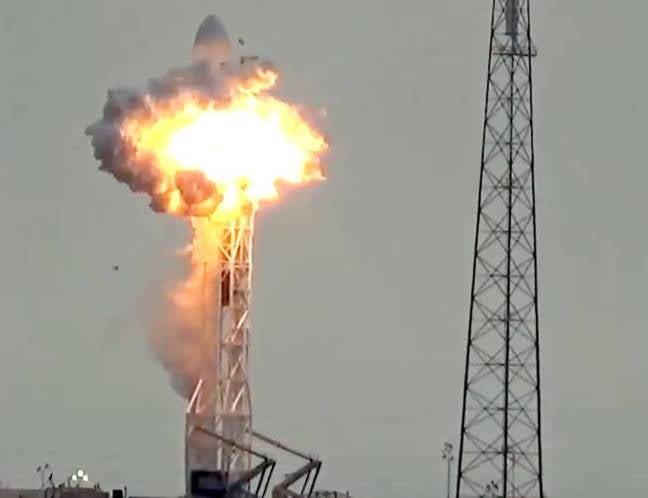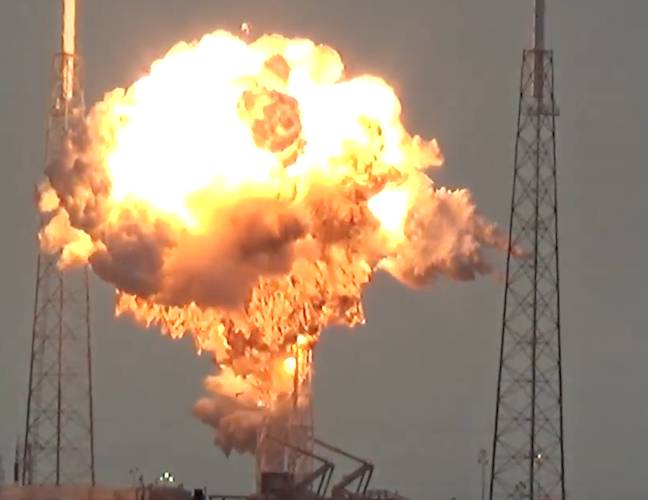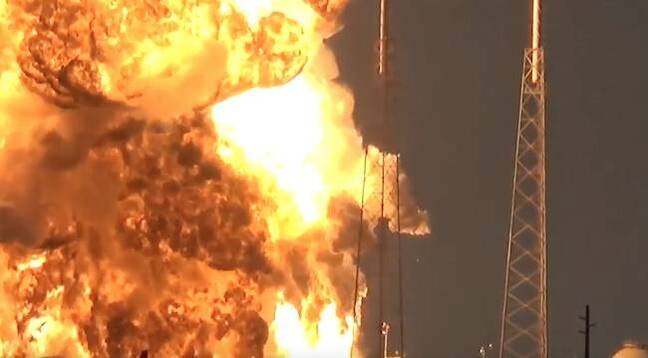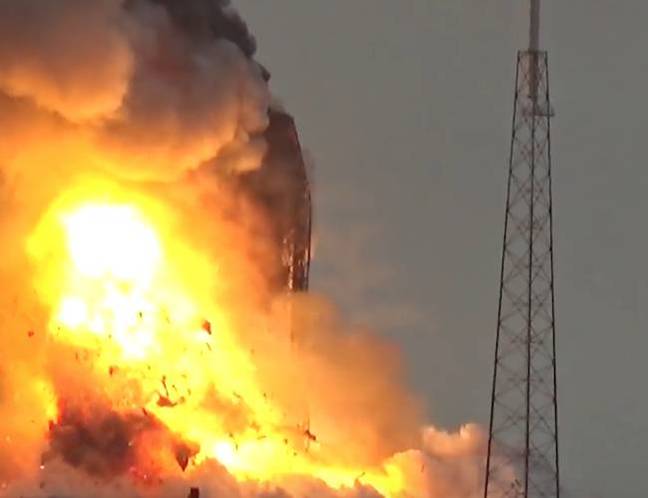 Scrub the US Launch Report video below to the 1m10s mark to see the explosion as it happened.
SpaceX uses super-chilled oxygen as an oxidizer with RP-1 kerosene as fuel. It lowers the temperature of the oxygen to -340°F (-206°C) to make it more dense so that more can be packed into the tanks. You can see excess oxygen being vented just before the explosion, but this is normal and happens with all launches.
It's possible that a spark or electrical charge could have ignited the fuel, but that's something that won't be known for some time. Workers will not be able to enter the ruined launch pad, since they'll have to wait until the poisonous hydrazine fuel from the satellite has dispersed.
Statement on this morning's anomaly pic.twitter.com/3Xm2bRMS7T

— SpaceX (@SpaceX) September 1, 2016
The Amos 6 satellite, built for Spacecom by Israel Aerospace Industries, was completely destroyed in the accident. Facebook's internet.org and Eutelsat had coughed up $95m to lease Amos 6's 18Gbit/s Ka-band for five years to relay internet traffic and communications for Africa and Europe.
You might be wondering why the satellite was on the rocket in the first place, since this was only a static test of the rocket's engines. However, the payload is left in position so that the launch crew can test all of its systems are interacting with the rocket as they should.
SpaceX now has a serious problem, since its main launch pad will be out of commission for some time while it is rebuilt. It took NASA over four months to rebuild its Wallops Flight Facility after the explosive anomaly with Orbital Sciences' Antares rocket, and today's explosion will take SpaceX's main launch pad out of commission.
The company has leased another launch facility from NASA, but it's not ready for launches as yet. In the meantime, all SpaceX launches will be on hold until the exact cause of today's explosion is sorted out, meaning that the first used rocket launch and the Falcon Heavy test are going to be delayed. ®
Updated to add
Facebook's CEO Mark Zuckerberg has expressed his regret at today's explosion while holidaying in Africa.
"I'm deeply disappointed to hear that SpaceX's launch failure destroyed our satellite that would have provided connectivity to so many entrepreneurs and everyone else across the continent," he said.
"Fortunately, we have developed other technologies like Aquila that will connect people as well. We remain committed to our mission of connecting everyone, and we will keep working until everyone has the opportunities this satellite would have provided."