This article is more than 1 year old
London's Francis Crick Institute will house 1,250 cancer-fighting boffins
Biomed brainboxes have already begun moving in
The first scientists are moving into the Francis Crick Institute, the biggest biomedical research institute under one roof, costing £650m.
The super lab has a total floor space of 17.5 football fields – almost a million square feet.
It is housed in an asymmetric silver building round the corner from King's Cross station.
By 2017, the institute will be fully operational and the gallery, cafe and auditorium will be open to the public.
A total of 1,500 staff, including 1,250 scientists from the National Institute for Medical Research, Cancer Research UK's London Research Institute, University College London, Imperial College, and King's College London will work there.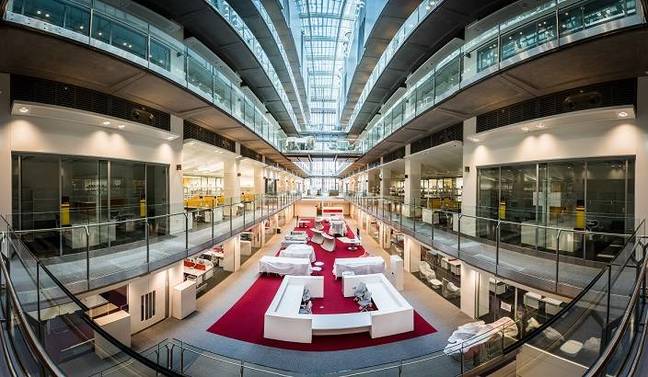 Photo credit: Wellcome Images
Crick aims to "to discover how and why disease develops in order to find new ways to prevent, diagnose and treat conditions such as cancer, heart disease and stroke, infections and neurodegenerative conditions such as motor neurone disease."
A team working at the institute have also been involved in the groundbreaking and controversial CRISPR genome editing experiments.
The building is named after Sir Francis Crick, a British molecular biologist who discovered the structure of DNA, along with his colleague James Watson. ®