This article is more than 1 year old
Windows 10 now rules the weekend, taking over from Windows 7
Redmond's latest is climbing nicely, mostly at Windows 7's expense
Windows 10's market share continues to grow a point or two a month, but it's also cracked the milestone of being the most-used version of Windows on weekends.
That's The Register's conclusion after downloading the US Government Analytics service's latest 90-day dump recording over a billion visits to US government web sites. That's as big a sample as we can find anywhere, so we figure it's at least as newsworthy as the other two sources we track for market share, NetMarketshare and Statcounter.
But first, the weekend analysis.
We've remarked in the past that operating system usage rates change during the week. A mature OS like Windows 7 will do well Monday to Friday because business has embraced it. A new OS like Windows 10 will do okay during the working week, but will initially do rather better on weekends because consumers are faster to adopt new code than businesses.
Windows 10 has displayed that pattern of adoption and continues to do so. But over the last 90 days it has also won more market share over the weekend than Windows 7. Here's the latest graph we've cooked up showing the trend.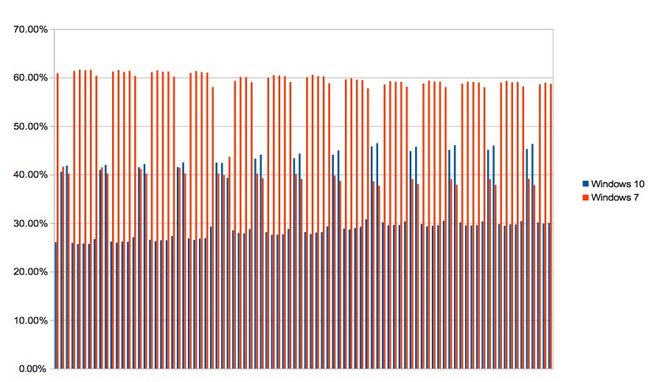 Windows 7 and Windows 10 usage on US government web sites, June-August 2017. Embiggen here
See how the blue Windows 10 columns now top the red Windows 7 columns two days each week? And see how Windows 10 is pulling away from its predecessor? This is a graph that will make Microsoft smile. Although of course it would also like a graph in which Windows 10 is killing it every day of the week.
The new OS, however, growing nicely.
Here's how things look over the last few months:


NetMarketshare
StatCounter


Windows 7
Windows 10
Windows XP
Windows 8.1
Windows 7
Windows 10
Windows XP
Windows 8.1
June
49.05
19.14
9.78
8.01
42
21.9
6.5
8.67
July
47.01
21.13
10.34
7.8
40.67
23.53
6.36
8.4
August
47.25
22.99
9.36
7.92
39.88
24.43
5.83
8.38
As you can see, there's gentle decline for Windows 7, gentle increases for Windows 10 and a slide into irrelevance for the rightly-unloved Windows 8.x. There's still the small matter of Windows 10 falling a long way short of its target for a billion installs, and Android devices outselling Windows devices by nearly four to one. But Windows 10 is clearly on the rise and more of us will soon be in the OS-as-a-service world, just where Redmond wants us to be. ®