The August 2016 Wikibon report "Server SAN Readies for Enterprise and Cloud Domination" repeats the message of its Server SAN Research Project 2014 report, saying that "storage is moving inexorably from traditional storage arrays to Server SAN in a server rack."
The report summary says the world-wide Server SAN market added $1.25bn revenue in 2015 to $2.5bn, up from revenues of $1.25bn in 2014, with overall growth of 99 per cent.
Nutanix, VMware and EMC (with ScaleIO) were the leading vendors, accounting for 43 per cent of the market, with ScaleIO growing 3.5x from 2014 to 2015.
Enterprise Server SAN is projected to grow worldwide revenue at a 22 per cent CAGR from 2015-2026, from $2.5bn in 2015 to $22bn in 2026.
Wikibon divides the Server SAN market into Hyperscale Server SAN (developed initially by cloud service providers, moving to mainly volume storage vendors by 2026) and Enterprise Server SAN, which includes virtual SAN and hyper-converged vendors (which are virtual SAN by definition).
The difference from the previous 2015 and 2014 reports is that Wikibon "now expects the hyperscale cloud market and the enterprise storage market (Enterprise Server SAN and Traditional Storage) to be roughly similar by 2026 at $27 billion each."
The net effect is that the two virtually wipe out the traditional SAN, NAS and direct-attached storage (DAS) by 2026. Unless storage and system vendors currently in the SAN, NAS and DAS market move into either enterprise server SANs and/or hyperscale server SANs, then they face being relegated to obscurity.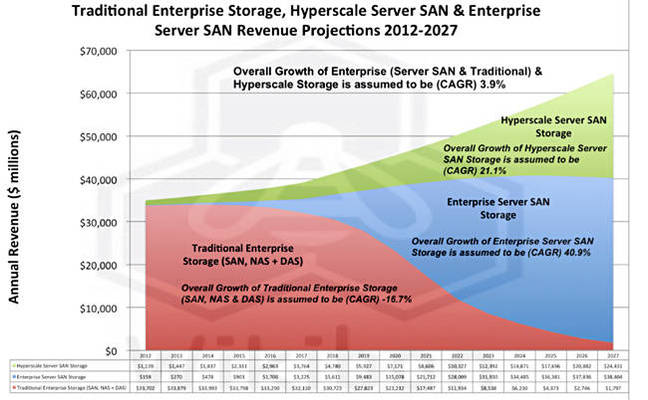 Wikibon Server San forecast in 2014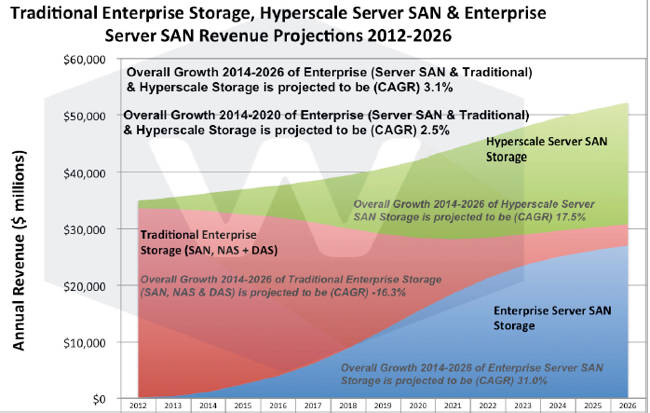 Wikibon Server SAN forecast in 2015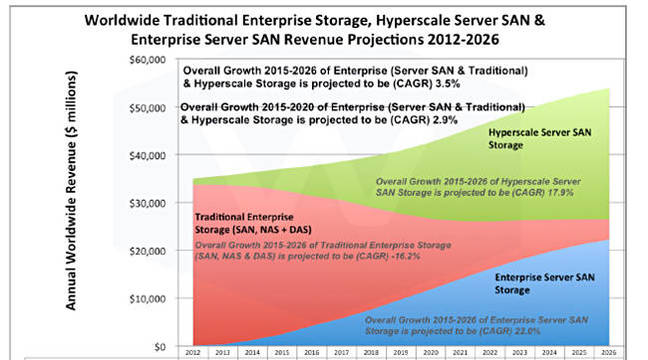 Wikibon Server SAN forecast 2016
The Wikibon analysts also provided a pie chart showing vendor revenues: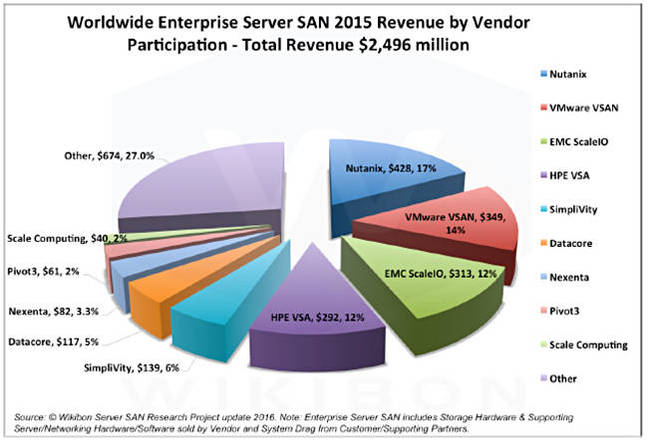 Wikibon Server SAN pie chart. Click on image for larger version
There are surprises here, especially after looking at the Forrester's hyper-converged supplier wave diagram, with Nutanix, SimpliVity and Pivot3 being the three leaders.
The Wikibon chart seems realistic in an intuitive sense. Nutanix leads, followed by VMware with VSAN, and then EMC with ScaleIO. Considering that EMC is now making much of VxRack and Rail, we can readily envisage Dell/EMC being in the lead when the next issue of this Wikibon report comes out. HPE is in fourth place with its VSA, and then SimpliVity is number 5, with just 6 per cent of the market compared to HPE's 12 per cent.
After that comes DataCore making a respectable showing, to say the least, with Nexenta in seventh place and Pivot3 down in eighth place. We're left with ScaleIO and then the large Other category.
To find out more about the report's detailed contents, go to this web page, where you can log in if you are a Wikibon user. ®