Retired Philae lander slouches on Comet 67P
Chilling on –70°C comet, leg stuck in the air... Fancy a beer, friend?
---
The European Space Agency's (ESA) obsolete robotic lander Philae has been spotted lying on its side in the dark depths of Comet 67P/Churyumov–Gerasimenko as the Rosetta mission nears completion.
The images were snapped on 2 September by the OSIRIS narrow-angle camera on board the spacecraft, which has orbited the comet within 2.7km from its surface.
One of Philae's legs is standing upright, whilst the main body has flopped to the floor. The image is proof Philae's awkward orientation made it difficult for the ESA to establish communications.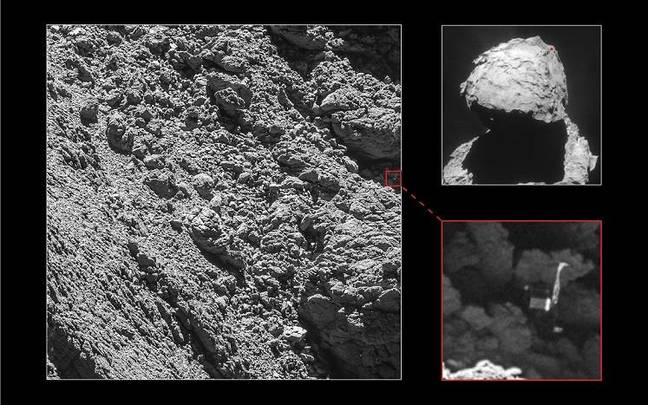 Photo credit: ESA/Rosetta/MPS for OSIRIS Team MPS/UPD/LAM/IAA/SSO/INTA/UPM/DASP/IDA
When the lander was dispatched from its Rosetta mothership in November 2014, the landing process didn't go to plan.
The anchoring system failed, causing Philae to bounce as it hit the comet's surface and eventually landed in a shady spot. After 57 hours, the juice in its primary batteries ran dry and it entered hibernation.
Communications with Philae terminated in February; the ESA scientists gave up trying to contact the comms unit onboard at the end of July.
Originally launched in 2004, the Rosetta mission to the rubber-duck-shaped comet was the first to employ a soft lander on a comet to study the origin of the solar system and life on Earth.
Despite its short life, Philae found traces of organic molecules on the comet's surface. The Rosetta spaceship continues to send high-definition images of the comet and detected oxygen in its atmosphere.
Although the results are interesting, scientists have since concluded that comets like Rosetta did not bring water to Earth.
"With only a month left of the Rosetta mission, we are so happy to have finally imaged Philae, and to see it in such amazing detail," says Cecilia Tubiana of the OSIRIS camera team.
The Rosetta mission is due to end as the spacecraft plans for a "controlled descent" into the comet on 30 September. ®