This article is more than 1 year old
IBM lifts lid, unleashes Linux-based x86 killer on unsuspecting world
NVLink, big bandwidth, but is it enough?
HPC Blog IBM is mounting its strongest challenge yet to x86 hegemony with the unveiling of its spanking new Linux based S822LC system. What makes this system different is that it's based on a new processor/motherboard configuration, complete with a sporty NVIDIA NVLink connector.
According to my research, close to half of you HPC users have a significant number of applications that are starved for more memory bandwidth.
If this describes you, then you might want to take a look at this new IBM box – it has more memory bandwidth than anything else out there.
How much more? Well, the basic Power 8 system has up to 230GB/s of memory bandwidth vs. 102GB/s for Intel's latest and greatest processors.
That's a pretty good advantage right there, but IBM, with the help of its OpenPOWER buddy NVIDIA, has upped the ante by building NVLink into this new server.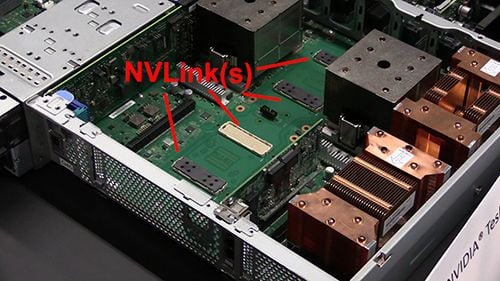 NVLink is a GPU connector (pictured above) that provides a very fast interconnect that can connect GPUs to GPUs, and GPUs to CPUs. It's plenty speedy at 80 GB/s, particularly when compared to current PCIe 3.0 speeds of 32GB/s. NVLink also gives GPUs direct access to server memory, which serves to flatten the programming model and further reduce latency.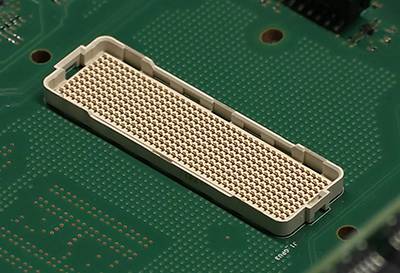 Each S822LC contains four NVLink ports (close-up pictured above) supporting up to four Pascal GPUs.
The other two systems announced today include the S822LC for Big Data, a storage optimized 2U two socket box that has space for up to 16 drives (96TB total), two NVIDIA K80s, and 512GB main memory. The other system is a highly dense 1U system that offers up to two processors (20 cores total), 32 TB of storage, and 512GB memory.
According to IBM, this system can deliver almost 7,000 threads in a single rack, which is, again according to them, 80 per cent more than HPE's DL360 system. Either way, that's a lot of threads.
All of these boxes can only run Linux operating systems and workloads. Their Linux ecosystem is growing at a good pace with more than 2,500 Linux ISVs developing for Power and more than 100,000 open source Linux packages optimized for Power 8. Their rebel alliance, the OpenPOWER Foundation, now boasts more than 250 members, which is quite a bit larger than the original five founding members (IBM, Google, Tyan, NVIDIA, and Mellanox).
IBM has also signaled that it's going to be much more aggressive in the future when it comes to taking on Intel and its x86 partners. In an analyst briefing, it pledged to beat any x86 system on a TCO (Total Cost of Ownership) and, if I heard correctly, also on a TCA (Total Cost of Acquisition) basis. That's a big deal for Big Blue, which has never been known for bargain basement gear pricing.
I would look for IBM to follow through on their aggressive rhetoric; they need Power to become a breakthrough product in order to remain relevant as a system house. Given the specs of the new HPC box, I think they can compete and win against x86 in a lot of application areas. It'll be good to have an old fashioned server war again, don't you think? ®