This article is more than 1 year old
Intel pulls out hard cash to gobble virtual CPU upstart Soft Machines
Chipzilla's silicon acquisition spree continues with a $250m deal
Exclusive Intel is in the process of acquiring Soft Machines Inc, a Santa Clara-based chip designer, according to two people familiar with the matter.
Soft Machines' claim to fame is its VISC processor architecture – that's Variable Instruction Set Computing. VISC processors contain a bunch of physical cores that are presented to software as virtual cores. Two or more physical cores can be joined together to act as a single virtual CPU.
Those virtual cores execute x86 and 32-bit and 64-bit ARMv8 code via a translation layer that converts the instructions into RISC-like VISC instructions. A load-balancing frontend assigns physical cores to virtual CPUs executing virtual hardware threads. This assignment is dynamic and changes depending on the application running; if a particularly wide core is needed, then so be it. This is supposed to bring performance benefits.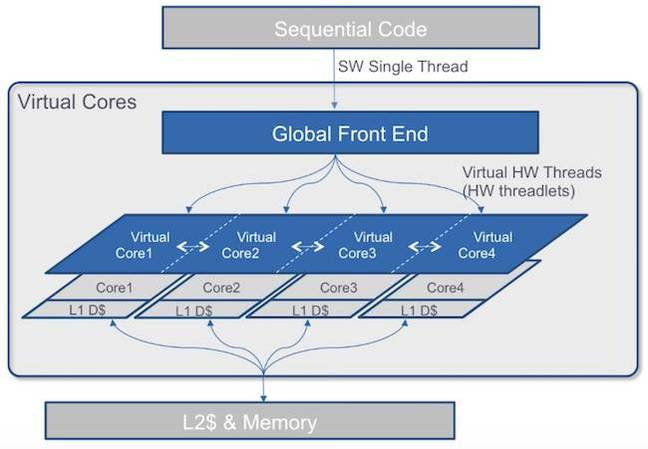 Virtual insanity ... Soft Machine's VISC design
Soft Machines taped out a 500MHz 28nm prototype in 2014, and late last year had a 16nm test chip fabricated. The biz was planning to show off a 2GHz 2W 16nm FinFET system-on-chip codenamed Mojave, featuring its Shasta core design, this year. Mojave was going to have two physical cores that map to one or two virtual cores. Future SoCs were promised with more physical CPUs.
Below is a video of CTO and president Mohammad Abdallah describing the technology at a Linley Processor Conference two years ago:
Over the past 12 months or so, Intel has been negotiating purchasing Soft Machines for roughly $250m, a source close to the talks told The Register. We're told a deal has been done, and it's not particularly good news for investors who have so far poured at least $200m in funding into the biz since it was founded in 2006.
It was hoped Soft Machines would become a Silicon Valley unicorn – a billion-dollar startup, in other words – but its VISC designs have not performed as well as was promised, thus denting the organization's value, it is claimed. Besides Intel, other suitors included Chinese businesses hoping to form a joint venture with Soft Machines, we're told.
Chipzilla is on a mild acquisition spree at the moment, gobbling up Movidius and Nervana over the summer.
A spokeswoman for Intel declined to comment. No one was willing to talk at Soft Machines, either. ®