This article is more than 1 year old
Drones and alt energy tech star at Spanish start-up fiesta
Skill and enthusiasm on the Iberian peninsula
Hardware tech such as drones and energy reclamation technology predominated at the Startup Ole conference in Salamanca, Spain last week.
The two day event gathered 100 startups and more than 1,000 attendees to the historic University town in Western Spain. Similar events in the UK would be dominated by app developers or in Israel by cyber security firms – many of them alumni of the IDF's famous Unit 8200 intelligence unit.
The Spanish crop featured a far more diverse group of companies across a greater range of technologies including energy and aviation as well as information technologies. Among the firms we met were AEInnova, which is using thermal cells to create power generation from waste heat. Applications include power sensors in industrial environments without relying on battery or mains power supplies.
The second annual Startup Ole showcase also featured Canard Drones, a startup that wants to replace specialist light aircraft for drones in calibrating the navigation aides at airports.
"There's an eccentric element to it and startups are working from the bottom up on technologies," Joe Haslam, professor at IE business school Madrid and founder of Hot Hotels, explained. "People do what they want to to do."
Haslam added that unlike the UK and the USA – where places of learning such as the University of Cambridge and Stanford University – act as feeders as incubators for tech startups Spanish Universities don't fulfil the same role. The University of Salamanca, for example focuses on the arts. Barcelona University has good technology courses but that alone isn't enough. Madrid Universities tend to act as feeders to big companies. Accelerators in the country service "start-up tourism" without much output, according to Haslam.
Spain has never produced a Nasdaq listed tech firm. Part of the reason is cultural. "Starting a business is seen as disruptive to family life," Haslam explained. "People don't believe in themselves."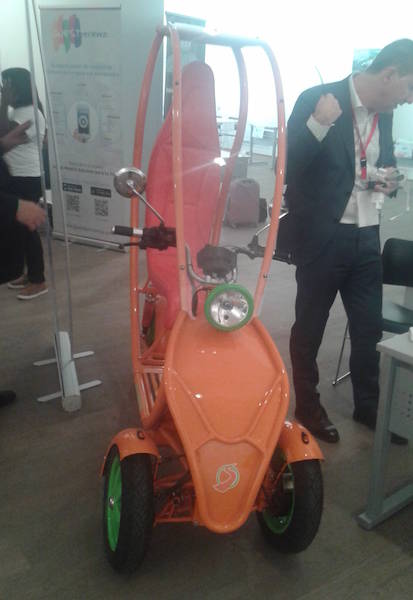 Electric scooter at Startup Ole. Whoo-ah!
There was certainly no shortage of energy, skill or enthusiasm on display at Startup Ole and reason for optimism, when it comes to funding. The Spanish government was mandated to put money into startups as part of the 2008 bank bail-out by the EU.
Startup Ole also incorporated Startup Europe – the European Commission's initiative for startups. Panels on acceleration trends, how corporates want to interact with startups, universities and their role in startup ecosystems featured during the show as well as a pitching competition that (much like a school sports day) seemed to reward everyone with some prize or other.
Disruption
Your own correspondent chaired a 30 minute session of disruptive technology during the conference. Alejandro Delgado Sanchez of IBM talked about the application of artificial intelligence in applications such as customer relationship management.
Miguel Amador of Startup Braga discussed how startups lead the way to new products based in nanotechnology and new materials, bridging the gap between science and market in the process. Miguel Arjona of Altran delved into virtual reality and, specifically, in the emerging technologies that will allow a full cognitive and sensorial immersion in the virtual worlds. he mentioned applications including real-time 3D mapping and avatars creation), touch sense through haptic and mechanics globes and brain machine interfaces (EGG headsets). ®