The GitHub Universe event has kicked off in San Francisco, with a number of new GitHub features announced by CEO Chris Wanstrath.
GitHub's main product is a collaborative source code repository, which you can use on the public cloud or in your own private deployment. There are now over 19 million open source projects hosted on GitHub, with 5.8 million active users.
The focus of today's announcements is on project management and workflow. A new Project dashboard lets you create cards from pull requests, issues or notes, and organize them into groups such as Backlog, In Progress, and Ready.
Projects are extensible by third parties, and Wanstrath stated that GitHub also plans to add further features in the near future.
Code Review is being enhanced with a more streamlined approach to approving pull requests and requesting changes. You can also create "protected branches" that cannot have changes merged into them until specified tests have passed and code has been approved.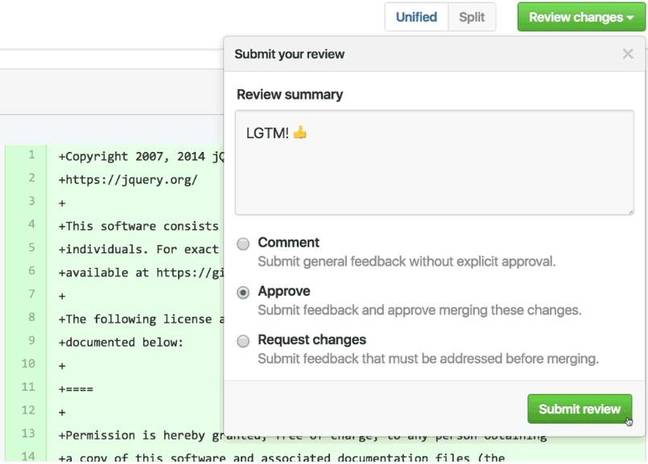 GitHub's new Code Review feature
Security on GitHub's repository site is being improved, with the ability for project administrators to require two-factor authentication such as a code sent to a mobile device in addition to username/password.
Wanstrath also announced forthcoming support for SAML (Security Assertion Markup Language) which will enable single sign-on to GitHub from a variety of identity providers, a feature that is already in GitHub Enterprise, its premium repository.
There are changes to GitHub user profiles, which now "contain your entire history of work on GitHub, from your first commit to your most recent pull request," according to a post announcing these new features. This will make it easier for potential employers, for example, to see past open source work by specific individuals.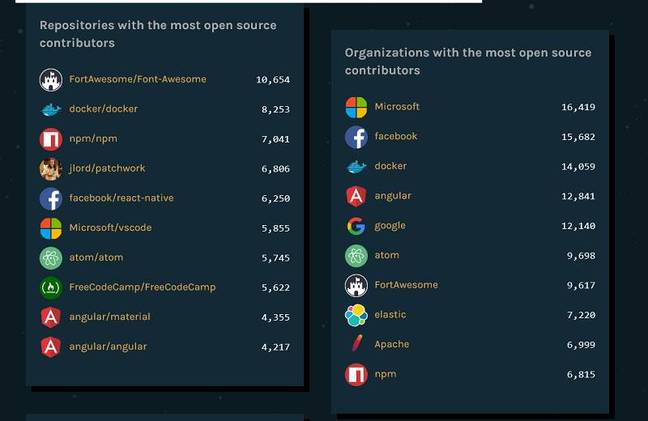 Statistics from GitHub's Octoverse site show Microsoft to be the biggest corporate contributor
The statistics on GitHub's Octoverse stats site include some notable data. Microsoft is the company with the most open source contributors, reflecting the number of large projects the company has published, including the TypeScript language, the .NET Core fork of its programming framework, and the Visual Studio Code editor (its most active project in terms of contributors).
Next on the list are Facebook, Docker, Angular and Google. ®
Similar topics