Updated Don't install Apple's new iOS 10 on your iPhone 6, 6+ or SE, warns T-Mobile US, or you'll suffer knackered connectivity.
In the past hour, the American cell network blasted out texts to its subscribers urging them to hold off on upgrading.
And it tweeted publicly to raise the alarm, telling people to stay away from the software.
This is because some iPhones running iOS 10 can't maintain stable links to the cellular network, causing calls to drop and mobile internet connections to flake out. If you've put the new code on your handset, and you're affected by the signal problems, you can turn the thing off and turn it back on again as a temporary fix. Alternatively, switching in and out of airplane mode may also work.
Presumably, rolling back the upgrade to iOS 9, if you know how, will also take care of the issue.
"iPhone 6, 6+ and SE customers – do not download iOS 10," the carrier blurted on Twitter. "We are getting reports of connectivity issues, and Apple is working on a fix. If you have taken iOS 10 on those iPhones, you can temporarily fix by powering down and back up. A permanent update coming within 24 to 48 hours."
T-Mobile US is firmly blaming Apple for this cockup, even though it's been suggested that T-Mob's carrier software update is causing the problem. "It's an iOS 10 issue and Apple is working on a fix. We hope to have that very soon," a customer rep said.
Apple is never available for comment.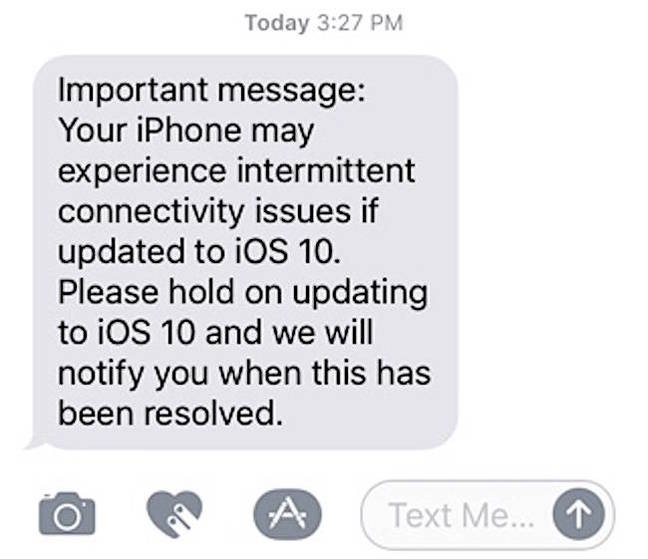 Alarm ... Text sent to subscribers by T-Mobile US today
Naturally, folks aren't happy. While some say they've had no issue at all with the new iOS 10, others have suffered from wobbly connections, for example:
.@TMobile too late. It's a disaster. What now?

— David Kirk (@dhkirk) September 15, 2016
@TMobile I hope you do! I've updated already and losing data and having to restart multiple times as day is incredibly frustrating :(

— Matt Blank (@mattblank) September 15, 2016
@TMobile iOS 10 update is garbage.

— Ray Draughn (@Raybird9) September 15, 2016
@TMobile why can't you just recall affected phone and trade them for an Android at no cost

— Juan (@Juanarroy0) September 15, 2016
This is after early installations of iOS 10 bricked iDevices. Apple employs 115,000 staff worldwide and banked a $54bn profit in 2015. ®
Updated to add
T-Mobile US tells us Apple has addressed the issue within iOS 10. If you haven't installed the new operating system yet, go right ahead and do so. If you have installed it, go to Settings > General > About to find a fix waiting for it.