This article is more than 1 year old
It's here! Defence Secretary launches £800m MoD tech creche
And not an artisanal Shoreditch hipster startup in sight
Defence secretary Michael Fallon confirmed the launch of the Ministry of Defence's £800m innovation fund this morning at a speech in a Spitalfields back alley.
Announced back in July, the tech creche will concentrate on getting the UK's technology industries to start putting their inventions and ideas forward to "Defence", with the MoD trying to play catchup with similar US initiatives.
At this morning's speech and Q&A, located in what the MoD presumably thought was a hip 'n' trendy venue round the corner from London's Liverpool Street station – complete with unisex toilets, no less* – the defence secretary said:
We've witnessed a technological revolution where the private sector, rather than the public now takes the lead. It's opened up our world, making cheap and sophisticated technology available to all... Previously technology went from the military to the civilian sector. We want to turn that on its head.
He added: "Finally, we will be faster, accelerating the transition from idea to service."
Not all of the 150-odd industry delegates were immediately on board, however. Chris Aylett, chief exec of the Motorsport Industry Association, raised the point that many in his industry are "reticent to engage with defence" because of the perceived inefficiency of the MoD and its subsidiary agencies, not to mention MoD "prime contractors", large defence companies such as BAE Systems.
"Are all the primes supportive and will they accelerate their processes?" he asked, to general laughter.
"No reason why not," said an optimistic Fallon. Harriett Baldwin MP, minister for defence procurement, added: "We're about SMEs not in a prime supply chain," adding that the department's "exhortation" to big defence firms to use SMEs is "not perfected at this stage but an aspiration".
Answering the point, Nigel Whitehead of BAE Systems said his firm's "performance on UORs" [urgent operational requirements, defence kit bought off-the-shelf and sent straight into service] showed that SMEs already worked well in their supply chain, saying: "If we work as an enterprise we can bring innovators right into the [procurement] process."
Another question from the floor raised the "speed of partners in the MoD's Centre for Defence Enterprise", which was said to be "very slow". Simon Cholerton, director of defence science and technology (which, confusingly, is separate from the Defence Science and Technology Laboratory) said, "DSTL... delivers in partnership with the private sector", pointing out that 16 per cent of the government-owned research establishment's budget is earmarked for spending with industry partners.
'Scientists should be on tap, but not on top'
Legendary wartime prime minister Winston Churchill famously warned about letting scientists innovate for innovation's sake. One industry representative questioned Baldwin about whether the government was hoping for "unplanned opportunism" to come up with defence equipment of the future.
"Unplanned developments can be seen to be of use to the military," said the defence procurement minister. "Making our requirements as transparent as possible is letting innovators see the applicability of their ideas."
Amongst the handful of successful defence items on display at the event was Animal Dynamics' Skeeter drone, a tiny dragonfly-type item used by soldiers to look over walls and peek around corners without exposing themselves to enemy fire. It flies by flapping its four polymer carbon fibre wings.
The company's Adrian Thomas, who has spent 40 years studying how animals fly and how fish swim, explained that thanks to Skeeter's "suspension-like wings" it is more resistant to strong winds and buffeting than comparable helicopter-type drones.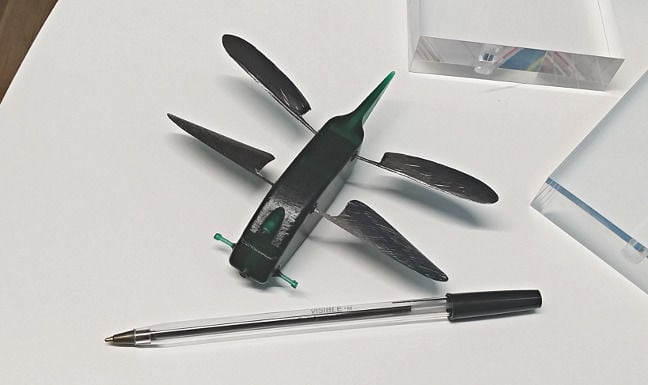 Animal Dynamics' Skeeter "dragonfly" drone, with a pen for scale
Also on display was a quantum gravimeter, developed jointly between the University of Birmingham and DSTL. The university's Dr Michael Holynski explained to a slightly bewildered press pack that as well as having the potential to be used in Britain's nuclear submarines to help them determine their position underwater, the gravimeter could also be used to complete underground surveys far faster than is possible at present – neatly demonstrating how MoD funding helps produce products of use to the civilian market as well as the military. ®
Bootnote
* "We've chosen this collaborative space in Spitalfields to show our determination to change the culture, remove barriers to creativity and harness the curiosity and ingenuity that has made us so effective," said the defence secretary.
Your correspondent is all in favour of curiosity and ingenuity but bumping into the minister for defence procurement, Harriett Baldwin MP, in the aforementioned unisex toilets takes the "removing barriers" part a step too far.