US data centre power biz Vertiv has cut its financial forecasts for the next quarter in response to the impact of the coronavirus outbreak on its supply lines.
In its full-year 2019 results posted today [PDF], chief exec Rob Johnson said that although the company's own factories are mostly up and running again, the virus outbreak is having a ripple effect across its global supply lines. Johnson said he expects the virus outbreak to hurt first-quarter revenues to the tune of $70m to $90m.
"While we're pretty much back to full strength, other suppliers are not. We're working with them to help get back online. So that's where the suffering is coming from. It's not really our ability to get things done, but it's the subcomponent suppliers that just aren't fully back to speed," Johnson said in an earnings call heard by The Reg.
Vertiv's two Chinese factories in Jiuangmen and Mianyang account for about a third of its overall production. The datacenter biz said it has been staggering the return of its employees back into the factories since mid-February, but some workers are yet to return. But it has been pre-purchasing components and securing freight lanes out of China since the outbreak began to minimise the effect.
Despite the uncertainty, Johnson still expects the full-year guidance to be in line with previous estimates. For 2020, the company anticipates net sales of $4.59bn and operating profits of $446.6m. "While the impact of the virus is dynamic, based on what we know today, we do believe our first quarter shortfall can be made up by the end of the year," he told analysts on the call.
For the fourth quarter of 2019, Vertiv's revenues were flat at $1.17bn. Most of this was made up by record hardware orders, which brought in $878m, up 3 per cent year-on-year thanks to increase demand from hyperscalers, data centre operators such as Amazon, Microsoft, Google and Facebook, as co-location data centres. Services, such Vertiv LIFE Services, which remotely monitors the company's power and cooling systems, made up $293.4m.
For the year the company's revenues moved just 3.4 per cent to $4.4bn. Again, hardware accounted for the bulk of this – $3.35bn – and services brought in $1.07bn.
"We are pleased with our full year 2019 performance as we delivered financial results consistent with expectations communicated at the end of last year including sales growth, profitability and cash flow," Johnson said. "In addition, as a result of our three-year transformation program, we have solidly positioned the company for long-term success."
Looking forward, Vertiv says it will drive hard into the expanding market for edge computer devices. "We have expanded our product lines over the last two years, to have a complete set of products. So we expect to take share and also participate in that edge growth," Johnson said in the call.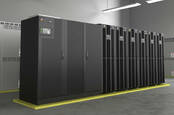 Vertiv: Li-ion already eats 1 in 3 battery sales... let's shove multi-batt box into data centre folk's paws
READ MORE
Vertiv is just the latest tech company of many to experience manufacturing headaches as a result of the coronavirus outbreak. HPE, Microsoft and Samsung have all warned that the contagious illness is likely to affect their supply chains this year. Last week, a slate of big-name conferences, including Google's I/O and Nvidia's GPU Technology, were cancelled as firms cut back on travel to such events.
Vertiv went public in December after merging with GS Acquisition Holdings, which is owned by former Honeywell chief exec David Cote. The merger, which was valued at $5.3bn, was closed on February 7 when Vertiv listed on the New York Stock Exchange. ®
Similar topics