This article is more than 1 year old
Lack of Hurd mentality at Oracle OpenWorld: Co-CEO's cloud claims fall flat live on stage
When polling in keynotes goes bad
OpenWorld Once again, Oracle's co-CEO Mark Hurd was in a prognosticative mood during his OpenWorld keynote, but the crowd of attendees wasn't buying it.
As he did last year, Hurd made some predictions as to where the industry was going on cloud computing by the year 2025, including that two companies would control 80 per cent of the software-as-a-service (SaaS) market by then, and that Oracle would be one of them.
This year he added to that list, saying that by 2025:
Eighty per cent of IT spending would be on cloud services.
The number of company-owned data centers would drop by 80 per cent.
The remaining 20 per cent would only host legacy systems for which there wasn't a commercial alternative.
Spending on IT maintenance would drop down to 20 per cent of IT spend.
Some bright spark at Oracle thought it would be a fun idea to have live audience participation during Monday morning's keynote, with people texting responses to questions posed by Hurd. When he put the veracity of his predictions to the audience test, the response was overwhelming – none of them would come true, according to the wisdom of the crowd.
"There are a bunch of funny people out there," he remarked as the numbers came in.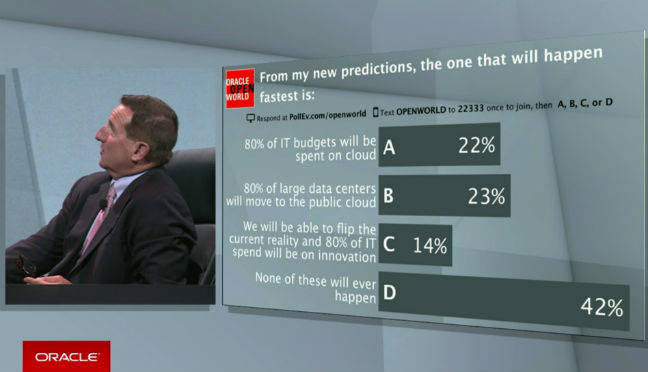 Our survey said – nope
The crowd was also less than impressed with Oracle's claim that it's the fastest-growing cloud company out there. When Hurd asked the audience for their opinion, Oracle did get the majority vote at first. But then its arch-enemy Amazon Web Services (AWS) began to shoot up the rankings and reached 30 per cent before the poll was faded out onscreen.
To back up his claims, Hurd said that Oracle's SaaS and platform-as-a-service revenues were up 82 per cent in the first quarter of this year, and Oracle has seen seven straight quarters of growth in the sectors. Then again, Oracle was starting from well behind, virtually zilch, in this market.
Oracle spent $5.2bn on R&D in the past year, he said, because it was rewriting all its apps for the cloud, which is pretty much word-for-word what he said last year. The firm now employs 10,000 cloud engineers, he boasted, 3,000 of them just doing enterprise resource planning (ERP) apps, and Oracle has doubled its cloud salesforce.
(Amazon spends about $3bn to $4bn a quarter on R&D for its AWS cloud service and other technologies.)
The bulk of Hurd's keynote was spent trotting customers on and off stage, saying how wonderful moving to Oracle had been. One IT boss from HSBC said they'd switched because Oracle had "brought out the A Team." Presumably Larry is Hannibal, Hurd sees himself as Face, which leaves Safra Catz as BA or Murdock.
The rest of the presentation was all about trashing the opposition. AWS tried to lock its customers into its cloudy environment, he opined (as Larry did yesterday), and Oracle had done more ERP business in the last year than Workday had.
CEOs who want to keep their jobs will have to go to the cloud, Hurd predicted, since it's the fastest way to cut costs and grow revenues. The average CEO lasts 18 quarters in the job, and 40 per cent of them are fired in the first 18 months, he said, because they can't grasp this. ®