This article is more than 1 year old
We read Nutanix's homework... and the numbers look good
Pre-IPO HCI startup's promising biz growth foundation
Analysis Nutanix has filed an amended S1 IPO form with the SEC and data within it shows a strongly growing business well-set for an IPO if the financial environment is supportive.
The company's latest results show satisfactory quarter-on-quarter and annual revenue growth with net losses growing less sharply and becoming a smaller proportion of revenues. Full fiscal year 2016 (ended end-July 2016) quarterly revenues and net lossses (in brackets) are:
Q1 - $87.77m (-$38.55m)
Q2 - $102.7m (-$33.2m)
Q3 - $114.69m (-$46.82m)
Q4 - $139.79m (-$49.93m)
The annual numbers show a steeper revenue growth curve:
Fy2013 - $30.53m (-$44.73m)
Fy 2014 - $127.13m (-$84.00m)
Fy 2015 - $241.43m (-$126.13m)
Fy 2016 - $444.93m (-$168.5m)
Charting them (below) shows the growth pattern clearly: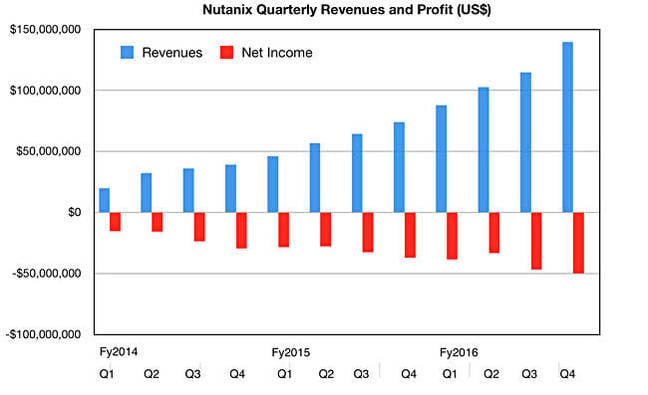 Charting the annual revenues produces an impressive graph: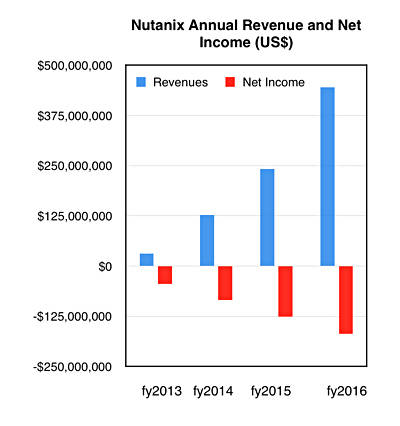 Next year could, if this growth rate continues, see the $750m revenue level reached, with the billion-plus level reached in fiscal 2018.
The total customer count is still growing in a steepening curve, showing quarterly customer addition numbers are increasing, with the total count now standing at 3,768: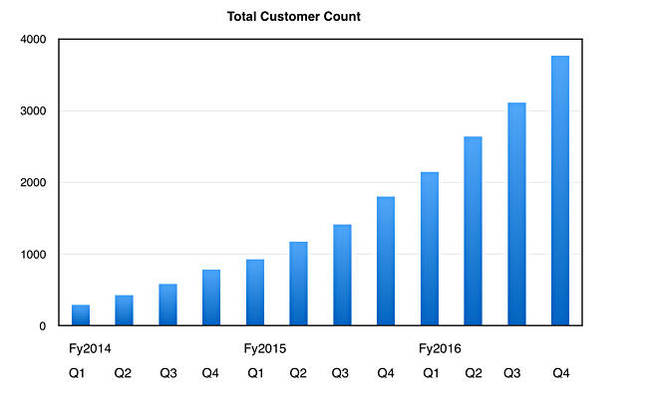 We see a strongly growing business and we can hope that its recent purchases of Calm.io and PernixData will keep its growth rate high.
+Comment
There were many all-flash array (AFA) startups. Most were acquired and only two have made it to an IPO - Pure Storage and Violin. A survivor, Kaminario, seems a long way from being an IPO candidate, and faces product competition from hybrid array startups moving into the AFA space – Nimble, Tegile and Tintri.
NVMe drives and NVMe over fabrics are two technologies rewriting the whole external storage array rulebook and now that area is set for another period of disruption and eventual consolidation as the incumbents and startups fight it out for survival and prosperity and an NVMe drive and fabric world.
In the hyper-convered infrastructure (HCI) area, the scene is awash with startups and with incumbents buying or developing their own technology; Cisco HyperFlex, Dell with VSAN, VxRail, etc, HPE, Huawei, and with startups such as Nutanix, SimpliVity, Maxta and many others. Of these only Nutanix is close to an IPO.
The fear for many HCI startups must be that the AFA startup pattern could repeat itself with just one making it to IPO and everyone else struggling to survive. They might hope for acquisition, with Hitachi, Lenovo and possibly NetApp being potential buyers. Or they might think about technology differentiation with, for example, a focus on containerisation, hybrid cloud support, adding POWER and/or Arm server support to escape X86 commodity hell, or heading up-stack with an application focus.
All of the HCI startups think, we imagine, that things will be radically different after a Nutanix IPO, that the low-hanging fruit days are coming to a close, and they better get plans B and C agreed with their backers, because the HCI market is set to get bloody. Let PernixData's fate (backers lost bucketloads of cash) be a lesson to them all. ®