This article is more than 1 year old
Zuckerberg to spend $3bn+ to rid world of all disease by 2100 (Starting with Facebook, right?)
And yet WhatsApp cost $19bn?
Mark Zuckerberg and Priscilla Chan have promised at least $3bn in funding for a medical initiative to cure, prevent or manage all known diseases by the end of the century.
The program, managed by the Chan Zuckerberg Initiative (CZI) that the duo set up after the birth of their first child, will fund scientific research that others won't, build tools to aid the next generation of scientific discovery, and build networks of engineers, doctors and researchers in a long-term effort to crack some of the most difficult medical challenges ahead.
"A child born today will have a life expectancy of around the end of this century – so can we cure, prevent, or manage all diseases by the end of this century," Mark Zuckerberg said at a press conference in San Francisco on Wednesday.
"Now that doesn't mean that no one will ever get sick – but it does mean that people should get sick a lot less and that when they do, we should be able to identify quickly and treat it, or at least be able to manage it as an ongoing condition."
We'd just like to remind everyone that Facebook paid $19bn for WhatsApp.
Medicine is a young science, barely a century or so old, he opined, and medical advances were the result of learning and developing new tools. Looking ahead, the tools doctors need are "pretty easy" to divine, he said. They include:
AI software for mapping and scanning the brain for neurological issues.
Applying machine learning to cancer genomes.
Building an implantable chip for disease diagnosis.
A tool for continuous blood monitoring.
A map of human cells to aid drug designers.
Work has already started on the last example, with CZI devoting $600m to a new Biohub in San Francisco that will work on a Cell Atlas of the human body. There are currently about 300 different cell types in the human body but we don't know how many exactly, nor how they interact with each other.
The Biohub will use research from Stanford University and the Universities of California Berkeley and San Francisco. Students of any discipline or age level at the three universities may apply for an investigatorship – a five-year grant to research an area deemed too risky for regular funding.
The Biohub will also house the Infectious Disease Initiative (IDI), an emergency response team ready to get onto new illnesses as they arise. The IDI would have the funding to start early research into outbreaks before slower-moving groups got organized – the US Congress, for example, is still holding up Zika funding despite hundreds of cases of the disease in the US, and the certainty of more.
"There has been incredible frustration in the scientific community about ability to respond quickly to threats, and that's true for the Zika virus and others," said Professor Joseph DeRisi, who will co-lead the Biohub.
"Biohub maintains the personnel, the equipment, and the resources to act quickly to new threats. There won't be any long debates about whether to fund something or not."
The whole point of this CZI program is to share information, and all tools, information, and discoveries will be made available to the global community. Zuckerberg also said that he would be bringing his engineering skills to setting up a global communications network to link scientists, researchers, engineers, and other specialists so that they could share that information.
The conference also saw an appearance from computing robber baron-turned-philanthropist Bill Gates, who had high praise for the initiative. He said that Mark and Priscilla were "top of the list" in being able to help science solve human problems.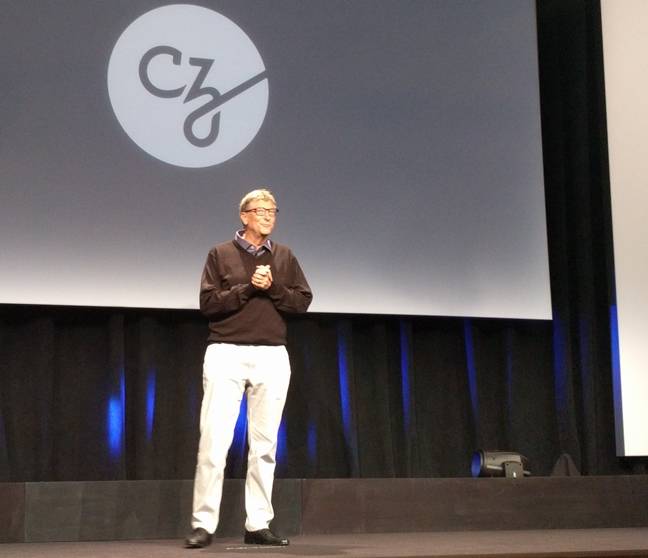 Bill Gates gives his blessing
"What they bring to this project is amazing," he enthused. "Mark's risk-taking skills, and her understanding of medicine as a pediatrician, are very helpful – and they both love science."
Progress is being made, Gates said, but more science is needed so that we can understand not just how to cure illnesses, but also how they are caused in the first place. The Zuckerbergs are leading the next generation of philanthropic donors and the future is looking a lot more encouraging, he said. ®