This article is more than 1 year old
The wise Hedvig owl heads aloft with a Universal Data Plane
Also plugs into Microsoft's Scale-Out File Server
Hedvig has updated its software-defined storage to version 2.0 and is flying with a Universal Data Plane concept.
Its Distributed Storage Platform Version 2.0 adds a VMware vSphere Web Client Plugin, Docker Volume Plugin and Mirantis Fuel Plugin, each of which help to provide application-specific high-availability policies.
V2 also has high-availability integration with Microsoft's Scale-Out File Server. Extended cloud orchestration options come with integration of Mesos and Kubernetes. These provide user-defined tagging, multi-tenancy RBAC, and an Ansible-based installer.
DSP v2 simplifies multi-cloud operations and Hedvig has demonstrated DSP interoperability with AWS, Azure and the Google Cloud Platform.
DSP v2 also gets predictive storage analytics, support for virtualisation of third-party storage arrays and cloud volumes, and Storage Proxy enhancements to improve deduplication and server-side caching.
The Universal Data Plane (UDP) is a virtualised abstraction layer enabling any server workload to store and protect its data across any location, such as on-premises storage tiers and in public clouds. The UDP can be run on commodity servers in private clouds and as instances in public clouds. UDP can be operated/managed via orchestration and management frameworks into which it is plugged.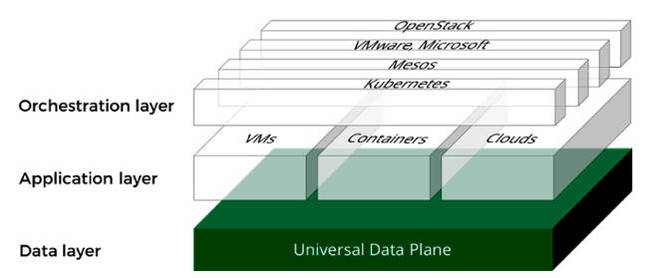 Hedvig UDP concept
Hedvig says that users, with UDP, "can deploy services and applications that are truly stateless … providing data locality and availability guarantees." They "can support digital strategies including cloud arbitrage, reverse auctioning of cloud services and follow-the-sun application migration—all while avoiding costly bandwidth and egress cloud fees."
UDP has a scale-out software architecture, multi-site replication, the aforesaid automation and orchestration support, and app-specific data services.
Big bank BNP Paribas has become a Hedvig customer.
Read Hedvig founder and CEO Avinash Lakshman's blog post on UDP here, and check out his video: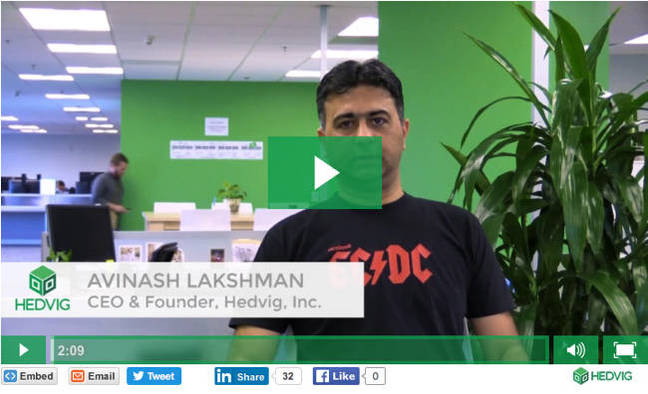 Click video image to run the video
Lakshman writes: "It's the idea that you could have a single, programmable data management platform that spans any workload, any cloud, and any storage tier. The most compelling element of our vision, though, is the concept of true multi-cloud capabilities."
UDP is an on-ramp to the public cloud: "I believe enterprises will get out of the business of managing their own data centres entirely. The journey to the public cloud is inevitable."
For now DSP is a consolidator of all secondary storage needs through the virtualised DSP technology. It is hugely ambitious and similar to Cohesity in scope. Watch this space. ®