A large breach in the liquid oxygen tank of SpaceX's Falcom 9 rocket likely caused the explosion during a test at the start of this month, investigators have said.
A static firing test at the Cape Canaveral Air Force Station in Florida ended abruptly when the rockets burst into flames on the launchpad and disintegrated, along with the payload, Facebook's $200m Amos-6 satellite. The blast could be heard from 30 miles away, according to reports.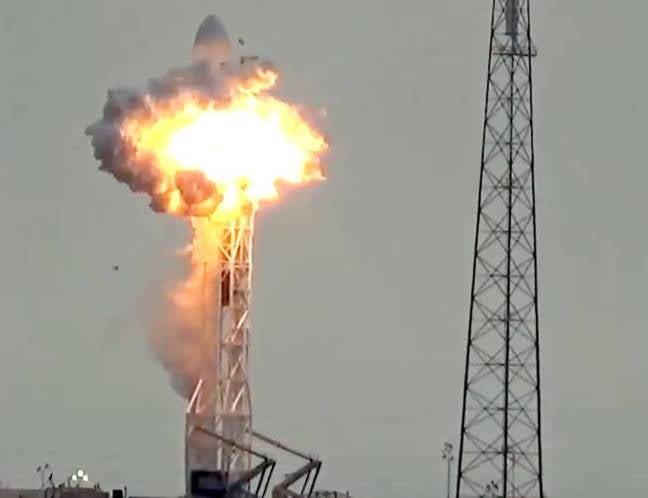 The Accident Investigation Team, made up of Elon Musk's SpaceX, the FAA, NASA, the US Air Force, and other industry boffins are scanning 3,000 channels of engineering data, as well as video, audio and imagery.
SpaceX said one tenth of a second passed from the problems first emerging - the "anomaly" - to the loss of data on the 1 September fireball.
The majority of debris resulting from the explosion has been recovered, photographed, labelled and catalogued, SpaceX said.
"At this stage of the investigation, preliminary review of the data and debris suggests that a large breach in the cryogenic helium system of the second stage liquid oxygen tank took place."
SpaceX uses super-chilled oxygen as an oxidiser with RP-1 kerosene as fuel. The temperature of the oxygen is lowered to make it more dense to fit into the tanks.
"All plausible causes are being tracked in an extensive fault tree and carefully investigated," SpaceX said. It added that preliminary findings showed the latest incident was not connected to the CRS-7 "mishap".
In July 2015, a steel strut that failed under much less load than it was certified to carry caused a mid-air explosion of a Falcon 9 rocket bound for the International Space Station.
SpaceX has more than 70 missions on its manifest, reportedly valued at more than $10bn worth of business from government and commercial customers, and keeping those on track might be less easy now.
The launchpad will be out of commission while it is reconstructed - it took NASA four months to rebuild its Wallops Flight Facility after an explosion aboard the Orbital Sciences' Antares rocket.
SpaceX said it would move some missions to the Kennedy Space Centre, next to the Cape Canaveral Air Force Station. A launch site at the Vandenberg Air Force Base in California is also used by the company.
"We will work to resume our manifest as quickly as responsible once the cause of the anomaly has been identified by the Accident Investigation Team", SpaceX stated. ®