This article is more than 1 year old
NetApp facelift: FAS hardware refresh and a little nip ONTAP
Flash fantasia
NetApp has comprehensively refreshed its all-flash FAS and hybrid FAS arrays, adding performance, capacity and scalability upgrades, and supporting 32Gbit/s Fibre Channel and 40GbitE connectivity. ONTAP also gets upgraded, with Azure support for ONTAP Cloud
This follows on from the E-Series launch of the entry-level all-flash and hybrid flash/disk E2800 (PDF) earlier this month, aimed at midsized businesses and remote offices. That has a pay-as-you-grow scheme for adding capacity. Sunnyvale claimed that the E2800 offers best-in-class performance - up to 300,000 IOPS - at the lowest acquisition cost for an all-flash array.
There are six new mainstream NetApp arrays and we'll start with the AFF flash fliers.
The two new AFF arrays use Samsung's 15TB SSDs, which provide a 4x capacity increase at the entry and old mid-range levels. We understand that the A300 replaces the AFF8040 and AFF8060 with the AFF700 replacing the AFF8080 EX.
New hybrid FAS9000, FAS8200 and FAS2600 arrays replace the current FAS2500 and FAS8000s.
All these systems scale up but are built to scale-out with clustering from 2 to 24 AFF and/or FAS nodes.
Naturally a new generation of Intel CPUS is used for the controllers. For the AFF A700 and FAS9000 - there are two Broadwell 18-core processors per controller; so 72 cores per high -availability (HA) pair. The AFF A300 and FAS8200 get two 16-core Broadwells, 32 cores per HA pair. At the low end of the new FAS product line the FAS2620 and FAS2650 get two 6-core Broadwells, 12 cores per HA pair.
Re-tapping ONTAP
ONTAP, the AFF and FAS operating system, gets a refresh to v9.1 which offers:
FlexGroup – a massively scalable, high-performance NAS container for the latest generation of applications in the EDA, high-tech, oil and gas, and media and entertainment industries. It scales a single container up to 20PB and 400 billion files.
Volume Encryption – granular, volume-level, software-based encryption for data on any type of drives across AFF, FAS, or ONTAP Select systems.
ONTAP Cloud support for Microsoft Azure on top of existing AWS support.
ONTAP Select now supports all-flash commodity servers.
ONTAP v9 is available as a base bundle and a premium bundle (FlexClone, SnapMirror, SnapVault, SnapRestore, SnapCenter and SnapManager) with separate optional software; OnCommand, SnapLock and FlexArray virtualisation of third-party storage.
New All-flash FAS systems
We have the new AFF A300 mid-range and AFF A700 high-end system with configuration flexibility through a modular design. This is said to ease servicing and prepare the way for future upgrades. These systems deliver up to twice the performance at half the latency, compared with the previous generation of AFF systems, with setup in under 10 minutes. A 24-node AFF cluster can deliver more than 7 million IOPS.
NetApp claims the new AFF arrays reduce SSD storage use by five to 10 times on average with inline data reduction technologies.
Compared to the old AFF arrays (see table below) the new ones have increased flash capacity, memory and NVRAM, also greater host connectivity bandwidth.
NetApp points out that its AFF line uses Samsung 3D V-NAND and is the first all-flash array to support (Samsung) 15TB SSDs. These two AFF boxes are also the first to use multi-stream write (MSW) SSDs, which improve SSD write performance and SSD endurance through better garbage collection techniques.
The new AFF arrays support 32Gbit/s Fibre Channel, with 8 ports for the A300 and 32 for the AF700; 24 and 64 16Gbit/s FC ports are supported respectively. On the Ethernet front, 40GbitE, 8 and 32 ports respectively, and 32 and 64 10GbitE ports respectively are supported. They also have 4 and 20 PCIe expansion slots respectively.

AFF A300
Details of the A300 (with the AFF8040 numbers in brackets) are;
Max SSD - 384 (384)
Max raw capacity - 5.9PB (1.47PB)
Effective capacity - 24PB (6.1PB)
Max memory - 256GB (64GB)
Controller - 2 controllers in 8U chassis (6U)
Details of the A700 (with the AFF8060 numbers in brackets) are;
Max SSD - 480 (480)
Max raw capacity -7.3PB (1.84PB)
Effective capacity - 30PB (7.63PB)
Max memory -1,024GB (128GB)
Controller - 2 controllers in 8U chassis (6U)
The AFF8060 also came with dual enclosure HA: 2 controllers and 2 IOXMs in two 6U chassis for a total of 12U.
How does the A700 compare to the existing AFF8080 EX? It's very close in flash capacity: 7.3PB vs 7.4PB for the 8080 EX, but the A700 has four times more memory and double the NVRAM capacity of the 8080 EX, so it'll chew through the flash-stored data faster.
For NAS scale-out the new AFFs support 1-24 nodes (12 HA pairs), the same as before, with 1-12 nodes (6 HA pairs) for SAN scale-out; it was 1-8 nodes for the previous AFF arrays.
Multi-stream writes
A Samsung note [PDF] says "To reclaim free space, garbage collection activity copies user data to new storage blocks and erases invalid data storage blocks, thereby allowing the media to store new write data.
"However, garbage collection processing decreases both SSD read and write performance. In addition, garbage collection increases write amplification because individual host data write requests can result in multiple internal SSD writes to the NAND medium. Here, valid data is first read from a media block about to be erased, then rewritten to another media storage block, accompanied by the write to store new host data. Consequently, write amplification decreases SSD lifetime because each NAND chip can endure a certain number of writes before it begins to fail."
MSW sidesteps this: "Streams are host hints that indicate when data writes are associated with one another or have a similar lifetime. That is, a group of individual data writes are a collective stream and each stream is given a stream ID. Because the data within an erase block has a similar lifetime or is associated with one another, there is a greater chance that an entire erase block is freed when data is deleted by a host system.
"A multi-stream SSD improves Write throughput up to 9x over a legacy SSD [and] the ... endurance can potentially be more than 3x of a legacy SSD." Neat.
MSW is implemented in Samsung's PM953S NVMe SSD, by the way.
Fresh FAS systems

FAS2600
There are four new FAS boxes, and these replace the current low-end/mid-range FAS2500 (2520, 2552, and 2554) and high-end FAS8000 (8020, 8040, 8060, 8080 EX) arrays;
FAS2620 for small business
FAS2650 for mid-size business
FAS8200 for enterprise-scale workloads
FAS9000 for business-critical use-cases
The FAS8200 and FAS9000 replace the existing FAS8000 line. That has FAS8020, 8040, 8060 and 8080 EX models. We'd suggest the FAS8200 replaces the FAS8020 and 8040, with the FAS9000 superseding the FAS8060 and 8080 EX.
FAS2600
The FAS2600 range has up to 3x the performance of the previous FAS2500 generation. There are two systems: 2620 and 2650, which are quite similar. Both scale up to 144 drives (the same maximum as the FAS2500), 1TB of NVMe Flash Cache, 64GB of ECC memory, 8GB of NVRAM (4GB before) and a 24TB Flash Pool (16TB before). They can have up to eight unified target adapters (UTA 2s - IO ports) and four 10GbitE ports, both of which can also be used for cluster interconnectivity.
The differences are that the 2620 controller has 12 large form factor drives and the 2650 twice that number; 24. Also, and oddly, the 2650 maxes out at 1,243TB of raw capacity and the 2620 at 1,440TB – a small difference really. The prior FAS2500 topped out at 1,152TB capacity, not that much less.
NetApp says the 2620 is geared toward value-oriented, larger capacity deployments, suitable for secondary workloads and backup targets, smaller organisations, remote offices, and local storage.
The 2650 is equipped for higher performance needs, suitable for mid-size businesses and distributed sites of larger organisations, Windows applications and virtual server consolidation with multiple workloads.
Users can convert their FAS2650 and FAS2620 systems to an external disk shelf if they upgrade to larger NetApp systems.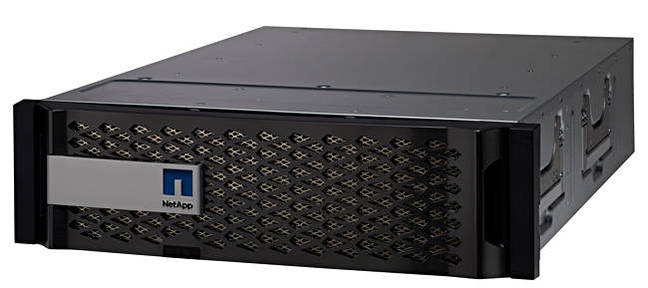 FAS8200
FAS8200
The FAS8200 is a larger beast with up to 50 per cent more performance than the prior generation:
Max raw capacity - 4,800TB
Max drives disk/ SSD - 480/480
Max NVMe Flash Cache - 4TB
Controller form factor - 3U
ECC memory - 256GB
NVRAM - 16GB
Max Flash Pool - 48TB
Onboard I/O: UTA 2 - 8
10GbitE ports - 4
12Gbit/s SAS - 8
FAS9000
The new FAS9000 has a modular design and scales up to up to 14PB in a system and out to 172PB in a cluster, virtually the same cluster maximum as the current FAS8080 EX, which scales up to 11.5PB in a single system. As with the A700 the modular design is said to simplify servicing and enable simplified future upgrades.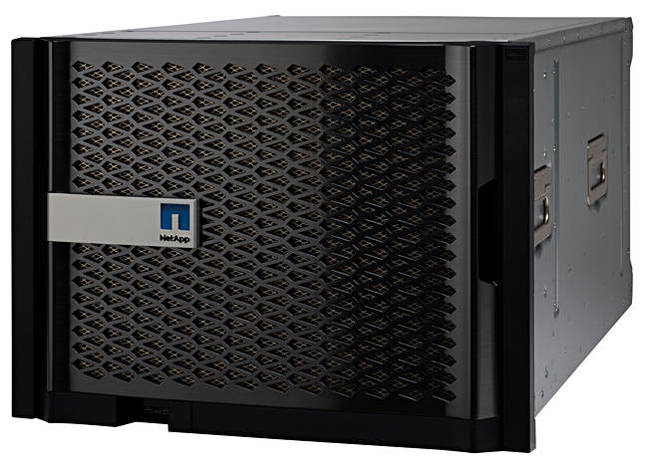 FAS9000
Its maximum capacity is three times higher than the FAS8200's and it boasts more memory, NVRAM, and a larger Flash Pool:
Max raw capacity - 14,400TB
Max drives disk/ SSD - 1,440/480
NVMe Flash Cache - 2 - 16TB
Controller form factor - 8U
ECC memory - 1,024GB
NVRAM - 64GB
Max Flash Pool - 144TB
PCIe expansion slots - 20
NetApp says the FAS9000 has 20 expansion slots to support 12Gbit/s SAS, 40GbitE, and 32Gbit/s FC IO, as well as 10GbitE and flexible 4-port UTA2 adapters for both Ethernet and FC connectivity.
Many of the new systems will be offered as Express Packs, for simplified configuration selection and quoting. NetApp talks of improving its pricing structure. The new systems will be introduced with simplified software packaging - see ONTAP section above - and more competitive capacity-based pricing.
This across the board major FAS/AFF/ONTAP news represents a solid refresh of NetApp's core product range. It should please FAS adherents as well as helping to continue NetApp's flash resurgence with much more capacious and performant A300 and A700 systems.
Pricing is not yet available. All the new systems will ship in the final 2016 quarter. ®