Violin Memory hunts for elusive key to regrowth
Allegro vivace to andante to largo to coda
---
Analysis The elusive hunt for renewal and regrowth at Violin Memory has moved into a new phase – with a product launch holding up sales, sales leadership change, and the CEO focusing on finding funding for the future.
Violin has cleverly managed to avoid falling off a cliff despite falling sales revenues and investor despair. It relaunched its product with new models earlier this month and now faces the possibility of a renewed NYSE delisting threat due to the stock falling under a dollar - again.
In early May its market capitalisation was $31.3m, having fallen from $76.5m in February. The NYSE issued it with a delisting threat in late April because the capitalisation had been less than $50m over a 30-day period. There is an 18-month period (ending October 2017) in which to regain compliance. The capitalisation is now at $20.24m. Richer companies could buy Violin for a relative pittance if they wanted.
Violin faced a prior, mid-January delisting threat due to the share price being under $1 for a 30-day period. That was dealt with by a 4:1 reverse stock split in June, with the share price rising to $4.20 on June 21.
Since then it has slumped, and is currently at $0.82 –back below a dollar, and has been since September 12. There will be another sub-$1 delisting threat from the NYSE in the second half of October if this doesn't improve.
The stock price fall has been influenced by parlous results.
Second quarter results
We'll let CEO Kevin DeNuccio summarise the latest quarterly results (second fiscal 2017 quarter): "Revenues for the quarter were $7.5m versus $9.7 million in prior quarter and $15.3m a year ago. This quarter's performance is obviously frustrating and disappointing as we strongly believe it could be the quarter that returns revenue upward after a downward trend for more than a year. Both of our international theaters in the EMEA and APAC had extremely difficult product sales in the quarter. The international markets alone could account for a short fall from expectations."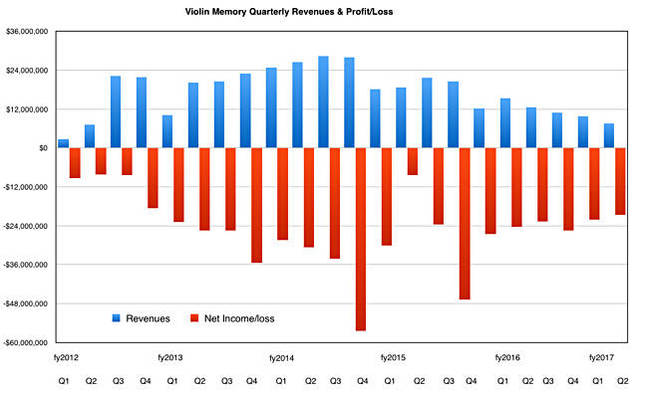 It had thought revenues for the quarter would be $11m to $13m, a sequential rise. In fact revenues fell 23 per cent quarter-on-quarter and 51 per cent year-on-year – grim. There was an inventory write-off which reduced gross margin to 3 per cent from 40 per cent in the previous quarter..
The problem was, as ever, sales execution, being "primarily caused by our inability to close significant orders in time from our key Fortune 100 customers."
He said:
Our target market of large Fortune 500 and Global 1000 companies makes orders naturally large and lumpy and challenging in terms of long sales cycles. And it's been a large part of our inability to consistently execute or return to growth.
Despite this: "We still believe Violin is on verge of reversing our revenue trend and heading upward."
Some of the revenue shortfall was due to customers delaying orders because a product refresh was coming, which it did on September 14.
DeNuccio announced sales leadership changes with current sales head Said Ouissal changing to a strategy position reporting De Nuccio and COO Ebrahim Abbasi assuming "sales and marketing responsibilities for the business in addition to his current responsibilities in R&D, customer support and manufacturing operations."
Wow! What will the CEO do? "With my background of 25 years in sales, I will be intimately involved due to the critical importance of returning Violin to revenue growth." A key issue is "tightly managing both our cash on hand, and our ability to continue raising additional funding to address the company's projected losses through the profitability. This is where I'll be spending most of my immediate time."
To help lower expenses, Violin has opened a low cost R&D site in Kiev, Ukraine, with a partner, GlobalLogic. CFO Cory Sindelar said: "Total headcount at the end of the second quarter was 235, as compared to 258 at the end of the first quarter and to 318 at the end of last fiscal year. The decrease primarily relates to a reduction in our sales and marketing organization and to a lesser extent R&D."
There were 78 sales and marketing heads at the end of the quarter versus 89 at its start.
How much cash does the company have? "We finished last quarter with $36 million in cash after a $13m cash burn in Q2. We believe our cost cutting and streamlining strategy will achieve a quarterly expense rate of under $11.5m by Q1 over a 50 per cent reduction from Q4 last year. This should reduce our quarterly burn to approximately $5m at the beginning of the year from $13 million last quarter."
It thinks it has a year's worth of cash and needs more: "We are currently talking to both strategic and financial sponsors to address our need to raise capital and the overall financial structure of the company. We announced the filing of a shelf registration during last quarter for 20 per cent of our outstanding shares."
Product refresh
There are two new arrays: the FSP 7650 and 7450, with the 7650 offering consistent ultra-low latency of 200 microseconds at 1 million IOPS, and 500 microseconds at 1.7 million IOPS, courtesy of avoiding deduplication and having an optimised IO path. It can deliver 2 million IOPS at the 1 millisec latency level and has up to 140TB of raw capacity in a 3U enclosure.
The FSP7450 brings data reduction processing to bear and provides 340,000 IOPS at 1 millisecond latency. It scales from 8.8TB raw (32TB effective) up to 140TB raw capacity (512TB effective), priced as low as $0.60 per GB of effective storage.
A roadmap to NMVe drives and NVME over fabrics (NVMf) use has been laid out, with the aim of lowering latency beyond the 200 microsecond level. Violin says the FSP 7650 support a minimum latency of 150 microseconds and NVMe/NVMf could go below that.
The roadmap also has Concerto in the Cloud software products running in cloud environments and controlled on-premises with Symphony and Concerto FSP software. Finally Violin's support offering was upgraded with improved service terms.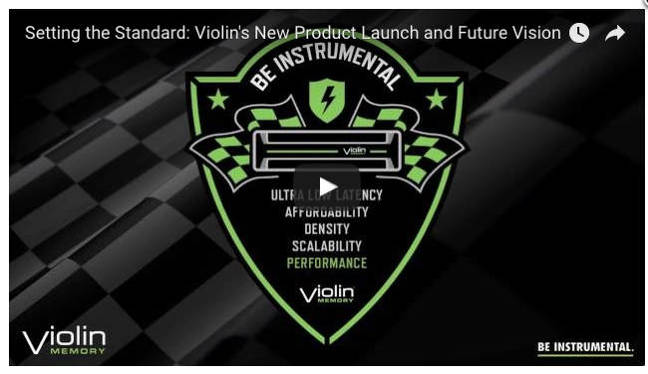 Violin FSP7660/7450/Concerto launch video. Click image to run the video.
DeNuccio said this about the product refresh: "Violin is doubling the performance of its current arrays while driving a five-fold improvement and consistent low latency while offering significant density and the lowest cost currently available."
Violin has added strong encryption software and communication between private, hybrid and public clouds by providing a cloud instance of its Concerto operating system. This means Violin customers can use the public cloud as a disaster recovery/fail-over site or as a cheap tier of secondary storage.
DeNuccio said "Concerto ... allows us to offer the first 6 nines Architecture in all-flash arrays," meaning 99.9999 per cent availability. "This architecture was formally only available in high-end legacy disk product such as EMC VMAX." Violin says that the Concerto OS has been hardened around security and encryption to make it better suited for mission-critical, high-end, enterprise use.
Flash market competition
DeNuccio said: "We've seen a much change in competition over the last couple of quarters due to the mainstreaming of the market for flash. This is most notable with the biggest competitors in the business now reverting back to legacy architectures first fully with SSDs and away from the acquired all-flash array platform.
"We believe this is primarily due to two factors. First, is the market need to go back to the full suite of features and functionality required in large enterprise primary storage market and applications. ... The second factor is that raw flash cost curve level is declining fast enough that its becoming possible to meet competitive price points without de-duplication technology, which has been central for making flash affordable versus disk over the last couple of years."
Clinton Group
In February this year, the activist investor Clinton Group sent a public letter to Violin's board saying it wanted a dialogue with the board about the company's strategic future, implying a sale, and threatening a proxy war to get its nominees elected to Violin's board. That board has nine members currently.
A Clinton Group investment fund received $20m in cash from Imation in February this year. That's now means it could theoretically buy Violin outright merely by buying shares on the NYSE.
Why isn't the Clinton Group following through on its threats to gain control and sell the company?
Recapitulation
Violin's execs have shown extraordinary endurance in fighting the monsters threatening to bring down their company. Having to do this in the full glare of publicly owned company reporting requirements has made it harder. They must look at the curtained-off lure of private ownership and think: "If only."
The product launch looks good, the NVMe and cloud software roadmap looks well-judged, and the emphasis on high-end enterprise use unavoidable – Violin having no reasonable prospects whatsoever from joining in the intensively fought-over mid-range/low end mass flash array market.
Time and money: does it have the time and can it get the money needed to do this? With every release all-flash VMAXm AFF A700 and 3PAR 7450 become better products. Money buys time and DeNuccio and newest board member Bruce Grant will be at their silkily persuasive best to coax Silicon Valley investors into believing that Wall Street has not got it right about Violin. Their company can and will, with the innovation and finance gods being willing, ride again. ®
Similar topics
Broader topics