This article is more than 1 year old
Microsoft makes massive changes to MCSE and MCSD
Certs now the same for end-users and partners, but re-certification can now be annual
Microsoft has "streamlined" its Certified Solutions Expert (MCSE) and Developer (MCSD) certifications and will require holders to sit exams annually to stay current.
Redmond says the four new MCSE and sole new MCSD certification "are aligned to Centers of Excellence, used by the Microsoft Partner Network to identify technical competencies that are widely recognizable by both Microsoft partners and customers."
There's also a new continuous learning plan that means "Every year, you have the opportunity to re-earn the certification by passing an exam from the list of electives, demonstrating your investment in broadening or deepening your skills in a given Center of Excellence." There's a wrinkle here, because today Microsoft's certifications last two or three years, after which re-certification with new exams becomes necessary.
This new plan starts on April 1 – no joke – 2017, as on the previous day "All MCSE and MCSD certifications released prior to September 2016 will be retired".
The new qualifications are:
MCSE: Cloud Platform and Infrastructure - focusing on skills validation for Windows Server and Microsoft Azure
MCSE: Mobility - focusing on skills validation for Windows Client and Enterprise Mobility Suite
MCSE: Data Management and Analysis - focusing on skills validation for both on-premises and cloud-based Microsoft data products and services
MCSE: Productivity - focusing on skills validation for Office 365, SharePoint, Exchange, and Skype for Business
MCSD: App Builder - focusing on skills validation for Web and Mobile app development
And here's how Microsoft's new paths to achieve those certs look.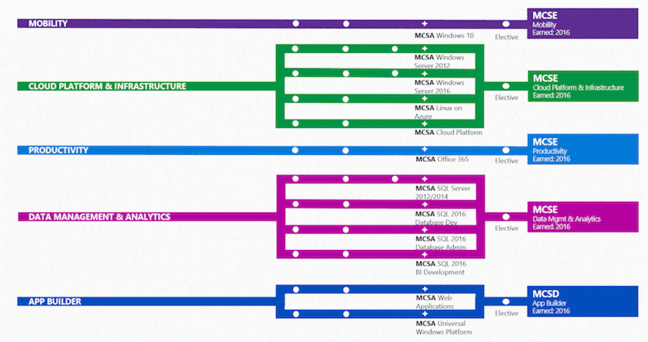 Microsoft's new certification paths. Click here to see a larger version
The good news is that if you hold the following MCSE or MCSD certs, you'll automatically get the new ones without needing to take new exams.
MCSE: Server Infrastructure
MCSE: Private Cloud
MCSE: Data Platform
MCSE: Business Intelligence
MCSE: Enterprise Devices and Apps
MCSE: SharePoint
MCSE: Communication
MCSE: Messaging
MCSD: Universal Windows Platform
MCSD: Web Applications
MCSD: SharePoint Applications
Microsoft's plan aligns end-user and channel certifications, a decent idea. But while the pace of technological change means it's no bad thing for cert-holders to stay up to date, optional annual re-certification suggests that Microsoft will update its exams more frequently. Cert-holders will therefore have more to prove if they want to keep their transcripts up to date, which will probably mean more exams, more often, for more money.
Redmond's long-standing position is that you'll get a return on that investment, because employers want certified staff. When we write about certifications from any vendor, Reg readers generally beg to disagree and flood us with reports of certification-holders lacking practical and/or real world skills. Feel free to hit the comments and do that again. ®