Fresh-faced startup promises bigger, faster non-volatile DIMMs
Server shake-up through 4TB, 2u latency NVDIMM tech
Early-stage startup Xitore says it is developing bigger and faster non-volatile flash DIMMs to give servers a performance boost so they could run more VMs and containers and run them faster by sidestepping high latency storage IOS.
It is taking up the baton brought onto the field by Netlist and Diablo Technologies and attempting to take it further. NVDIMMs connect flash media to a host server's memory channel, the DRAM interface, which allows data accesses in far shorter time than the PCIe bus or the even slower SAS and SATA protocols.
According to Xitore Product Marketing Director Doug Finke, it runs at a speed of up to 3,200 million transfers per second, transfers 8 bytes of data at a time and provides over a 3X increase in raw bandwidth over today's NVMe products which depend upon the PCIe bus.
JEDEC has defined three classes of NVDIMM to which Xitore adds a fourth category: NVDIMM-X.
NVDIMM-N is a DRAM/Flash hybrid memory module using Flash to save the DRAM contents upon power failure,
NVDIMM-F is for all-flash DIMMs like those made by Diablo/SanDisk,
NVDIMM-P is a flash DIMM treated as persistent memory,
NVDIMM-X - block mode device using enhanced address space DDR4 DIMM slot with 128-entry command queue, with NAND and DRAM cache in one module.
The technology offers up to 4TB of flash capacity on a DIMM socket plus a DRAM cache, runs at 3-4 million IOPS, and could use XPoint, ReRAM, MRAM, ST-RAM, Memristor and other post-NAND media in the future.
NVDIMM-X block diagram
Finke says all responses back from the DIMM to the host system will occur within 2 microseconds or less and conform to the requirements of the deterministic DRAM bus.
Xitore's protocol will be developed to offer byte-addressability, with Finke noting this "may require some additional enhancements to allow for variable access timing on the DRAM bus. Architectural enhancements will be needed in the interface between the DIMM and the microprocessor to enable this and discussions are already underway within the standards committees to determine the best implementation path."
Here is a Xitore table comparing the various NVDIMM categories: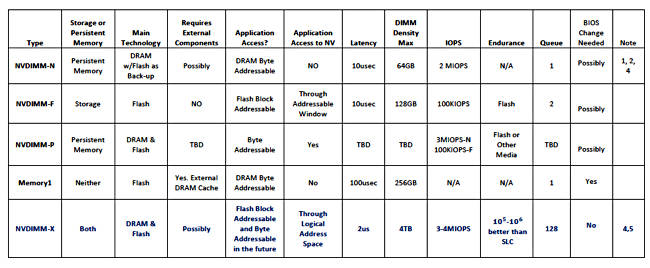 NVDIMM category comparison table. Click table for larger version.
Some questions
We asked Xitore some questions about its NVDIMM-X technology and Finke provided answers:
El Reg: Do you have a productisation timeline you can share?
Doug Finke: Assuming our funding closes as anticipated, we expect to start sampling in late 2017.
El Reg: Is the business model to sign up a fab partner (partners) who would sell to OEMs? Will Xitore have DIMMS made for it and then sell them on to OEMs?
Doug Finke: We will be pursuing multiple business models including directly selling the products to OEMs and end users as well as licensing the design to other companies who can sell to their customers. Certain elements of the architecture are patent-protected by Xitore so a license would be necessary.
El Reg: Are the server suppliers and hyperscalers (Amazon, Facebook, Google, Microsoft, etc) your target OEM's
Doug Finke: Yes, any customer who is using an NVMe product to achieve improved performance over SAS or SATA SSDs should be interested in this product as it will extend the performance gains even further.
El Reg: Will O/S software need to change to use NVDIMM-X?
Doug Finke: No changes will be needed in the OS Kernel. We will provide drivers so that customers can make immediate use of the product. Longer term, as the architecture becomes more standardised we would expect the required interface functions will be incorporated into future versions of the OS as standard features.
El Reg: Will application SW have to change to use NVDIMM-X?
Doug Finke: No application SW changes will be needed.
El Reg: What is your funding situation and plans?
Doug Finke: We are in discussion with a few strategic investors who see the benefits of our architecture and have a serious interest. We are currently seeking a VC to help lead the first round and put in their share of the investment.
El Reg: With the on-board DRAM cache does this mean that media differences behind it are masked, and that NVDIMM-X latencies with NAND, RERAM, XPoint, etc, will be pretty similar?
Doug Finke: Yes, the on-board DRAM cache will help the module achieve effective latencies similar to some of those of the emerging technologies like RERAM and XPoint. But it will do so at a cost structure closer to that of commodity NAND.
CEO Mike Amidi commented on this point: "Yes, that's the general idea of having your own local cache on the module part of Xitore's patent-protected IPs."
It's going to be interesting to see how the other flash DIMM players respond, meaning Diablo, Micron and Netlist, and also Intel and Micron from the XPoint point of view, also WD/SanDisk with ReRAM. Watch out for signs of the server suppliers using this kind of technology. Check out a Doug Finke-authored Xitore white paper here. ®