In what it has called its Hoth release, Broadcom said it enhanced its gen 6 Fibre Channel products with new NVMe technology, automation technology, and higher density hardware.
Starting with the hardware, the G630 is a 128-port Brocade switch and a FC32-64 64-port X6 Director blade has also been announced.

Brocade G630
Brocade has been pretty convinced by Fibre Channel, having stuffed all its eggs in the NVMe over Fibre Channel basket. And now that Broadcom has bought Brocade with its 80.8 per cent share of the Fibre Channel SAN switch market, Cisco is trailing in second place with 18.7 per cent. Together with previously acquired Emulex technology, Broadcom now has a set of Fibre Channel HBAs, SAN switches and directors, SAN storage HBAs, RAID and IO controller chips with a single management domain.
Ethernet tried to kill Fibre Channel (FC) before with FCoE (Fibre Channel over Ethernet), and failed. Now NVMe over Fabrics is attempting the same with RDMA over Converged Ethernet (RoCE). Will it succeed?
Brocade thinks not, especially if it can convert its Fibre Channel base to run NVMe over Fibre Channel (NVMeoFC) cabling.
Fibre Channel is running at 32 Gbit/s in what is called its Gen 6 iteration. Gen 5 operated at 16 Gbit/s and gen 7 will come in at 64 Gbit/s.
The G630 comes in a 2U rack shelf form-factor, and Brocade claimed it is the industry's highest density fixed-port switch. It has 96 x 32Gbit/s SFP+ ports and 8 x (4 x 32Gbit/s) Q-Flex ports, and can be configured with from 48 to 128 ports.
It is the third of Brocade's G600 range of FC switches:
|   | G610 | G620 | G630 |
| --- | --- | --- | --- |
| Line Rate Ports | 8-24 x 32 Gbit/s | 24-64 x 32 Gbit/s | 128 x 32 Gbit/s |
| Bandwidth | 768 Gbit/s | 2 Tbit/s | 4 Tbit/s |
| FICON Support | No | Yes | No |
| Width | 428.8mm (16.88in) | 440mm (17.32in) | 440mm (17.32in) |
| Height | 42.9mm (1.69in) | 43.9mm (1.73in) | 86.7mm (3.41in) |
| Depth | 306.6mm (12.07in) | 355.6mm (14in) | 609.6mm (24in) |
The FC32-64 has 64 x 32Gbit/s ports (16 x (4 x 32 Gbit/s) Q-Flex ports), and enables the X6 director to support 512 ports. Previously Brocade had an FC32-48, with 48 x 32 Gbit/s ports. This FC32-64 switch supports concurrent Fibre Channel, FCoE and NVMe connectivity options, with 10 GbitE, 25 GbitE, or 40 GbitE FCoE speeds.
The backplane has a 1.33:1 oversubscription level.

Brocade FC32-64 port blade
This high-density hardware is intended to better support all-flash arrays, particularly NVMe-accessed ones. Broadcom claims new NVMe software optimisation reduces latency by nearly 15 per cent with its Gen 6 Fibre Channel products, to a sub-780ns level. That, it claims, is 40-80 per cent lower than the competition. Think Cisco.
It also says better integrated network sensors and IO Insight technology provide information about network health and the performance of NVMe traffic. Administrators can monitor first IO response time, IO completion time, the number of pending IOs, and IOPS metrics for a flow from a specific host to a target or volume running SCSI or NVMeoFC traffic.
IO Insight is unique to the G630 switch and FC32-64 blade.
REST APIs have been added to the Brocade switch and management products and these can be used to automate fabric inventory, provisioning, and operational state monitoring tasks. The open-source, Python-based PyFOS scripting language is supported and can be used in SAN management.
The software automation tool Ansible has been integrated to support automation and orchestration across a Brocade infrastructure.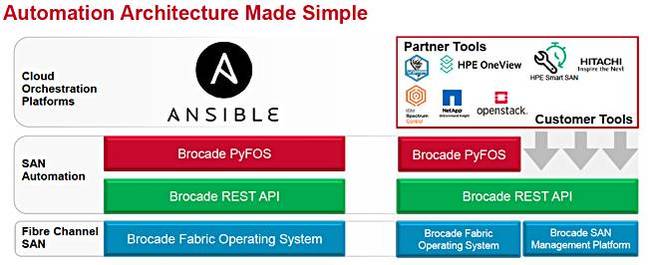 Click to enlarge
Both the FC32-64 blade and G630 switch are available and shipping. ®
Similar topics